May 28, 2018 | Trading Desk Notes – May 26th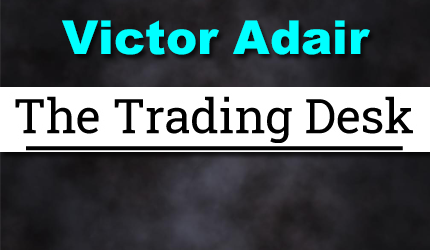 Victor Adair, author of The Trading Desk Notes, began trading penny mining shares while attending the University of Victoria in 1970. He worked in the mining business in Canada and the Western United States for the next several years and also founded a precious metals trading company in 1974. He became a commodity broker in 1977 and a stock broker in 1978. Between 1977 and his retirement from the brokerage business in 2020 Victor held a number of trading, analytical and senior management roles in Canada and the USA. Victor started writing market analysis in the late 1970's and became a widely followed currency analyst in 1983. He started doing frequent media interviews in the early 1980's and started speaking at financial conferences in the 1990's. He actively trades his own accounts from The Trading Desk on Vancouver Island. His personal website is www.VictorAdair.ca.
EUR/USD has dropped from over 1.25 to below 1.17 (~7%) in the last 9 weeks…closing this week at 7 month lows as political/economic developments in Italy herald a potentially existential crisis for Europe as "contagion" fears start to creep into the market.

The EUR/USD 1.25 Inflection Point on Feb 16/18 came after the Euro had rallied against the USD for 15 months…but even then EUR/USD just dropped back a bit and chopped sideways for 2 months while EUR/CHF (a real barometer of Euro tensions) kept going higher…obviously there was nothing to worry about!

But finally, in late April, the damn broke and the Euro started to fall. (See my April 21 TD notes – "It doesn't matter until it matters, and then it really matters.")  

The initial leg down in the Euro from mid-April through early May came as the USD rallied (bounced back) against nearly all currencies but lately it's been a case of Euro weakness not simply USD strength as markets become increasingly worried about, "How bad can the Italian problem get?"  For the past few weeks I've commented on how the Swiss Franc was gaining on the Euro as capital sought safety – even if it meant negative interest rates!

Throughout 2017 and into the first months of 2018 speculators built a massive net bullish position in Euro futures as EUR/USD rose from around 1.05 to 1.25 even though USD interest rate premiums kept getting wider and wider. Speculators ignored the March 4/18 Italian election…but since mid-April there has been relentless selling of the Euro…in part due to the unwinding of these bullish positions…and the data shows that there still remains a large net long position that is at risk of "throwing in the towel" if the Euro keeps falling.

I've been a currency speculator for more than 40 years and I've learned (and thankfully, remembered) a few things. At the top of my list is the belief that currency market trends can go way further than seems to make any sense…and then turn on a dime and go the other way. In early 2017 as the USD Index fell from 14 year highs I thought it was just a correction after a multi-year rally…but as the USD Index downtrend continued I was puzzled as to why anyone would want to exchange US Dollars for Euros or any number of other currencies. I was US Dollar bullish in 2017 but the price action told me that I was wrong. But now the price action is telling me that the US Dollar is likely to go higher.

How high? Martin Armstrong recently wrote that if EUR/USD breaks a monthly bearish reversal at  1.1552 it will, "Signal the start of the dollar rally which looks like it will peak in 2020 – 2021."

WTI Crude Oil hit a fresh 3 ½ year high early this week but then fell more than $4.50 on fears that OPEC and friends might agree (at their scheduled June 22 meeting) to increase production to make up for declining production from Venezuela and (potentially) Iran. I've described the crude oil market as having a "relentless bid" the past couple of months as prices moved higher and higher…now I'm wondering if crude has hit an inflection point and is going to have a big drop. There has been a massive buildup of spec longs in the futures market (yes, it's dropped a bit the past couple of weeks but it's still HUGE) and if those buyers start to hit the bid prices could really take a tumble (especially if the USD keeps going higher.)

Contagion risk in interrelated markets: I pay a lot of attention to intermarket relationships because a significant move in any market will have "consequences" in other markets. I also pay a lot of attention to market psychology which, at extremes, is basically capital moving back and forth between Fear and Greed. If a market gets "too greedy" I wait for a signal that things are about to change…and nothing creates change in a "too greedy" market faster than fear. For instance, I think the relentless widening of the USD interest rate premiums over Euro area interest rates had "consequences" for the EUR/USD exchange rate…and, finally, the Euro fell…and as it fell "fear" replaced "greed" in a market that had been driven too high by "greed."

The potential existential crisis for Europe is essentially the fear of, "What happens if the market begins to believe that Italy will leave?" We're seeing an early answer to that question with capital leaving the Euro for the Swiss Franc…with Italian (and other Euro area countries) bond yields rising against German yields.

For decades after WW2 Club Med countries devalued their currencies to remain competitive with Germany and to maintain a "lifestyle." Under the Euro the "shock absorber" function of currency devaluation is not available…so what absorbs the "shocks?" The ECB has helped by buying Club Med bonds but the people are voting for "change" and that stress is starting to show up in the markets. But what if the stress level increases? Perhaps then the US Dollar really starts to rally…and what does that do to Emerging Market debt or equity markets?What does that do to the cash flow from foreign sales of the S+P 500 companies?  What does that do to the price of gold…especially gold priced in terms of Euros?

Charts: Both WTI  and CAD registered a Weekly Key Reversal Down on the charts this week while YEN (and nearly bonds) registered a weekly Key Reversal Up.

PI Financial Corp. is a Member of the Canadian Investor Protection Fund. The risk of loss in trading commodity interests can be substantial. You should therefore carefully consider whether such trading is suitable for you in light of your financial condition. In considering whether to trade or the authorize someone else to trade for you, you should be aware of the following. If you purchase a commodity option you may sustain a total loss of the premium and of all transaction costs. If you purchase or sell a commodity futures contract or sell a commodity option or engage in off-exchange foreign currency trading you may sustain a total loss of the initial margin funds or security deposit and any additional fund that you deposit with your broker to establish or maintain your position. You may be called upon by your broker to deposit a substantial amount of additional margin funds, on short notice, in order to maintain your position. If you do not provide the requested funds within the prescribe time, your position may be liquidated at a loss, and you will be liable for any resulting deficit in your account. Under certain market conditions, you may find it difficult to impossible to liquidate a position. This is intended for distribution in those jurisdictions where PI Financial Corp. is registered as an advisor or a dealer in securities and/or futures and options. Any distribution or dissemination of this in any other jurisdiction is strictly prohibited. Past performance is not necessarily indicative of future results
STAY INFORMED! Receive our Weekly Recap of thought provoking articles, podcasts, and radio delivered to your inbox for FREE! Sign up here for the HoweStreet.com Weekly Recap.