May 19, 2018 | Trading Desk Notes – May 19th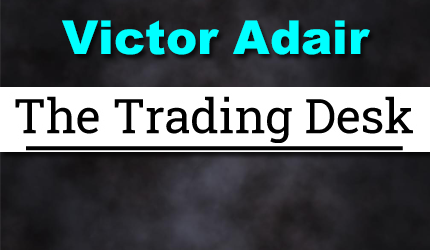 Victor Adair, author of The Trading Desk Notes, began trading penny mining shares while attending the University of Victoria in 1970. He worked in the mining business in Canada and the Western United States for the next several years and also founded a precious metals trading company in 1974. He became a commodity broker in 1977 and a stock broker in 1978. Between 1977 and his retirement from the brokerage business in 2020 Victor held a number of trading, analytical and senior management roles in Canada and the USA. Victor started writing market analysis in the late 1970's and became a widely followed currency analyst in 1983. He started doing frequent media interviews in the early 1980's and started speaking at financial conferences in the 1990's. He actively trades his own accounts from The Trading Desk on Vancouver Island. His personal website is www.VictorAdair.ca.
"It doesn't matter until it matters and then it really matters!" was how I began my April 21 TD notes. My point was that rising American interest rates were REALLY starting to matter in the foreign exchange world…and that was going to drive the USD higher. The USD index is now at a 5 month high, up 6% from its February lows. In the last 5 weeks the Euro is down 5% against the USD, the GBP is down 6%, the Yen is down 5%.
The US Dollar has been even stronger against 2nd and 3rd tier currencies: The currencies of virtually every country south of the Rio Grande have been falling since the USD index began to surge higher 5 weeks ago. The Chilean Peso is down 7.5%, the Mexican Peso is down 10%, The Brazilian Real is down 15%, and the Argentine Peso is down >20%. On the other side of the world the Indian Rupee is down 8% from its January high, the South African Rand has fallen over 10% in the last 2 months. The Emerging Market FX index is at a 16 month low.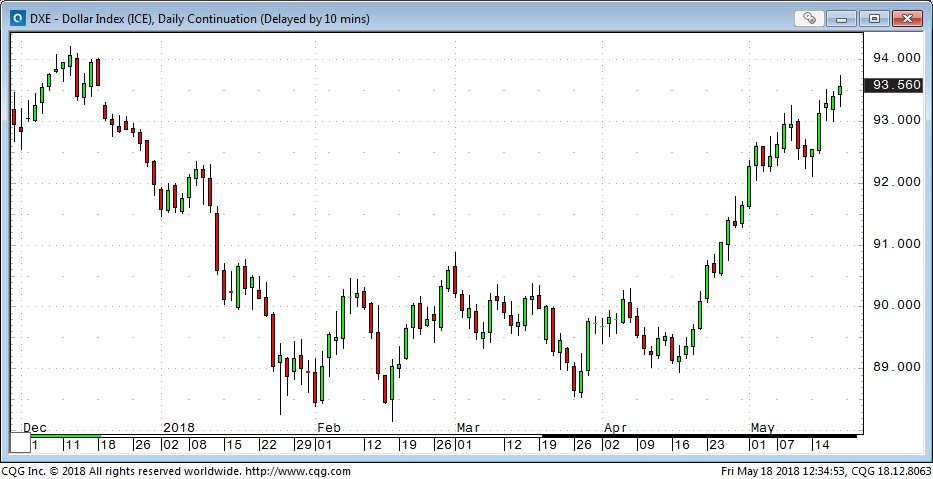 The US Dollar has been soaring against some currencies: Everybody knows the tragedy of the Venezuelan Bolivar going the way of the Zimbabwe Dollar…but what about the Iranian Rial? Five years ago It took IRR 10,000 to buy $1 USD…now it takes IRR 80,000. Or the Turkish Lira: Five years ago it took 18,000 Lira to buy $1 USD, now it takes 45,000. Or the Argentine Peso: Five years ago it took 5,000 Pesos to buy $1 USD now it takes 24,000 Pesos…up from 16,000 Pesos in June 2017 when Argentina received $10 Billion in bids for their offering of $2.75 Billion 100 year bonds (priced to yield 7.9%.)
"Emerging Markets are markets you can't emerge from in an Emergency,"  according to Don Coxe, and I think that quote captures the spirit of the moment. The ultra-low interest rate environment since the GFC of 2008 caused people everywhere to "reach for yield" and one of the places capital went was to Emerging Markets (EM.) In a "risk on" environment capital flows from the "center" to the periphery (EM)…when the market goes "risk off" capital flows back to the center. The trouble is that it's much easier to put money out to the periphery than it is to get it back. Prices get marked down, bid/offer spreads get wider etc. and maybe the market simply goes "no bid." An old saying from the Chicago pits was that, "If you're going to panic…panic early!"
The Euro/Swiss spread: For the past year the Euro has been gaining against the Swiss Franc but that trend reversed a month ago as the market started to price in the Italian election.
European stock indices have really out-performed the major American indices since March as the European currencies have been falling against the USD.
Crude oil and gasoline continued to surge higher this week.
Gold is down ~$75 from this year's highs, at 5 month lows, as a result of the strong USD and rising real interest rates.
My short term trading over the past couple of months has mainly been about trying to take advantage of rising interest rates and a rising USD.
PI Financial Corp. is a Member of the Canadian Investor Protection Fund. The risk of loss in trading commodity interests can be substantial. You should therefore carefully consider whether such trading is suitable for you in light of your financial condition. In considering whether to trade or the authorize someone else to trade for you, you should be aware of the following. If you purchase a commodity option you may sustain a total loss of the premium and of all transaction costs. If you purchase or sell a commodity futures contract or sell a commodity option or engage in off-exchange foreign currency trading you may sustain a total loss of the initial margin funds or security deposit and any additional fund that you deposit with your broker to establish or maintain your position. You may be called upon by your broker to deposit a substantial amount of additional margin funds, on short notice, in order to maintain your position. If you do not provide the requested funds within the prescribe time, your position may be liquidated at a loss, and you will be liable for any resulting deficit in your account. Under certain market conditions, you may find it difficult to impossible to liquidate a position. This is intended for distribution in those jurisdictions where PI Financial Corp. is registered as an advisor or a dealer in securities and/or futures and options. Any distribution or dissemination of this in any other jurisdiction is strictly prohibited. Past performance is not necessarily indicative of future results
STAY INFORMED! Receive our Weekly Recap of thought provoking articles, podcasts, and radio delivered to your inbox for FREE! Sign up here for the HoweStreet.com Weekly Recap.