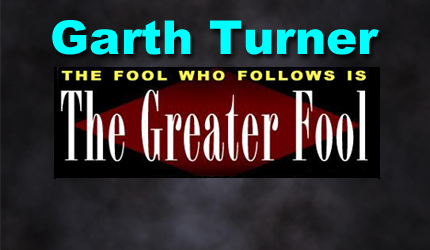 A best-selling Canadian author of 14 books on economic trends, real estate, the financial crisis, personal finance strategies, taxation and politics. Nationally-known speaker and lecturer on macroeconomics, the housing market and investment techniques. He is a licensed Investment Advisor with a fee-based, no-commission Toronto-based practice serving clients across Canada.
If you ever wonder why bother with a balanced portfolio, Tuesday was a good study. Italy kinda blew up (it does that occasionally) raising fears the Eurozone is pooched, which tanked stocks, roiled the currency markets and ensured a new election there just three months after the last one. The result may not be pretty.
So if you were a stock-only investor, especially with heavy US exposure, you lost about 2% of your dough. But if you also had a fixed-income component, including a variety of bonds ETFs, then things weren't so bad. For example, corporate bonds popped higher (an ETF like XCB tracks those), as did short-term government debt (tracked by funds like XSB).
Why? Because when investors go risk-off, they dump equities and look for safe places to scuttle off to. Bonds do the job, so demand pushed debt prices higher and tanked bond yields (they move in opposite directions). Yields actually plopped everywhere, which threw into question some Fed interest rate hikes impacting the US dollar, which helped tank stuff priced in greenbacks, like oil and gold.
As for Canada? While the Dow was shedding 400 points, Bay Street was off just a quarter of that (in point terms), thanks in party to the fact we now own a pipeline, whether we want it or not. That jolted the energy sector, and helped make up for the fact we're about to be screwed-over nicely on NAFTA by the Trumpster. (T2 issued a dire warning about many lost jobs late in the day.)
As for keeping your money safe in the bank, did you hear about BMO and CIBC's spelling-challenged offspring, Simplii? Seems hackers made off with the personal data of tens of thousands of customers, which they intend on publishing unless a bribe is paid. Seriously. It sounds like a bad episode of a TV cop show – but it's real. The stock of both banks didn't like that much, down the better part of 2% on the session.
The last 24 hours have demonstrated what a weird world we have created. Now Trump says he's going to meet with Mr. Bad Haircut in Singapore. The NDP is in danger of eating Ontario. May threatens to be the worst rutting season month in memory for Canadian real estate. Air conditioners in Toronto are croaking with summer is a month away, while Newfies shovel and the eastern seaboard is swamped. Roseanne was cancelled. And Alberta seems poised to invade BC, now that it's won the backing of the federal Libs and a pipeline will be rammed through to the sea.
Yes, companies are making fat profits these days, equity markets are close to record highs and the global economy is expanding the most since the credit crisis. But the world has turned more volatile as protectionism (Trump), populism (Brexit), nationalism (alt right) and tribalism (now Italy) swing politics and whack economies. Little Canada is being caught in the swirl, which is one reason Ottawa took the dramatic and dangerous action of buying a pipeline company with $4.5 billion in publicly-backed money with the creation of a new crown corporation. Trade or die, baby. You can't build an economy by selling each other condos.
Probable consequences include more equity market volatility, stronger bond prices and central banks backing off for a while. But the global macroeconomics look positive, so this is likely all noise. In sell-offs it's usually the brave people out Hoovering bargains in the aftermath who do well. Retail investors who bail with the first glimpse of blood normally regret it. And the calm, disciplined people with balanced, globally-diversified portfolios snooze right through chaos. Remember that during the worst three years of our financial lives (2008-10) investors with a balanced 60/40 portfolio ended up making a positive 5% per year (on average), while all-stock investors suffered a 55% market decline and needed seven years to recover.
Italy could well turn into Greece and this could be 2001 all over again. Trump could just abrogate the trade deal with Canada and impose his 25% auto tariff, shutting down a lot of southern Ontario. Two-thirds of the Canadian economy could come to be indirectly controlled by big-spending/big-taxing Dippers who then cause a lot of 1%ers to take their money (and jobs) and split. Canada could descend into an internecine spat between the feds and the provs, with nothing getting built. All of these are reasonable threats. You can cower and embrace [email protected] with her lovely brain-dead, no-grow, high-tax GICs, or invest for the world in which we live.
Easy choice.
STAY INFORMED! Receive our Weekly Recap of thought provoking articles, podcasts, and radio delivered to your inbox for FREE! Sign up here for the HoweStreet.com Weekly Recap.