May 20, 2018 | The Latest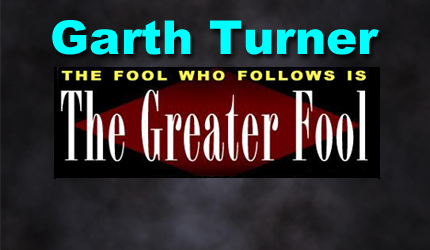 A best-selling Canadian author of 14 books on economic trends, real estate, the financial crisis, personal finance strategies, taxation and politics. Nationally-known speaker and lecturer on macroeconomics, the housing market and investment techniques. He is a licensed Investment Advisor with a fee-based, no-commission Toronto-based practice serving clients across Canada.
Will rates jump again in May?
Nope, says Mr. Market. Ain't gonna happen. The latest economic stats (out on Friday) were more tepid than the rate bulls had expected. So, a weaker inflation number caused the dollar to slump and the odds of another set of mortgage increases to wither from 40% to 28%. Having said that, markets are still giving big odds to increases in July and October – adding a half point to the prime, lines of credit, VRMs and five-year loans. In fact increased yields in the bond market over the last few weeks probably foretell fatter mortgages to come.
The bottom line(s): Variable-rate mortgages will remain bargain-priced (as explained here last week) for a considerable period to come. Canada's yield curve has inverted in the long end, which is just as uncomfortable as it sounds. The cost of borrowing will continue to increase, but this is likely to be a long and drawn-out process. Might as well have a cheap VRM in the meantime, and make more of every payment go to principal.
Anyone with a GIC, like blog dog Jean, should also take note. She and Gerard have over a million saved as they head into retirement, thanks to a Big Job in the oil patch. But a whack is in GICs, locked up for years at 2.5% in a non-registered account. "I am so-o-o nervous," she says. "Just can't stand the thought of losing anything."
Fair enough. But the inflation rate is 2.2%, and rising. Worse, G makes good money and is in the near-50% tax bracket. So, yes, they are losing wealth – every single month. Worse, GICs generate phantom returns – interest on which you must pay annual tax even before you receive it (at maturity). And in retirement they provide no income stream, as does a balanced portfolio of ETFs from which a taxless flow in the form of return of capital can be enjoyed.
But I digress.
Two more hikes this year in Canada. Two or three more in the US. No recession on the horizon, and little threat of a pullback in US markets. Meanwhile Canadian equities are cheap and unloved (like me) and likely to remain so until after the Ontario election, NAFTA is decided, and a pipeline rammed up the Horgan.
$    $    $
So this house costs $500,000 in Orlando. It has 3,600 square feet of living space, and costs less than $140 a foot. Compare that to $1,000 a foot in Toronto for an upscale downtown condo, about $820 a foot for the average unit, and $1,210 for houses on Vancouver's Westside.
US real estate costs a fraction of that in Canada, despite Americans having a similar median household income and comparable interest rates. US income taxes are less in most states (but not ones like NY or Cali), mortgage interest is somewhat deductible and the home ownership rate, at 64%, remains considerably below that of Canada. US citizens own about three times more equities in their retirement plans and we do, and the household debt ratio is steeply less than it was in 2005, while ours increases every quarter. In short, Canadians have chosen a one-asset, highly-leveraged financial strategy leading to a wild price inflation and enhanced risk. Plus you don't get to live in a house like this.
Want to see what five hundred grand buys – from a tiny NY City apartment to a southern palace? Here is the link.
$   $   $
So if prices are falling and peak house is in the rear view mirror in the GTA and Vancouver, why aren't listings flooding on to the market? In fact, in Toronto, why are they falling? The number of new ones dropped almost 25% last month, compared to April of last year – so this is roughly equal to the tumble in sales.
The result is price resistance. Fewer buyers chasing fewer listings means supply and demand are balanced with no precipitous valuation plunge. At least, not overall. In certain areas this blog has previously identified (the outer ring of particleboard McMansions) it's a different story. Scant buyers, more sellers, desperation and 25% drops in sale prices.
In general, why are homeowners not going to market during what's always been the strongest selling season of the year?
"They're holding out because they think the market is going to turn around," says a TD economist. That's the conventional view, being shared by house-humping realtor web sites and the real estate cartel. But there's more. Lots of people lives in houses they could not afford to buy – especially with the B20 mortgage stress test now in place. If they sold they'd have to purchase, exposing themselves to those onerous financial requirements. People moving down into lesser properties might not care, but those selling so they can climb the property ladder face two big obstacles – high asking prices (close to peak house) and qualifying for financing at 5.34% or better.
So there you go. Another unintended consequence of government diddling in the marketplace. Makes this $499,000 house in Baltimore look even sweeter.
STAY INFORMED! Receive our Weekly Recap of thought provoking articles, podcasts, and radio delivered to your inbox for FREE! Sign up here for the HoweStreet.com Weekly Recap.