May 10, 2018 | Six Days UP for Dow! What's Next?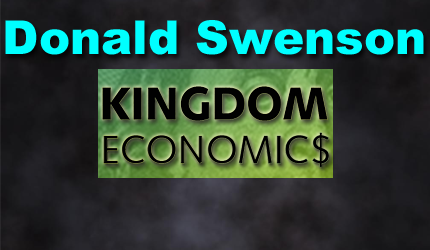 Donald B. Swenson: Born January 24, 1943, Roseau, Minnesota. Graduated H.S. 1961, Moorhead High, Minnesota. Graduated College 1968, Moorhead State University, Minnesota. Designated member of Appraisal Institute (MAI), 1974. Employed with Western Life Insurance Company, 1968 – 71; Iowa Securities Company, 1971 – 73; American Appraisal Company, 1974 – 81. Part-time teacher/valuation consultant/bartender, 1979 – 2008 (taught workshops at Waukesha County Technical Institute, Wi. and Madison Area Technical College, Wi.). Retired 2008 (part time teacher/blogger), AZ. Self educated economist/philosopher/theologian: http://kingdomecon.wordpress.com.
Today's digital markets allow our Central Banks or select proxies to continue pumping up stocks via trading strategies. This is giving everyone a feeling of continuing confidence. The Dow is now UP for six consecutive days. It may be seven after tomorrow. Jobless claims are now at 211,000 and people looking for jobs is nearly 7 million. Unemployment is at 3.9% and corporations are continuing to show revenue increases. The markets are showing that all is ideal and few seem to think that a downturn is coming.
Economists at Goldman Sachs are thinking that there will be no recession for 2018 and all of 2019. Some are saying 2020 -21 or after before a recession might develop. The BULL market appears to have legs which few have been anticipating. I, personally, have not felt that all is well with our markets. But I also recognize that we have very unique markets now that our Central Banks and select proxies can trade these markets with unlimited trading digits. All the negatives are being covered up for the time being. But for how long?
When I look at this website: http://www.usdebtclock.org, I see many problems which are emerging. The primary problem is our growing deficits and debt. But our GNP is now over $20 trillion and our interest rates are not excessive (as yet). All the underlying problems are being ignored for now and few seem to think that a recession or worse is on the agenda for the next couple of years. My sense is that all this confidence and positive spin could change in a moments notice.
When everyone assumes that all is well then I worry that a real change is about to occur.  We could witness a reversal of all this confidence and positive spin if one key factor emerges. If the real estate industry peaks in 2018 and if affordability problems continue to develop, then we could witness a serious crash in our real estate markets by the end of 2018. This factor would likely change all the confidence and positive spin in a moments notice. My sense is that this reality is rapidly emerging as I write.
Affordability is not favorable to a growing populace of buyers. Rents continue to go up and up. House prices are continuing upward in most major cities. All this could develop into a serious concern by the end of 2018. I, personally, don't think this boom in our stock markets will continue much longer. Later in 2018, we will witness some of these dark forces emerging. It's all math and history. Timing is impossible to predict, however. My personal sense is that real estate will be the canary in the coal mine.
Watch the 10 year treasury rate. It is now at 3.0%. This rate sets the general rate for a 30 year mortgage loan. If mortgage rates get to 5%, then an affordability crunch could develop. Currently, mortgage rates are going up, rents are going up, and house prices are going up. This mix can not continue. At some point affordability will put a halt to buying and the markets will start a deflationary trend. Here is what many are now saying:
With mortgage rates increasing, home loan borrowers could end up paying as much as 15% more by the end of this year. That's according to Arch Mortgage Insurance Company, the mortgage insurance provider, which warned last month that U.S. housing became less affordable during the first three months of the year and that it will only get worse as the months go on.
According to Arch Mortgage Insurance, during the first quarter, U.S. home affordability worsened by 5%. What's more, monthly mortgage payments could increase an additional 10% to 15% by the end of 2018. If that were to happen, Arch Mortgage Insurance noted that it would be the worst annual decline in home affordability during the past 25 years.
Real Estate could be the canary in the coal mine for our general economy and this could emerge by the end of 2018. Watch interest rates and affordability. Enjoy for now! I am: https://kingdomecon.wordpress.com.
STAY INFORMED! Receive our Weekly Recap of thought provoking articles, podcasts, and radio delivered to your inbox for FREE! Sign up here for the HoweStreet.com Weekly Recap.