May 10, 2018 | How to Get Ahead in the Swamp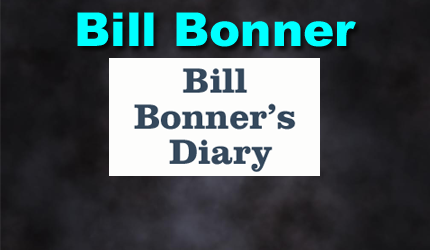 Is an American author of books and articles on economic and financial subjects. He is the founder and president of Agora Publishing, and author of the daily financial column, Diary of a Rogue Economist.
PORTLAW, IRELAND – Yesterday, we took a look at what was happening in Argentina.
A shorthand version: Argentina seems like it is on the way up… President Mauricio Macri really is draining the swamp – or is trying to.
But after 70 years of Peronism, there is a lot of swamp to drain. And the slithery creatures don't like to see the juice dry up.
Rising Waters
Meanwhile, the media yesterday reported on rising water in Washington.
Among the news items was one about an old friend, Chris Ruddy. He is reportedly considering an investment offer of $90 million in his publishing business, Newsmax.
Chris is a Trump ally. The media speculates that the money is coming in from the government of Qatar for the purpose of gaining access to, or finding favor with, the U.S. president.
Chris denies it.
But this sort of thing does happen…
For instance, CNN tells us that Trump's personal lawyer has been selling his connection to the White House as if he were a shyster on late night TV:
Michael Cohen served loyally as Donald Trump's right-hand man for more than a decade, taking care of anything and everything the New York real estate baron needed to get done.

On November 8, 2016, Cohen's stock suddenly soared: He was now the personal attorney to the President-elect of the United States, with unique understanding of a man that everyone was scrambling to get access to.

Cohen quickly got to work. According to multiple people familiar with Cohen's conduct following the election, he aggressively pitched himself to potential clients, reminding them of his proximity to the most powerful man in the world. Those efforts landed Cohen lucrative consulting deals. New reporting this week revealed that in the months following the 2016 election, Cohen received hundreds of thousands of dollars from powerful entities based in and outside of the United States.
We only bring it up to illustrate how the swamp works: If you need things fixed, you go to a fixer.
Wet World
If you have a real government of laws, and not of men, no one bothers to buy "access" to the president or the ruling party – because access doesn't get you anywhere.
Since the 16th century, Justicia – or Lady Justice – is depicted as blindfolded. She deals out justice impartially; she doesn't care whether you have access or not. Justice is meant to be applied equally, regardless of wealth, power, or status.
But when the swamp takes over, the blindfold is the first thing to go. That's when it pays to make connections.
We've reported previously that lobbying expenses are among the best investments a company can make. Campaign contributions, too, are good ways to get ahead in the swamp. We've already illustrated this here.
But you've got to bet on the right horse. In the fall of 2016, most of the swamp money was going to Hillary; most people thought she would win.
So when the ballots were counted, all of a sudden, the swamp critters had to find a way to get to The Donald.
That proved easy to do. The president-elect and his entourage were already very experienced with the wet world.
They'd been on the make in the New York swamp for decades. All they had to do was take the Acela train down to the Okefenokee on the Potomac, where the swamp was bigger, deeper, and even more foul.
Call Michael
Almost immediately following the election, Michael Cohen was on the phone. CNN:
"I don't know who's been representing you, but you should fire them all. I'm the guy you should hire. I'm closest to the president. I'm his personal lawyer," was how one GOP strategist described Cohen's sales pitch.
And the money rolled in.
$1.2 million from drug giant Novartis. $200,000 from AT&T. Half a million from Russian oligarch Viktor Vekselberg. $500,000 from Columbus Nova. $150,000 from Korea Aerospace Industries.
This last company was angling for a crony contract from the U.S. Air Force. It turned to Cohen, who has no apparent knowledge of the aircraft industry or federal contract procedure.
His legal experience is limited to the kind of thing you find on billboards – "Injured on the job? Denied disability? Call Michael"… and, of course, controlling the damage from Donald Trump's misadventures.
Nevertheless, Korea Aerospace Industries turned to him for what it called "short-term legal advice."
But heck, it's good work if you can get it.
A hundred thousand here. A hundred thousand there. Pretty soon, you're no longer a putz from Long Island; you're a real mover and shaker with enough money to hold your head up.
The papers are reporting a total of about $4.4 million for his firm, Essential Consultants.
That's the way the swamp works. Put enough complicated laws on the books and what you really have is a government of men who help you get around them.
Having the right connections is… well… essential.
Regards,
Bill
STAY INFORMED! Receive our Weekly Recap of thought provoking articles, podcasts, and radio delivered to your inbox for FREE! Sign up here for the HoweStreet.com Weekly Recap.