May 12, 2018 | Good Week for the Deep State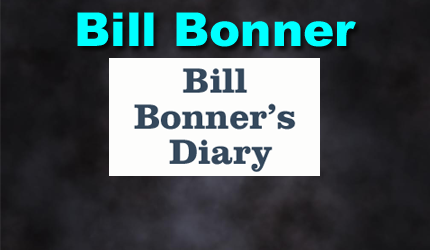 Is an American author of books and articles on economic and financial subjects. He is the founder and president of Agora Publishing, and author of the daily financial column, Diary of a Rogue Economist.
PORTLAW, IRELAND – It's been a good week for stocks… and a good week for the Deep State.
On Wall Street, it almost seemed like the good ol' days, as the Dow rose to a seven-week high and inflation readings remained low.
Investors thought they saw more good things coming.
Deep State stocks were winners. Bank of America rose nearly $1.60 during the week, as of this morning. General Dynamics went up more than $6.50. Raytheon made a $10 gain.
Swamp Deals
Up on the Hill, meanwhile, Gina Haspel managed to dodge questions about her role in torture and the destruction of evidence.
In a better world, she would probably be swinging from a scaffold with a noose around her neck, not looking forward to a cushy job as CIA director.
But she is being promoted for her loyalty, her long service… and the fact that she seems ready to do just about anything without asking questions.
In Iran, Israeli prime minister Bibi Netanyahu and American billionaire Sheldon Adelson managed to turn up the dial on tension in the Middle East by getting The Donald to nix the Iranian nuclear deal. It was fairly easy; after all, Adelson was one of Trump's major campaign donors.
We saw how the swamp works yesterday. You want influence; you pay for it.
Trump's budget chief, Mick Mulvaney put it to the American Bankers Association straight:
We had a hierarchy in my office in Congress. If you're a lobbyist who never gave us money, I didn't talk to you. If you're a lobbyist who gave us money, I might talk to you.
Naked Deep State
So now we see how a low-life lawyer like Michael Cohen brought in $4.4 million in consulting fees since Donald Trump was elected: He offered to fix things with his boss.
And we see Iran's big mistake: It didn't hire the best lobbyists… and didn't contribute to The Donald's campaign. If it had slipped a billion or so in Michael Cohen's pocket, maybe the president would have declared Israel a rogue state!
But let us pull back the covers to take a gander at the naked Deep State itself.
The term bespeaks a small group of conspirators with a plan to take over the world. But that's not it.
Not that there aren't groups of people with their own agenda… and not that they don't sometimes pull off a coup or foment a revolution.
But when we speak of the Deep State, we refer to a large group of people with very different agendas. The White House… Congress… bureaucrats… experts… think tanks… policy wonks… lobbyists… cronies… zombies… apparatchiks… nomenklatura… hustlers… chislers…
These are the "insiders." They are the people who control directly, influence, or benefit from the power of the government to force you to do things you otherwise wouldn't want to do.
Do you want to pay for U.S. soldiers to go on madcap adventures in Africa and the Middle East? Do you want to pay for tenured professors who tell white children to leave the classroom… or promote sex change operations for teenagers?
Do you want to pay so that people can cheat their way onto disability and live at others' expense?
We didn't think so.
But that's the way the system works: The insiders win; everyone else loses.
Corrupt Glory
There are many mansions in this house – on both sides of the Potomac… between the Hudson and East Rivers… and all over the world.
The IMF… the World Bank… a whole host of NGOs – partially or fully funded by the U.S. taxpayer – should be included. Academia, too… along with the military/security complex and the medical/pharmaceutical industry.
Wherever you see the feds at work – there you shall also find the Deep State in all its corrupt glory.
Of course, there are many different factions in the Deep State. Some want more LGBT programs. Others want more veterans' benefits.
Some want to exclude immigrants, while others want to lure them in with more welfare boondoggles – including a guaranteed annual income.
Some favor Israel. Others are on Iran's side.
The different members of the Deep State have very different goals. What unites them is that they all share the same way of getting what they want.
Rather than earn their money and status honestly – by providing goods or services to others – they take it from you. It's a win-lose game, where they can only get ahead by making others fall behind.
As for pulling out of the Iran deal, most thoughtful observers in the Deep State – in the State Department, for example – thought it was a mistake.
"It shows the world that the U.S. can't be trusted," they say. "Why would North Korea want to do a deal with a deal-breaker?" they ask.
They think it strengthens the hand of radical Iranian factions and will probably lead to war, led by the aforementioned Israeli prime minister.
But Sheldon got his way. The Donald may not know much about foreign policy, but he knows a top bidder when he sees one.
Regards,
Bill
STAY INFORMED! Receive our Weekly Recap of thought provoking articles, podcasts, and radio delivered to your inbox for FREE! Sign up here for the HoweStreet.com Weekly Recap.