May 19, 2018 | Early Lesson Sticks Around for the Long Haul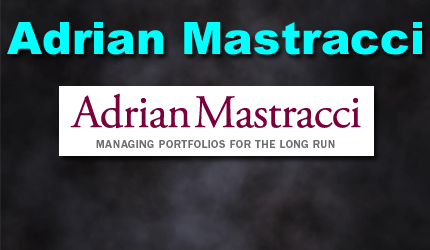 Adrian Mastracci, Discretionary Portfolio Manager, B.E.E., MBA. My expertise in the investment and financial advisory profession began in 1972. I graduated with the Bachelor of Electrical Engineering from General Motors Institute in 1971. I then attended the University of British Columbia, graduating with the MBA in 1972. I have attained the "Discretionary Portfolio Manager" professional designation. I am committed to offering clients the highest standard of personal service by providing prompt, courteous and professional attention. My advice is objective, unbiased and without conflicts of interest. I'm part of a team that delivers comprehensive services and best value in managing client wealth.
"Attitude is a little thing that makes a big difference."
— Winston Churchill
Everyone makes investing bloopers at some point. Perhaps, on a recurring frequency. In particular, when you're under age 30 and infallible. You just know that you are right.
A few words about my under-30 development. My short story is that I identified a stock that I felt had substantial upside prospects. I did my comprehensive research. It told me to go ahead and buy. Why quibble with the irrefutable conclusions. So I bought looking to cash in big time.
What really happened is that I married the stock. Yes, totally head over heels. And for a while, it truly seemed I was very much on the right track. That darling stock was moving in the profitable direction, just as I had imagined.
You can guess what's coming. Much to my horror and dismay, the stock's fortunes flew south rather abruptly."

Adrian Mastracci
You can guess what's coming. Much to my horror and dismay, the stock's fortunes flew south rather abruptly. Divorcing my beloved sweetheart stock was the painful next step. An outcome full of agony that was clearly not contemplated in my analysis.
Losses start small
It took a while before I reluctantly sold my pick at a hefty loss, not to mention a bruised ego. However, it's been one of the best things that happened to me in my early days. This investing lesson has stuck with me ever since. Just because one concludes that a selection is a terrific investment does not make it a sure-fire winning choice. It is a harsh reality of the investing landscape.
Yes, investors will most likely encounter similar stories to mine. Thus, make every effort to learn your lesson as early as possible. It becomes a very useful framework for the long haul. Left unchecked, it can become a costly activity.
All investing losses start out very small when things go awry. What everyone has to determine is how long you are prepared to stick around for the financial bloodbath to unfold before taking concrete remedies. As an example, a 50% loss requires a 100% gain to breakeven. That is a low percentage strategy that most often delays the inevitable action plan.
So, repeat after me. Stocks make lousy partners. Stop getting married to them. Take the very painful medicine early and move onto investing in greener pastures. It is best to deal with this cold turkey.
This does not mean that you won't repeat similar bloopers. Rather, it means that you should have the tools to guide you through the decisions that focus on your best interests.
Getting emotionally attached to your stocks is like driving in thick fog. You become visually impaired. So, pull over and sketch out the sensible remedy for your situation.
I am extremely thankful for having dealt with my keen attachments to stocks during my early days. Investing decisions became so much more logical and methodical, which is how they ought to unfold.
Your first loss is your best loss. I recommend adopting the same principle. All it takes to get started is a shift in your attitude. Look upon it as practical wisdom for the long haul.
The ball is in your court.
STAY INFORMED! Receive our Weekly Recap of thought provoking articles, podcasts, and radio delivered to your inbox for FREE! Sign up here for the HoweStreet.com Weekly Recap.