May 3, 2018 | Druckenmiller's Opinion Totally Valid!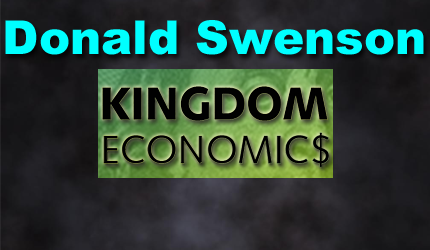 Donald B. Swenson: Born January 24, 1943, Roseau, Minnesota. Graduated H.S. 1961, Moorhead High, Minnesota. Graduated College 1968, Moorhead State University, Minnesota. Designated member of Appraisal Institute (MAI), 1974. Employed with Western Life Insurance Company, 1968 – 71; Iowa Securities Company, 1971 – 73; American Appraisal Company, 1974 – 81. Part-time teacher/valuation consultant/bartender, 1979 – 2008 (taught workshops at Waukesha County Technical Institute, Wi. and Madison Area Technical College, Wi.). Retired 2008 (part time teacher/blogger), AZ. Self educated economist/philosopher/theologian: http://kingdomecon.wordpress.com.
Today's Wall Street Journal, page A17, reported the view of Stanley Druckenmiller on our economy. His opinion was entitled, 'Where's the Invisible Hand When You Need It?' Stanley says, "If I were trying to create a deflationary bust, I would do exactly what the world's central bankers have been doing the past six years. I shudder to think of the malinvestment that has occurred. Corporate debt has soared. Bankruptcies have been minimal, but who knows how many corporate zombies free money is keeping alive? Individuals have plowed ever-increasing sums into assets at ever-increasing prices.
He then says, "All the interventions by the not-so-invisible hand of government, not allowing the market to set the hurdle rate for investment is the one I see with the highest costs. Competition is better than central planning at protecting consumers. The government should get out the business of controlling long-term interest rates and canceling market signals. I am discouraged by the timidity of many conservatives' criticism of our current direction."
My comments: I fully agree with Mr. Druckenmiller and his sentiments about our general  economy. He thinks that free trade is now under assault. He thinks that capitalism is waning. His view that financial repression and central-bank intervention has been bad for our markets is right on. The QE tool, he says, should be reserved for a depression and not for a correction or a recession. Price controls via long-term interest rates (to control deflation) merely distorts our markets. It's the bogeyman of the 1930's.
I have been repeating the mantra for years that capitalism is essentially over because of this central planning policy which has emerged from our central banks. How can free markets emerge when central planners control prices and manipulate interest rates to serve the interests of the big corporations and a few global elites? The invisible hand of the market is now dead IMO. Try change the markets via free actions. It's impossible when our central banks trade, control, monitor, and rig all our markets.
The sentiment of Mr. Druckenmiller needs to permeate the thinking of all financial pundits. Our free markets are now controlled by forces which make the invisible hand impossible to express itself. Traders now seek daily information from our central planners prior to making their trading decisions. This is not capitalism. This is the makings of communism. Prices are now monitored and controlled by a few elites hiding behind closed doors. Central banks now rule over all our invisible cyber markets. Think for yourself to reach this conclusion. I am: https://kingdomecon.wordpress.com.
STAY INFORMED! Receive our Weekly Recap of thought provoking articles, podcasts, and radio delivered to your inbox for FREE! Sign up here for the HoweStreet.com Weekly Recap.