May 1, 2018 | Coming War: Market Crash, Gold and Oil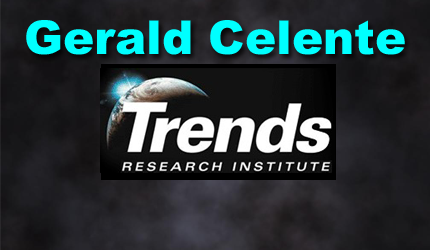 Gerald Celente, who developed the Globalnomic® methodology to identify, track, forecast and manage trends, is a political atheist. Unencumbered by political dogma, rigid ideology or conventional wisdom, Celente, whose motto is "think for yourself," observes and analyzes the current events forming future trends for what they are — not for the way he wants them to be. And while Celente holds a U.S. passport, he considers himself a citizen of the world.
KINGSTON, NY 1 MAY 2018—The fabricated false premise for the justification of war in the Middle East we forecast in December has been established. The powerful Israel, Saudi Arabia and United States triumvirate have pledged allegiance against Iran.
Three weeks ago, following unverified reports that Syria unleashed a chemical weapons attack that killed dozens of people in the outskirts of Damascus, Israel allegedly launched a military strike against Syria. A few days later, the U.S., France and Britain orchestrated a 100-plus missile attack on Syria, which Saudi Arabia has praised.
In just the last week, the prospects for war have measurably escalated. An airstrike attack on the weekend that targeted Syrian military facilities in Hama and Aleppo was believed to be carried out by Israel. Barely covered in Western media, it is reported 26 people were killed in the strike, including Iranian soldiers.
The anti-Iranian alliance is further bolstered by President Trump's newly confirmed National Security Advisor John Bolton, who has called for regime change in Iran, and Secretary of State Mike Pompeo, who called Iran, "the greatest sponsor of terrorism in the world."
Then on Monday, Israeli Prime Minister Benjamin Netanyahu, who has vowed to "not allow Iran to entrench itself militarily in Syria," put on an amateurish power point presentation of "new evidence" to prove Iran has been developing its nuclear weapons program in secret for more than a decade.
While claiming to have stacks of incriminating evidence, there was nothing "new and conclusive" in Netanyahu's show-and-tell, "Iran Lied" routine.
Further on Monday, Israel's Knesset transferred responsibility for declaring war from the full cabinet to the prime minister and his minister of defense.
From his seat as the star of America's Presidential Reality Show, President Trump validated Netanyahu's unsubstantiated claims targeting Iran, saying: "What's happening today and what's happened over the last little while and what we've learned has really shown that I've been 100 percent right."
TREND POINTS TO WAR, MARKET CRASH
We warned in one of our Top Trends for 2018, "Market Shock-Mass Murder:" "The battle lines have been drawn. In Washington, there is absolute support for Israel and absolute hatred for Iran. Should these trend lines continue on their current path, we forecast war will ignite throughout the Middle East."
Should Trump cancel the Iran nuclear agreement, which seems likely, oil prices will rise, thus further benefiting Saudi Arabia, whose Crown Prince wants oil at a $100 a barrel or more to bolster its sagging economy.
With the Trump Rally now ended and global economies downshifting, neither equity markets or consumers are positioned to withstand the effects of spiking oil prices and other impacts of war.
Indeed, the economic consequences will pale in comparison to the human suffering and potential destruction that will result.
TREND FORECAST: War against Iran will drive oil prices to Panic of '08 levels, reaching $150 per barrel. And it will crash equity markets worldwide, along with the dollar, euro, yen, yuan and other fiat currencies of deeply indebted nations.
While a strong dollar has kept gold prices down, should war breakout, gold, the ultimate safe-haven asset, will see its value catapult into unchartered territory of $2,000 an ounce or more.
STAY INFORMED! Receive our Weekly Recap of thought provoking articles, podcasts, and radio delivered to your inbox for FREE! Sign up here for the HoweStreet.com Weekly Recap.