April 21, 2018 | Trading Desk Notes – April 21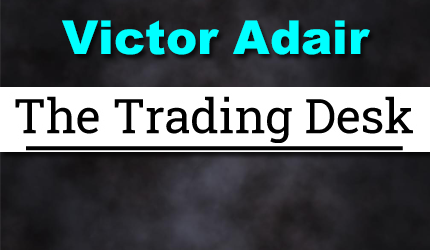 Victor Adair, author of The Trading Desk Notes, began trading penny mining shares while attending the University of Victoria in 1970. He worked in the mining business in Canada and the Western United States for the next several years and also founded a precious metals trading company in 1974. He became a commodity broker in 1977 and a stock broker in 1978. Between 1977 and his retirement from the brokerage business in 2020 Victor held a number of trading, analytical and senior management roles in Canada and the USA. Victor started writing market analysis in the late 1970's and became a widely followed currency analyst in 1983. He started doing frequent media interviews in the early 1980's and started speaking at financial conferences in the 1990's. He actively trades his own accounts from The Trading Desk on Vancouver Island. His personal website is www.VictorAdair.ca.
It doesn't matter until it  matters, and then it really matters! US interest rates are higher again this week…short rates are at 10 year highs (2.45% on the 2 year) while the 10 year Treasury yield is 2.94%…very close to 5 year highs. The market is expecting US interest rates to keep rising and after months of, "It doesn't matter," the currency market may be starting to realize that, "It really matters," and the US Dollar is therefore rising against nearly all other currencies!
For the past year or so the widening premium of US interest rates over foreign rates didn't seem to matter…other issues plagued the US Dollar. Speculators in the futures market built up their aggregate net short USD position to a 7 year high. The US Dollar Index hit a 3 year low in January and has chopped sideways in a narrow range since then…BUT…rising interest rate differentials against other countries may be the catalyst that sparks a USD rally…after all, it now costs nearly 3% a year to maintain a short USD position against EUR…if the market is going sideways you're fighting the clock…and if US interest rates keep rising the cost of maintaining your position keeps going up.
The US Dollar Index closed the week at a 3 month high…registering a classic weekly Key Reversal UP against weekly Key Reversals DOWN in GBP, EUR, AUD, NZD, MXN, NOK, and some Asian currencies.
Stealth USD strength: While USD has been relatively steady the past few months against G10 currencies it's made good gains against a range of 2nd tier currencies including India, Russia, Brazil, Sweden, Switzerland, Turkey, Argentina and others.
The Canadian Dollar hit an 8 week high of 7990 ahead of Wednesday's dovish BOC announcements/press conference but it's down over a cent since then. CAD got a lift from rising crude oil prices over the past month…but if crude prices fall CAD should weaken.
The American stock market gapped higher following the "less worrisome than feared" military action/reaction in Syria and continued higher into Wednesday on good corporate earnings. Semiconductor weakness Wednesday pressured the Nasdaq and all of the leading indices turned lower…rising interest rates may have also pressured prices with 2 year Treasury yields (2.45%) now significantly above the S+P 500 dividend yield (1.87%)…after 9 years of dividend yields being higher than the risk free rate.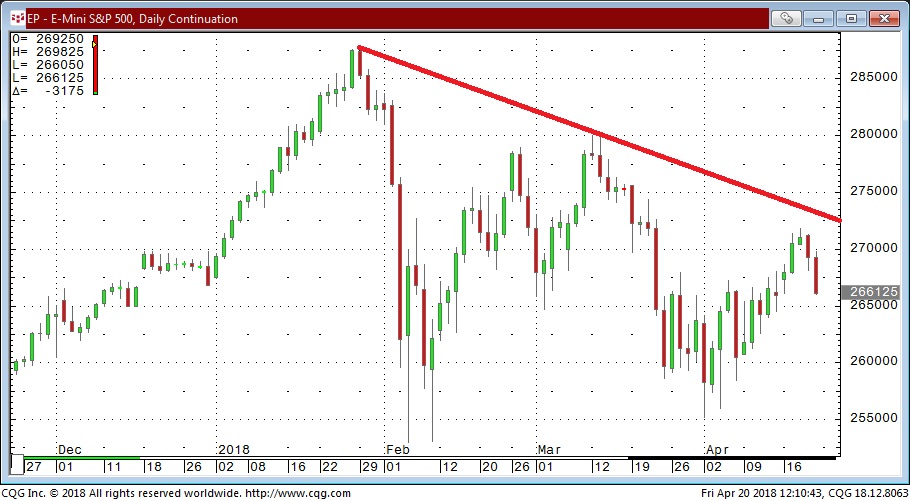 Crude oil prices hit a 3 ½ year high this week with WTI touching $69.50 ahead of the OPEC (and friends) compliance meeting in Saudi Arabia. Bullish sentiment was boosted by market chatter that the Saudis would like to see higher crude oil prices and also by talk that Trump may re-sanction Iran on May 12. WTI hit a 7 month low of $42 in June 2017 and has risen ~66% since then. As spot prices rallied the term structure moved from a modest contango to a deep backwardation (December 2018 WTI fell from a $1.75 premium over December 2019 in June 2017 to a current $6 discount.) At the same time speculators in the futures market more-than-doubled the size of their net long positions to an All Time High.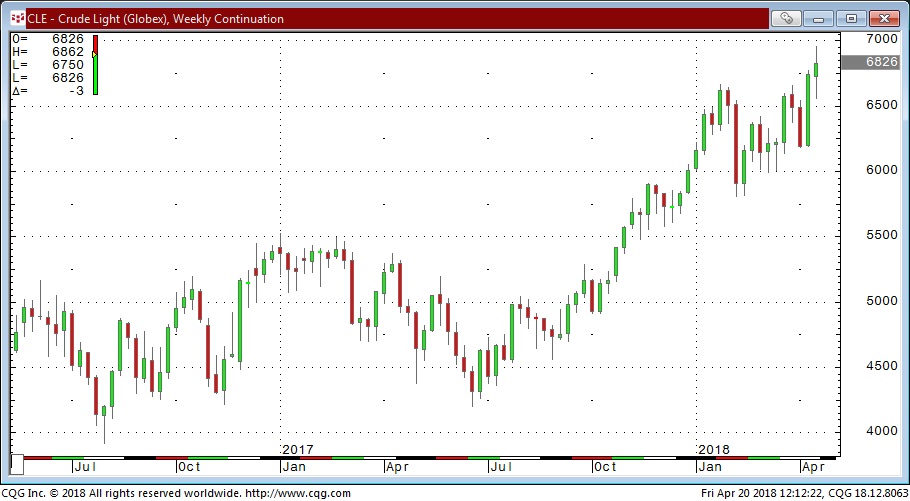 Why have crude oil prices risen so much? The generally accepted reason is that prices are up because the production cut-back agreements between OPEC and friends have reduced supply…while global demand has continued to grow…thus reducing above-ground inventories. Fair enough, prices were lower when inventories were higher…so now that inventories are lower prices should be higher, right? The current anticipation that OPEC and friends will keep a lid on production also puts a bid into the market. Prices are what they are but I wonder if there's something other than "swings in inventory" at play. It could be "sinister" like market manipulation or it could be long term investors deciding to re-balance their portfolios away from financial assets and into commodities. (You take some profits after a 9 year bull market in stocks and buy some commodities with the commodity/stocks ratio at lifetime lows.)
My short term trading:
Stocks: I bought OTM S+P puts last Friday thinking that the market was rolling over. That night the "Allies" fired missiles at Syria. The muted response to that activity caused the S+P to gap higher Sunday afternoon and I covered my position for a small loss. I watched the stock market rally on low volume Monday through Wednesday and bought OTM puts on Thursday as the rally ran out of steam. My thesis has been that the sharp break from All Time Highs in late January was a "sign" that the character of the market had changed from a "buy the dip" environment to a two-way trading market and I've looked for opportunities to sell "bounce back" rallies that ran out of steam.
Currencies:  My thesis has been that USD (which has been falling for 16 months) was oversold and could have a good rally. I caught a good part of the Feb/March break in CAD (and gave some money back in the Mar/April rally!) I sold CAD following the dovish BOC event on Wednesday. I've been looking for other opportunities to buy USD.
Crude Oil: I bought OTM WTI puts Thursday when the market made new highs and reversed. Part of the rationale on this trade is a bullish USD view. If indeed USD starts to rally then WTI may fall back from 3 ½ year highs. (Witness the July 2014 to February 2015 period when the USD soared while WTI tanked.)
Summary: at the end of the week my accounts are essentially short S+P, CAD, WTI, EUR and T-Notes.
PI Financial Corp. is a Member of the Canadian Investor Protection Fund. The risk of loss in trading commodity interests can be substantial. You should therefore carefully consider whether such trading is suitable for you in light of your financial condition. In considering whether to trade or the authorize someone else to trade for you, you should be aware of the following. If you purchase a commodity option you may sustain a total loss of the premium and of all transaction costs. If you purchase or sell a commodity futures contract or sell a commodity option or engage in off-exchange foreign currency trading you may sustain a total loss of the initial margin funds or security deposit and any additional fund that you deposit with your broker to establish or maintain your position. You may be called upon by your broker to deposit a substantial amount of additional margin funds, on short notice, in order to maintain your position. If you do not provide the requested funds within the prescribe time, your position may be liquidated at a loss, and you will be liable for any resulting deficit in your account. Under certain market conditions, you may find it difficult to impossible to liquidate a position. This is intended for distribution in those jurisdictions where PI Financial Corp. is registered as an advisor or a dealer in securities and/or futures and options. Any distribution or dissemination of this in any other jurisdiction is strictly prohibited. Past performance is not necessarily indicative of future results
STAY INFORMED! Receive our Weekly Recap of thought provoking articles, podcasts, and radio delivered to your inbox for FREE! Sign up here for the HoweStreet.com Weekly Recap.