April 26, 2018 | The Real Reason the U.S. Goes to War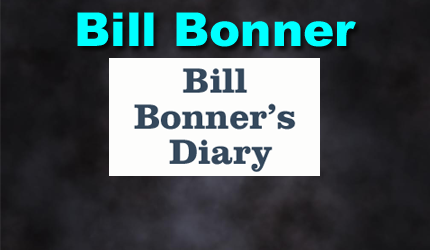 Is an American author of books and articles on economic and financial subjects. He is the founder and president of Agora Publishing, and author of the daily financial column, Diary of a Rogue Economist.
BARCELONA – We left off yesterday trying to connect the dots.
Abandon traditional forms, rules, and customs, we noticed… and you are most likely on your way to disaster.
Most "innovative" architecture, for example, is usually ugly and often dysfunctional.
There are hidden lessons embedded in tradition. We don't really know why chimney tops have corbelling… or why many languages have a subjunctive mood… or why people smile and say good morning, even to total strangers.
But they do.
Made to Be Broken
Rules are made to be broken, of course. You could just say, "go to hell" to everyone you meet. Some people do.
But they are rare… and rarely invited to weddings or dinner parties. Readers are invited to try it… and report back.
We don't know exactly why the traditional "rules" are what they are. And we don't know the consequences of breaking them. But there is almost always a price to pay.
On this day in 404 AD, by the way, the war between Athens and Sparta, known in history as the Peloponnesian War, ended. It was an on-again, off-again war… that was waged over 27 years.
At low points, the Athenians wanted to stop the killing. But the Greek statesman Pericles, in the famous "funeral oration" speech recalled by Thucydides, bade them continue:
So died these men as becomes Athenians. You, their survivors, must determine to have as unfaltering a resolution in the field, though you may pray that it may have a happier outcome.
Bad advice.
By the end of the war, almost all of Athens' soldiers had either been killed or captured and enslaved. The Athenian city walls were torn down. And democracy, an Athenian innovation, was suspended.
"It was the will of the gods," said the ancients.
Will of the Gods
In these pages, we try to link the trends and policies of today with the will of the gods.
The gods are jealous; they don't like to see people contradict or ignore their "natural" laws.
The "laws" of finance are pretty simple.
"As you sow, so shall ye reap," it says in the Bible (Galatians 6:7). "By the sweat of thy brow you will eat food until you return to the ground," it adds in Genesis 3:19.
You can't fake it. You can't pretend to sow, with fake seed or fake money. You can't take a quick shower and pretend to be sweating.
It won't work.
The gods cannot be deceived. The great classical economists realized long ago, for example, that fake seeds produce fake food… and fake money produces a fake prosperity.
And a boom purchased on credit always turns into a bust of credit deflation. Why, how, and when that credit bust will come is what we look for – in our dot patterns – in this Diary.
But we can't help but notice similar patterns in other aspects of human life. One of the lessons learned over thousands of years of bitter experience was the one that Athens ignored: You shouldn't go to war unless you have to.
"He who lives by the sword, dies by the sword," is an expression attributed to the Greek playwright, Aeschylus, or the Gospel of Matthew.
Dying by the sword is not something most people would like to do. So the reasonable inference is that you should avoid picking fights.
But that is a lesson that is easy to forget – especially when you get too big for your britches. Then, you can pick fights with people who pose no real threat to you.
We turn to Wednesday's New York Times for illustration:
Murky war ramps up deep in Niger desert. U.S. will use drone airfield to strike at extremists in West and North Africa.
What the U.S. has against African "extremists" was not clarified.
Marching in Step
The U.S. media doesn't seem to have read Thucydides. Otherwise, it might have mentioned that swinging the sword around in Africa is not likely to have any better results than hacking through the Middle East.
But the media is marching in step with the military suppliers. FAIR, a national media watch group, reports:
A survey by FAIR of the top 100 papers in the U.S. by circulation found not a single editorial board opposed to Trump's April 13 airstrikes on Syria. Twenty supported the strikes, while six were ambiguous as to whether or not the bombing was advisable. The remaining 74 issued no opinion about Trump's latest escalation of the Syrian war.
Nor did any major media body in the U.S. even bother to investigate the alleged reason for the attack: the use of chemical weapons on civilians.
Later, when it became clear that the whole story was likely fake news, the media described the bombing in Syria as "symbolic," or a "warning" to the Assad regime.
Syria may or may not have used gas in Douma, but it won't do it again!
Meanwhile, you might expect Democrats in Congress – which is supposed to be the sole custodian of the "war power" – to show a little backbone. But no. In These Times reports:
Ninety-two percent of Senate Democrats and independents failed to substantively dissent against Trump's April 13 airstrikes.

Where objections are raised by Democrats and independents, they most frequently take the form of procedural and legal complaints, which fall short of making a judgement on whether the military intervention itself is good or bad.
Any fool can see that these wars will be, at best, useless… at worst, disastrous.
But Congress and the administration are in favor of them. The media is behind them. And Big Business and Wall Street make money from them.
These wars are not "mistakes," in other words. They are intentional uses of the sword – not to win wars, but to win money and power.
In other words, these are not fools behind these lethal U.S. adventures. Instead, they are knaves.
More to come…
Regards,
Bill
STAY INFORMED! Receive our Weekly Recap of thought provoking articles, podcasts, and radio delivered to your inbox for FREE! Sign up here for the HoweStreet.com Weekly Recap.