April 25, 2018 | Rejecting Tradition Created a Monster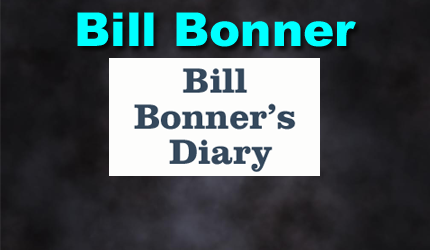 Is an American author of books and articles on economic and financial subjects. He is the founder and president of Agora Publishing, and author of the daily financial column, Diary of a Rogue Economist.
BARCELONA – The Dow stumbled yesterday, ending down some 425 points.
Nothing serious. More importantly, the yield on the 10-year Treasury note has crept up towards 3% this week, briefly hitting the milestone on Tuesday [more details in today's Market Insight below].
Our research department is sticking with its "Extreme Warning" Doom Index position, pending more data.
No Sure Thing
But our old friend, economist Mark Skousen, writing in The Wall Street Journal, says the underlying economy is stronger than people think.
Here's Mark:
The Bureau of Economic Analysis will release its preliminary first-quarter growth figure on Friday. According to the Atlanta Fed consensus tracker, economists are predicting gross domestic product to have risen at a meager 2% annual rate. But a powerful behind-the-scenes indicator suggests the real rate may turn out to be significantly higher.

"Gross output," or GO, reflects the full value of the supply chain – the business-to-business spending that moves all goods and services toward the final retail market. Based on my work and research by David Ranson, chief economist at HCWE & Co., changes in the supply chain are a strong leading indicator of the next quarter's GDP.
Our guess is that the economy is weaker, not stronger, than people think. The low unemployment number, for example, masks a weakening picture for real jobs, with more people working more jobs that don't pay very much.
And high stock prices make people think that they are richer than they really are – and more willing to spend money.
For the last 30 years, household net worth has risen about twice as fast as the underlying economy. Stock prices, in other words, are not based on real output.
And there is still no net gain in household income – despite 110 months of growth (the second-longest expansion in history) – for the entire 21st century.
As we reported in Monday's Diary, our colleague David Stockman uncovered that wage growth has kept pace with inflation; no more, no less.
There are never any sure things in economics. Instead, there are always surprises. And perhaps Mark is right; the surprise will come on the upside.
We'll see…
Pride of Barcelona
We went to visit the pride of Barcelona yesterday, the Sagrada Família, an extraordinary cathedral designed by the extraordinary architect, Antoni Gaudí.
A view from inside the Sagrada Família
Gaudí was a devout Christian. He saw the cathedral as a way to express his profound, and perhaps very original, faith.
The Sagrada Família is breathtaking. And it shows what you can do when you are daring enough.
Gaudí began the building in 1882. He kept at it – off and on, sometimes living onsite – for the next 44 years.
Then, crossing the street, he was struck by a tramway car and died. At that point, people were still not quite sure whether he was a genius or a fool, but they knew he was extraordinary.
Thousands of them came to the funeral and accompanied the body into the crypt of the church he had designed.
We have done a little "experimental" building ourselves. But we are not worthy so much as to gather the crumbs under Gaudí's table.
Every detail of the Sagrada Família, from the doorway to the soaring towers to the windows and altar, is staggeringly new and bold.
Boldness in architecture is usually a sign of arrogance and conceit. Most often, it is a dismal failure. And for good reason.
Condensed Wisdom
It took hundreds of years for the pleasing, familiar shapes of traditional architecture to evolve.
Arches were developed some 2,500 years ago. Columns maybe 3,000 years ago.
These, and many of the "classical" shapes that we take for granted, are physical forms of condensed wisdom, information, and style.
They're like that for a reason – like language and manners – even if we don't know what the reason is.
That's why so many of America's most recognizable landmarks (the U.S. Supreme Court, the Lincoln Memorial, even the White House) take cues from the architecture of the classical age. It is unlikely that a modern architect is going to improve on them.
That's also why almost all the innovation of the 20th century was so ugly and dysfunctional; after World War I, architects consciously rejected the past.
And when you do that – whether you are rejecting traditional work ethics, economics, religion, marriage, manners, morals, or aesthetics – you risk creating monsters.
The Russians, for example, rejected the conventions of bourgeois capitalism and created the Soviet Union.
The Brazilians rejected organic, vernacular architecture, and created their capital city – Brasília.
Meanwhile, architects the world over – such as those of the Bauhaus school – intentionally stripped their buildings of the ornaments and refinements of the past in order to give them a new, modern look.
And in economics, to which we will return until we are sick to death of it, classical economics was rejected in favor of claptrap modern theories – especially those of John Maynard Keynes.
The result? A monstrous mess…
Gaudí's work is exceptional. Yes, it looks a little like it escaped from some eccentric's backyard and has been enlarged 1,000 times.
But it is breathtakingly original and refreshingly sui generis. We have seen hundreds of churches… but none like the Sagrada Família.
Regards,
Bill
STAY INFORMED! Receive our Weekly Recap of thought provoking articles, podcasts, and radio delivered to your inbox for FREE! Sign up here for the HoweStreet.com Weekly Recap.