April 20, 2018 | Market Bounce or Market Bust? Our Forecast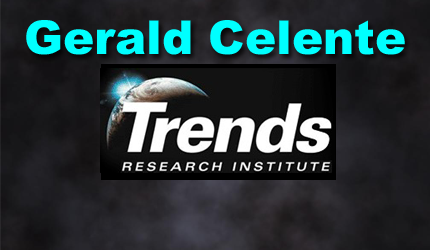 Gerald Celente, who developed the Globalnomic® methodology to identify, track, forecast and manage trends, is a political atheist. Unencumbered by political dogma, rigid ideology or conventional wisdom, Celente, whose motto is "think for yourself," observes and analyzes the current events forming future trends for what they are — not for the way he wants them to be. And while Celente holds a U.S. passport, he considers himself a citizen of the world.
KINGSTON, NY 18 April 2018—With fears of wars in the Middle East and trade wars with China temporarily easing, the Dow has spiked 213 points this week. And now with stock buybacks setting records and driving the markets higher, how far will the already overleveraged and overvalued markets be inflated?
U.S. companies have already bought back $167 billion of their own stocks and are on course to purchase a record-setting $800 billion by year's end.
Moreover, since central banks began flooding the markets with unprecedented cheap money policies following the Panic of '08, American corporations have spent $5.1 trillion in stock buybacks.
While the mainstream business media has misguidedly, but steadily, focused on the single-reason-a-day why markets rise or fall, the larger vulnerability equity markets face has been under reported. According to Schiller Price-Earnings ratios, markets are greatly overvalued. The 10-year average is around 17; today it's at 32, nearly double. The only time the PE ratio was higher was leading up to the 2000 dot-com bubble burst.
STOCK BUYBACKS ARE NOT GROWING THE ECONOMY
And now, with the unprecedented wave of buybacks, the PE ratio will further distort true stock value.
With just under 10 percent of S&P 500 companies reporting first quarter earnings, 71 percent of the reports have come in above estimates. So far, actual reported earnings per share are up 33 percent versus first quarter 2017.
With first quarter profits solid, the Trump tax plan lowering corporate taxes from 35 percent to 21 percent, and over $3.5 trillion in cash stored offshore being repatriated, corporations will continue to boost equity markets with record-setting stock buybacks.
And while Trump's $1.3 trillion omnibus spending bill will also boost Gross Domestic Product temporarily, it will not spark business investment.
Indeed, to date, corporations have not made sizeable capital investments in their companies to grow jobs from the government bonanza, and stock buybacks do nothing to boost GDP.
TREND FORECAST: The Trump rally has peaked. We forecast that while markets may move higher, the benefits of the tax plan and massive stock buybacks will be temporary.
Thus, we anticipate a continuing trend for high market volatility and high susceptibility to trigger points. Among them, we are most concerned with escalating wars in the Middle East that, considering how overleveraged and overvalued the markets are, will turn a market correction into a market crash.
And, as evidenced by what had initially driven stock prices down in February, markets continue to be highly vulnerable to rising interest rates.
Thus, what looms over global market performance is what will happen when interest rates steadily rise and the cheap money that artificially juiced the markets dries up.
With U.S. Fed fund rates at only at 1.5 percent to 1.7 percent after six increases, and European Union and Japan rates in negative territory, there is no Central Bank monetary ammunition to juice markets when the next trigger hits.
STAY INFORMED! Receive our Weekly Recap of thought provoking articles, podcasts, and radio delivered to your inbox for FREE! Sign up here for the HoweStreet.com Weekly Recap.