April 23, 2018 | America's Economy Whimpers… It Doesn't Roar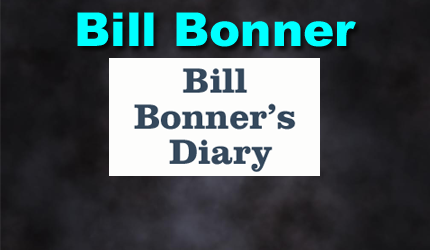 Is an American author of books and articles on economic and financial subjects. He is the founder and president of Agora Publishing, and author of the daily financial column, Diary of a Rogue Economist.
BARCELONA – This just in… from our man in Argentina…
I stopped in Cafayate for lunch… In the square were some students from different schools celebrating "El día del aborigen Americano" [Day of the original American] as you can see in the picture.

The teachers' speeches were depressing… "The land is ours… We belong to the land… We have the right to the land… " etc. Poor students. What can we expect from them? The lazy ones will probably claim to be originarios when they grow up and make their living [on welfare]…
Students assemble during El día del aborigen Americano
Everybody's got an angle. From our correspondent in Los Angeles, Matt Gordon, comes word of a new hustle:
Here in Los Angeles County, according to something called the Los Angeles Homeless Services Authority, there's now a homeless population of precisely 57,794. For perspective, Chavez Ravine (i.e., Dodger Stadium), has a capacity of 56,000.

This army of indigents, roaming about the LA LA land paradise, has become a significant embarrassment for local leaders. Haphazard urban campsites litter the bank tops of the colossal, concrete Los Angeles River Channel between Downtown Los Angeles and Downtown Long Beach. The massive collection of tents and makeshift shelters has become too much to ignore.
A Novel Pilot Program
Matt continues…
Hence, the clever folks at the LA Community Development Commission have launched a pilot program to pay homeowners to construct backyard dwelling units to house the homeless.

Loans of $75,000 are being granted for constructing a new backyard unit for the purpose of housing vagrants. There's even a design competition for model secondary dwelling units. What's more, loan interest stops accruing after five years in the program, and the loan is forgiven after 10 years.
We can imagine how that will turn out. A lot of "vagrant" adult children and widowed mothers-in-law will end up in backyard apartments, paid for by the taxpayers.
But that's the way government always works. The few exploit the many.
Roaring Back
Matt goes on to wonder how come there are so many homeless people in LA when the economy is doing so well.
After the second-longest expansion ever… "more than full employment"… inflation under 2%… stocks near record highs… and a 400% increase in the S&P 500…
…shouldn't everyone be rich?
And from the White House we hear that not only is the economy great… it's getting better! Donald J. Trump:
…America is strong and roaring back. Paychecks are climbing. Tax rates are going down. Businesses are investing in our great country. And most important, the American people are winning.
It really seems to be the best of times and the worst of times. Or… is this "best of times" story a form of fake news?
Colleague and budget advisor under President Reagan, David Stockman, has done a superb job of sorting through the data.
He found no evidence that "America… is roaring back" or that "paychecks are climbing"… or that "businesses are investing" or that the "American people are winning."
Instead, he found:
Paychecks are keeping pace with inflation, nothing more. Just as they did during the Obama years.

Real business investment has been on a downward trend for at least the last 7 years. That trend is still in place.

As a result, labor productivity continues to decline, too… averaging only half the rate of its historic average.

There has been no pickup in employment, either. Looking at the hours worked, the rate of increase is slightly weaker than it was under Obama.

Which leaves the American people not winning at all. They have only been able to continue spending by taking a half-billion dollars out of their savings… leaving them deeper in debt and more vulnerable to a downturn than ever before.

And now, these losers are losing even more… because the feds are loading even more debt on their backs… $1 trillion/year in deficits (two and a half times more than GDP growth).
In other words, expect more favelas – makeshift slums – in America.
The strength of the U.S. economy is fake news. But in public policy, fake news is the only kind of news there is…
More to come…
Regards,
Bill
STAY INFORMED! Receive our Weekly Recap of thought provoking articles, podcasts, and radio delivered to your inbox for FREE! Sign up here for the HoweStreet.com Weekly Recap.