March 10, 2018 | Tug of War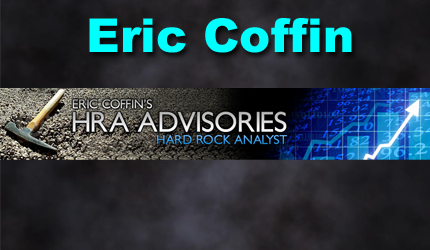 Eric Coffin, born in a mining town and raised in the industry. He has spent decades in the resource business. This gives him a background of real practical experience that no other editor can match.
The markets have calmed down a bit but the White House is injecting plenty of political uncertainty.  I'm surprised Wall St is taking things as well as it is.  Seems like traders think tax cuts (excuse the pun) trump everything else.  We'll see.  The complacency didn't work out so well a month ago so I wouldn't get carried away with it.
I'm finishing this issue at PDAC, having just finished a highly successful inaugural Toronto MIF. I should really be trolling the booths, but the news has been piling up and I wanted to get these updates off to you.  Note that the "news cut off" is March 2nd.  There were lots more news releases as I was finishing this today, and I expect a bunch more tomorrow.  Those will be dealt with in the next issue which I'll start this weekend.  I had planned to add a copper explorer that is already familiar to SD subscribers in this issue but there were so many updates there wasn't room.  I'll get to it in the next issue.  I don't expect any short-term news from that company, so it shouldn't make much difference. 
There has been lots of turbulence lately, most of it not the favourable kind for metals.  I'm not too concerned about the medium-term outlook, but we could have more drops short term.  Watch for this month's non-farm payroll report. Many think the surprise jump in wages in the last report kicked off the run up in yields and correction to the SPX.  I think some of that gain will be revised away this month.
***
Markets have calmed down a little since the last issue, but only a little. We did see a nice recovery from the February lows, with the SPX retracing two third of the full drop before topping out again.
You can chalk up the renewed volatility to a couple of reasons.  One is another pick up in shorter term yields.  The chart below shows a one-year trace for the 2-year Treasury yield index, considered a good proxy for bond traders short term inflation and yield outlook.
Yields dropped along with the SPX at the start of the month, which would have helped stabilize equities.  They bounced higher again towards the end of the month, for a couple of reasons.
One was supply concerns.  A brief US government shutdown and passage of a spending bill to end it led to increased deficit projections and a stacked schedule of bond issuances. While there was no real trouble selling the bonds, the "bid to cover" ratio—a measure of buying strength – was the lowest in years. That made bond traders uneasy and when bond traders get nervous, equity traders get spooked.
Yields stabilised at a higher level which was enough to calm Wall St.  Until President Trump stepped in front of a microphone.
Trump, playing to his base, announced 25% tariffs on imported steel and 10% tariffs on imported aluminium. The market sold off hard on the day of the announcement but has since regained part of that drop.
As someone who thinks of himself as a classical Liberal (in the 19th century sense, not the modern one) I'm a believer in free trade.  I know its not always the easiest route and that it sometimes creates painful dislocations in industries facing cheaper competition.  Even so, there are mountains of empirical evidence that it creates the most wealth for the economies as a whole.
Trump uses China as an example of a bad trade partner. There is some truth to that but if you look at how the Chinese economy has evolved you'll see an accelerated version of free trade's benefits writ large.  In the past 30 years China has moved through several phases of economic development and more than its share of "creative destruction".
Many of the industries and cheap light manufacturers that provided the initial lift off for the Chinese growth model have already gotten phased out.  Cheap goods are now manufactured in surrounding Southeast Asian economies and, even there, some the cheapest are being priced out of the market by newer rivals.  That's how its supposed to work and its certainly worked for the Chinese economy and the average worker there, even though there have been huge dislocations for individual workers in lower value-added industries that are being phased out.
Trump may be playing to his base but he's certainly not using the Republican party playbook.  The GOP has been the free trade party for decades.  Republican legislators are trying to talk Trump down.  The GOP has been spineless when it comes to some of the crazier stuff Trump has come up with, but Trade might be last straw.  It's a central part of many Republican's ideologies.  Historically it was Congress that set trade policy but in recent decades much of that power was ceded to the president, whichever party he was in.
Wall Street is already shrugging the tariff announcement off, assuming the party will overrule Trump. They can, but The Donald is already tweeting about imported autos and baiting foreign trade officials.  He may not get his way but, like many things Trump, it looks like it will be messy.
One side effect of rolling trade disputes and tariffs is higher input prices for US industry. Ironically, Trump's tariff fight may help generate some of the uplift in inflation bond traders expect but which hasn't yet materialized.  That will help keep short term yields and the $USD elevated at least until there is some resolution to the tariff issue.
The stronger USD Index, now back above 90, isn't doing gold, or base metals for that matter, any favors. Wall St still expects significant acceleration in the US economy this year which is also adding to the pressure.  Perhaps we'll see that but I note that Q4 economic growth in the US came in at the 2.5% mark its been sticking to for over a year.
Some of the most recent "big picture" metrics like consumer spending were way below consensus. Wall St is touting the potential for liftoff now due to tax cuts but I think those will help Wall St more than Main St.  There is already mounting evidence that the bulk of savings will be used for share buy back and one-off bonuses, not "trickle down" wage increases. Good for Wall St in the short run, not so much in the long run.
We may see some more short-term weakness in metals but I think the situation will still resolve favorably for us, one way or the other. The two mostly likely paths are outlined below.
If we see the inflation acceleration bond vigilantes warn of, the most likely outcome is lower real interest rates because the Fed can't or won't stay ahead of the curve during a meaningful increase in inflation.
If it turns out the growth surge is a chimera, concerns about the US Fed raising rates four or more times would vaporize.  That would renew the USD downtrend and strengthen metals across the board.
It's too early to say which way this will go. I suspect be get a bit of both outcomes, especially if Trump really does start a trade war.
I think the best mix to play both eventualities is a combination of high impact exploration stories and resource developers that have high margin projects that can weather price shifts in the metals. That is the sort of list we've pulled together in HRA.  Discovery stories will do well in any market—though they'll do better in a good one.  High margin resources may not find buyers in a poor market, but they will be the first to go when the next M&A cycle kicks off.  They also give more downside protection than optionality plays.
Watch for the next US non-farm payroll report in a few days. The hourly wage numbers could have a positive impact if they're weak.
Ω
The HRA–Journal and HRA-Special Delivery are independent publications produced and distributed by Stockwork Consulting Ltd, which is committed to providing timely and factual analysis of junior mining, resource, and other venture capital companies.  Companies are chosen on the basis of a speculative potential for significant upside gains resulting from asset-based expansion.  These are generally high-risk securities, and opinions contained herein are time and market sensitive.  No statement or expression of opinion, or any other matter herein, directly or indirectly, is an offer, solicitation or recommendation to buy or sell any securities mentioned.  While we believe all sources of information to be factual and reliable we in no way represent or guarantee the accuracy thereof, nor of the statements made herein.  We do not receive or request compensation in any form in order to feature companies in these publications.  We may, or may not, own securities and/or options to acquire securities of the companies mentioned herein. This document is protected by the copyright laws of Canada and the U.S. and may not be reproduced in any form for other than for personal use without the prior written consent of the publisher.  This document may be quoted, in context, provided proper credit is given.
©2018 Stockwork Consulting Ltd.  All Rights Reserved.
STAY INFORMED! Receive our Weekly Recap of thought provoking articles, podcasts, and radio delivered to your inbox for FREE! Sign up here for the HoweStreet.com Weekly Recap.