March 2, 2018 | 'Trump-o-nomics' – Where Does it Lead?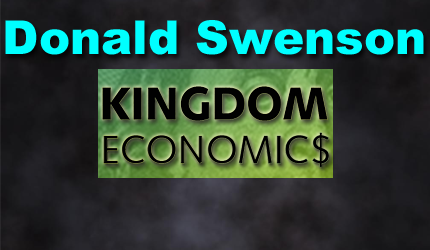 Donald B. Swenson: Born January 24, 1943, Roseau, Minnesota. Graduated H.S. 1961, Moorhead High, Minnesota. Graduated College 1968, Moorhead State University, Minnesota. Designated member of Appraisal Institute (MAI), 1974. Employed with Western Life Insurance Company, 1968 – 71; Iowa Securities Company, 1971 – 73; American Appraisal Company, 1974 – 81. Part-time teacher/valuation consultant/bartender, 1979 – 2008 (taught workshops at Waukesha County Technical Institute, Wi. and Madison Area Technical College, Wi.). Retired 2008 (part time teacher/blogger), AZ. Self educated economist/philosopher/theologian: http://kingdomecon.wordpress.com.
My sense is that the Donald has good intentions and seriously wants to improve working conditions for Americans. His business skills reveal that he is a problem solver at heart. But let's think about the mess that he inherited and why his Trump-o-nomics is unlikely to work in today's markets. Yesterday, the Donald proposed an increase in tariffs for steel and aluminum. This decision is creating global anxiety within the trading world as this decision changes current behavior for many nations (especially Canada).
The Donald recognizes that America has continuing trade deficits which go back over 40 years. America has allowed itself to accommodate the selfishness of foreign trade partners as it has been the major banker for the planet (with exceptional advantages). America has been able to buy and consume with no real consequences as the American dollar has been the reserve currency for the planet (mostly). Along with this advantage, America has had a military advantage over all other nations (mostly).
Our banker advantage and our military advantage has allowed us to dominate trade and create markets for our consumers with no real penalties for bad behavior. All this is ending gradually, as others now recognize that America is in serious trouble financially, morally, and even militarily. America has created its own systemic problems and the digital world is now becoming aware of these problems. America has national debt problems, deficit problems, trade issue problems, foreign policy issue problems, and serious moral and philosophical issues to deal with.
Basically, American hegemony is declining everywhere and this means that our economic issues will become paramount as these problems grow and deteriorate over time. The Donald can not create a NEW AMERICA given the problems which have evolved these past 70 years. His credibility will not improve IMO as our problems are systemic and beyond solubility. Just look at these numbers for evidence: http://www.usdebtclock.org. Our financial situation is dire and it is beyond solubility. We now need to become transparent about our many problems (financial, moral, military, governmental, and philosophical).
The philosophy of our past can not work in today's interconnected world of digital communication and digital technology. The biggest issue, to me, is our money system. We live with fake/imaginary money which creates distortions and rigging everywhere. Few seem to recognize the financial situation which we now live with. We now have a rigged computer marketplace where a central committee of elites is attempting to solve all our financial issues. Our new Fed Chairman has no clue as to what is emerging as a result of his interest rate policies and our past debt issues.
Our markets are so dependent on DEMAND from consumers (70%) and these consumers are now in DEBT up to their eyeballs. Credit card debt, auto debt, housing debt, and personal debt is at historic levels. The debt pyramid has grown as our central planning committee (the Fed) has juiced our spending and borrowing. Low interest rates, hyper stimulation of credit, and all the other gimmicks have created this market of debt and its coming consequences. There is NO solution and Trump-o-nomics is unlikely to change these issues going forward.
A better alternative would be to inform the American public about all these systemic problems and ask them to think about developing a NEW MODEL for the future. The current DEBT MODEL is dead in the water. We now need a NEW MODEL for the coming digital interconnected age of the internet. Digital money is a joke on the thinking of any serious pundit of economics. To assert that we can grow and prosper under the current DEBT model (via digital/fake money) is absurd. It's BEYOND solubility. It's dead in the water! Just look and think: http://www.usdebtclock.org.
Trump-o-nomics is an attempt to help Americans become more prosperous and free…but its philosophy (although well-intentioned)  can not work given our systemic situation. We now need transparency in all areas of politics and economics and this means allowing the American people to become INFORMED on all the problems. Problems are solvable when the people are informed and aware. Hiding our problems and pretending that they will disappear with more of the same is INSANITY. Think for yourself! See the evidence here: http://www.usdebtclock.org. I am: http://kingdomecon.wordpdress.com.
STAY INFORMED! Receive our Weekly Recap of thought provoking articles, podcasts, and radio delivered to your inbox for FREE! Sign up here for the HoweStreet.com Weekly Recap.