March 3, 2018 | Trading Desk Notes – March 3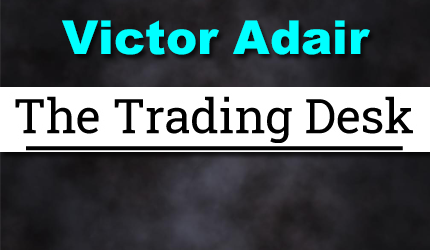 Victor Adair, author of The Trading Desk Notes, began trading penny mining shares while attending the University of Victoria in 1970. He worked in the mining business in Canada and the Western United States for the next several years and also founded a precious metals trading company in 1974. He became a commodity broker in 1977 and a stock broker in 1978. Between 1977 and his retirement from the brokerage business in 2020 Victor held a number of trading, analytical and senior management roles in Canada and the USA. Victor started writing market analysis in the late 1970's and became a widely followed currency analyst in 1983. He started doing frequent media interviews in the early 1980's and started speaking at financial conferences in the 1990's. He actively trades his own accounts from The Trading Desk on Vancouver Island. His personal website is www.VictorAdair.ca.
The US stock market was a great barometer of risk appetite this week. The DJIA rallied to 3 week highs on Monday but began falling early Tuesday morning (Powell testimony) and was down nearly 1,600 points at Friday's lows. The prospect of "trade wars" following Trump's proposed steel and aluminum tariffs contributed to a high volume acceleration of the decline on Thursday. The major American stock indices all registered a Weekly Key Reversal Down.
For the past couple of months  my Trading Desk Notes have maintained that risk appetite was "dangerously high" and was due for (at least) a correction. I wrote that: Markets are in a blow-off phase…My gut instinct is to fade this price action…but my risk management override says wait…it could get even crazier! The key aspect of market psychology so far this year has been a willingness to aggressively take on risk. I quoted Bob Farrell, "The public buys the most at the top and the least at the bottom."
I've had 2 key reasons why I thought there could be a significant reversal in risk appetite:
Looking at the charts I believed that the stock market "melt up" in January was likely the last leg of a parabolic blow off. The DJIA had quadrupled from the 2009 lows, had rallied 45% since the Trump election, and now the public was "beating down the doors" to buy anything and everything.
The global central banks, which had "underwritten" the 9 year rally in asset prices, were in the process of "changing their ways."
My short term trading: February was a good month for me as I caught parts of the "correction" in the stock, currency and commodity markets. I started this week short CAD and Euro, and bond puts, and added short gold and short S+P. I closed all of those positions with profits except for the bond puts which I closed for a small loss. I'm flat at the end of the week, but in my managed futures account that Drew manages we remain short CAD and WTI.
The US Dollar rallied to 6 week highs this week but then reversed sharply on Thursday  on "trade war" fears.
The Canadian Dollar broke its relationship with the Euro on Thursday…that is CAD kept falling against the USD while the Euro rallied. I think this points to REAL weakness in CAD…which is now threatening to break below the 7750 lows made last fall. The "trade wars" story has real impact on Canada as it pertains to the Nafta renegotiations. The 2 year interest rate spread is ~45 bp in favor of the US and markets may be anticipating "dovish" comments from the BOC at next week's meeting. Markets are still pricing a 36% chance that the BOC will raise rates in April…I have my doubts!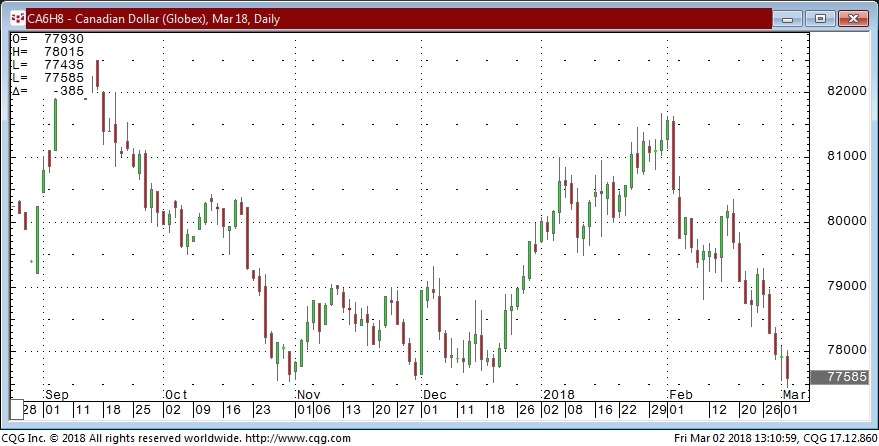 The Yen has been rising steadily since early January and ended this week at its best levels against the USD since Trump's election. It's often called a "safe haven" currency but it was rising in January even as the US stock market was soaring…so there's something else in play…any unwinding of the massive short Yen positioning in the futures markets could accelerate the rally.
WTI has had a very similar chart pattern to the S+P so far this year…rising through January…falling the first 2 weeks of February only to bounce back the next 2 weeks. This week it rallied on Monday along with the stock market and then fell sharply with the stock market Tuesday through Friday.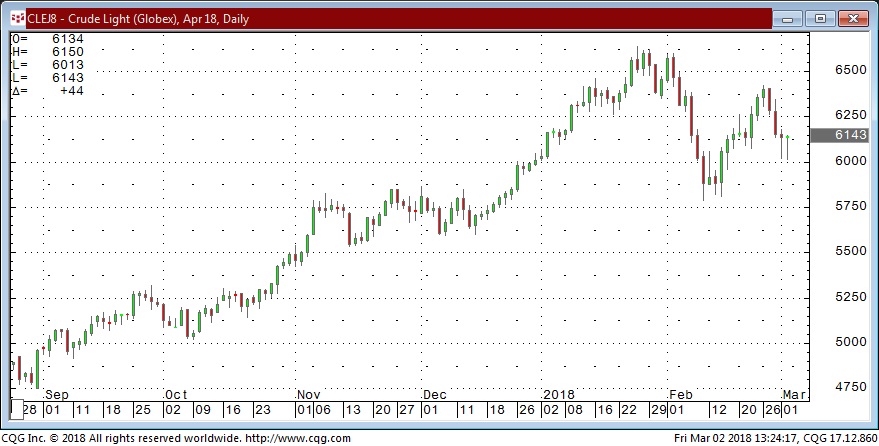 PI Financial Corp. is a Member of the Canadian Investor Protection Fund. The risk of loss in trading commodity interests can be substantial. You should therefore carefully consider whether such trading is suitable for you in light of your financial condition. In considering whether to trade or the authorize someone else to trade for you, you should be aware of the following. If you purchase a commodity option you may sustain a total loss of the premium and of all transaction costs. If you purchase or sell a commodity futures contract or sell a commodity option  or engage in off-exchange foreign currency trading you may sustain a total loss of the initial margin funds or security deposit and any additional fund that you deposit with your broker to establish or maintain your position.  You may be called upon by your broker to deposit a substantial amount of additional margin funds, on short notice, in order to maintain your position.  If you do not provide the requested funds within the prescribe time, your position may be liquidated at a loss, and you will be liable for any resulting deficit in your account. Under certain market conditions, you may find it difficult to impossible to liquidate a position. This is intended for distribution in those jurisdictions where PI Financial Corp. is registered as an advisor or a dealer in securities and/or futures and options. Any distribution or dissemination of this in any other jurisdiction is strictly prohibited. Past performance is not necessarily indicative of future results
STAY INFORMED! Receive our Weekly Recap of thought provoking articles, podcasts, and radio delivered to your inbox for FREE! Sign up here for the HoweStreet.com Weekly Recap.