March 24, 2018 | Trading Desk Notes – March 23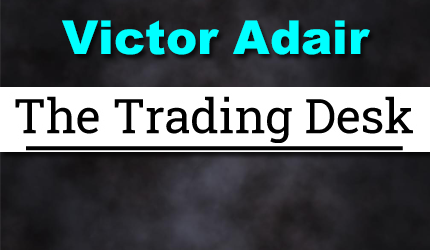 Victor Adair, author of The Trading Desk Notes, began trading penny mining shares while attending the University of Victoria in 1970. He worked in the mining business in Canada and the Western United States for the next several years and also founded a precious metals trading company in 1974. He became a commodity broker in 1977 and a stock broker in 1978. Between 1977 and his retirement from the brokerage business in 2020 Victor held a number of trading, analytical and senior management roles in Canada and the USA. Victor started writing market analysis in the late 1970's and became a widely followed currency analyst in 1983. He started doing frequent media interviews in the early 1980's and started speaking at financial conferences in the 1990's. He actively trades his own accounts from The Trading Desk on Vancouver Island. His personal website is www.VictorAdair.ca.
I started this week with short positions in CAD, Gold and the S+P. I took profits on the short CAD when it started to rally late Tuesday on news that the US was "softening" its NAFTA position on auto parts. I liquidated my gold position for a small loss on Wednesday when spot gold traded above $1325 and I remain short the S+P with a combination of option positions.
The Canadian Dollar tumbled >6.5% from the end of January to Monday's lows. It had closed lower for 5 out of 7 weeks and hit a 9 month low. It just about registered a Weekly Key Reversal Up this week. I liquidated my short position on the NAFTA/auto news because the market had been very focused on Canada's vulnerably to Trump's protectionist bombast and any "let up" could trigger a rally in an oversold market. I was also puzzled by the bid in the crude oil market the last 2 weeks (in the face of stock market weakness) and I thought CAD could benefit from rising crude. The USD feels "heavy" ( the Yen is at its highest levels since Trump's election) despite the HUGE American interest rate premium over other currencies and if the USD falls from here that would give CAD a lift.  I maintain a bearish view on CAD…I'm just not short at the moment.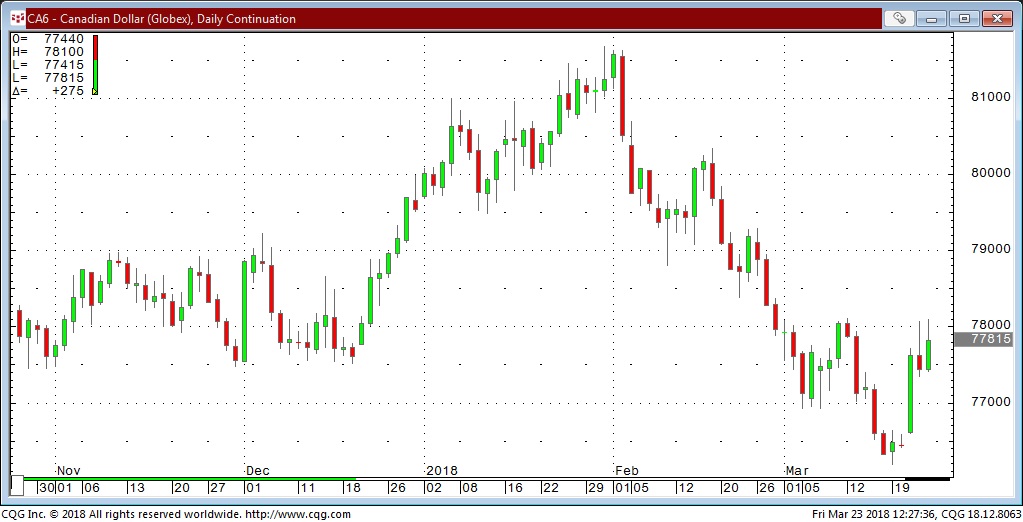 The gold market was under pressure last week and looked vulnerable…I had a bullish view on the USD so I bought gold puts. On Tuesday of this week gold closed at its lowest price in 3 months and I expected it was going to take a tumble…but it turned higher on Wednesday and I bailed out. This week the US Dollar Index registered a Weekly Key Reversal Down while gold registered a dramatic Weekly Key Reversal up.
I bailed out when gold started to rally because I believe that trade selection is only a small part of successful trading…risk management is much more important…and the first chapter in the book on risk management is, "Cut your losses and let your profits run."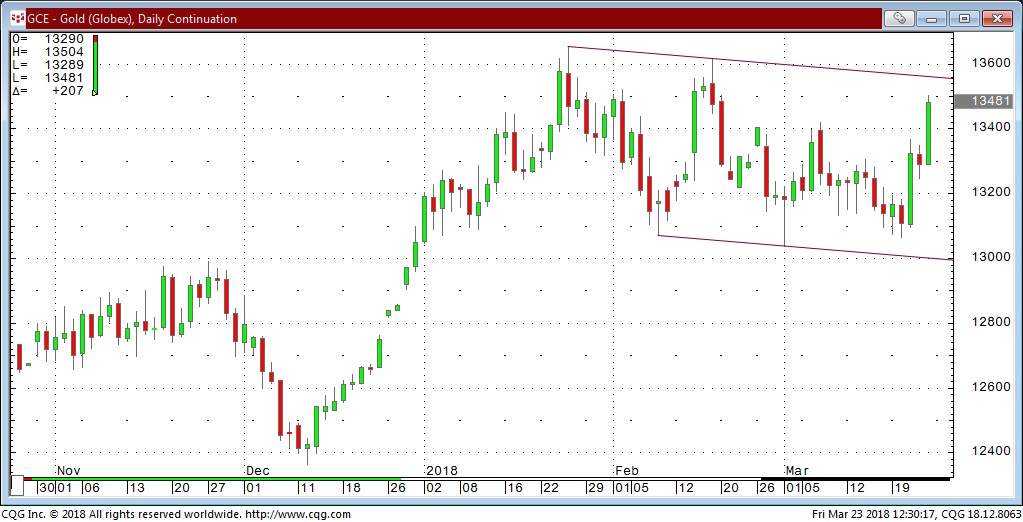 The US stock market had "rolled over" Monday/Tuesday last week…a move I had been waiting for…so I bought S+P puts but by the end of the week I had a "low conviction" level on the trade because the market hadn't broken down. Thankfully I stayed with the trade and my unrealized gains are now many times the size of the loss I took on my gold trade.
My view on the US stock market has been that the big break from the late January highs was not a "Buy The Dip" opportunity but was likely the start of a "sentiment change" and I've been trading stocks from the short side. I'm of the view that the market makes the news, not the other way round. The "Facebook fiasco" the "changing of the guard" in the White House, the "Trade Wars" headlines, the new "Powell Fed" are all things that hit a market that was already on its way down from a very overextended top.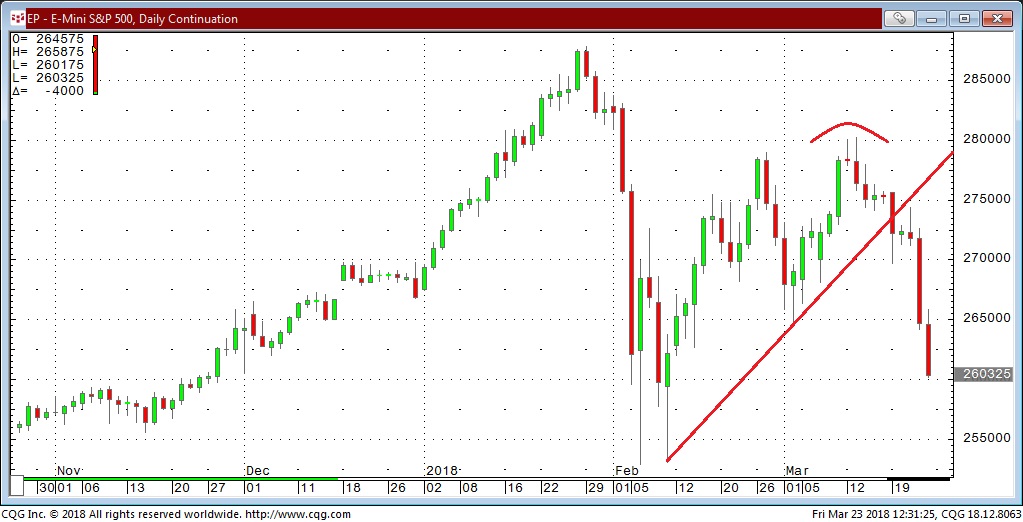 The crude oil market rally the past 2 weeks has puzzled me. I've made some pretty good money trading WTI from the short side over the past 4 years and my bearish bias is hard to shake. I find it VERY interesting that crude has been rallying the past 2 weeks (WTI is up ~10% from last week's lows) while the stock market has been falling. Since last summer WTI and the S+P have moved up and down pretty much in harmony…but that has changed dramatically.
I'm always watching inter-market relationships and when I see them change I ask, "Why is that?" Could it be that "somebody" senses that the new "Bolton/Pompeo" team in the White House is going to re-sanction Iran? (MBS was in Washington this week.) Is there some other supply side shock brewing out there? I don't know, but my gut instinct…and the chart pattern…tells me to NOT be short WTI now.
PI Financial Corp. is a Member of the Canadian Investor Protection Fund. The risk of loss in trading commodity interests can be substantial. You should therefore carefully consider whether such trading is suitable for you in light of your financial condition. In considering whether to trade or the authorize someone else to trade for you, you should be aware of the following. If you purchase a commodity option you may sustain a total loss of the premium and of all transaction costs. If you purchase or sell a commodity futures contract or sell a commodity option or engage in off-exchange foreign currency trading you may sustain a total loss of the initial margin funds or security deposit and any additional fund that you deposit with your broker to establish or maintain your position. You may be called upon by your broker to deposit a substantial amount of additional margin funds, on short notice, in order to maintain your position. If you do not provide the requested funds within the prescribe time, your position may be liquidated at a loss, and you will be liable for any resulting deficit in your account. Under certain market conditions, you may find it difficult to impossible to liquidate a position. This is intended for distribution in those jurisdictions where PI Financial Corp. is registered as an advisor or a dealer in securities and/or futures and options. Any distribution or dissemination of this in any other jurisdiction is strictly prohibited. Past performance is not necessarily indicative of future results
STAY INFORMED! Receive our Weekly Recap of thought provoking articles, podcasts, and radio delivered to your inbox for FREE! Sign up here for the HoweStreet.com Weekly Recap.