March 6, 2018 | Trade Tariffs Will Not Make America Great Again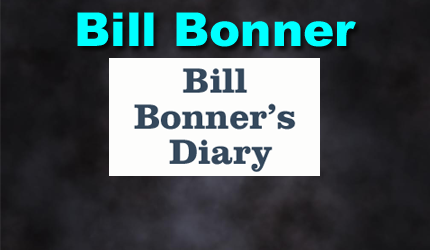 Is an American author of books and articles on economic and financial subjects. He is the founder and president of Agora Publishing, and author of the daily financial column, Diary of a Rogue Economist.
GUALFIN, ARGENTINA – The big news last week was Trump's hasty decision to impose tariffs on aluminum and steel.
We were happy to see it.
We were looking for an example – undeniable, indisputable, and in-your-face, jackass – to illustrate how government actually works.
"The Donald" has just provided it.
Undisguised Dumbkins
It can be hard work digging in the rocky, ungrateful soil of public policy… scraping off the honey-dirt of wishful thinking, delusion, and fraud… to uncover the corruption and stupidity of what lies beneath them.
So we would like to thank Secretary of Commerce Wilbur Ross and the president's trade advisor, Peter Navarro, for their contributions.
They have put the claptrap right on the surface. Rarely do we get to see public officials who are such undisguised dumbkins with so little guile… and such unvarnished crackpot theories.
They have made it easy for us. Thanks again.
Here in Argentina, trade barriers have been a fact of life for a long time. A couple of years ago, we were unable to get tires for our tractor.
Argentina's tire-making cronies were protected by tariffs. If you wanted to buy a tire, you had to pay for the locally made, inferior tire.
Unless, of course, they didn't make the model you needed. Then, you were just out of luck.
Same thing for electronics.
Apparently, ex-president Cristina Fernández de Kirchner had some business buddies down in the south who made electronic components.
So imports of laptops, computers, smartphones, and other paraphernalia were restricted, ostensibly to give the nascent native manufacturers a chance to grow up and compete with Apple, Samsung, and Panasonic.
When you came into the country, you had to show exactly what iPhones, iPads, and portable computers you were carrying. Woe to you if you didn't still have them when you left.
Diminishing Wealth
But that's the sort of thing you expect in a "sh*thole" country – the naked use of government to transfer money from the ordinary person to the well-connected elite.
A modern, civilized country is usually more sophisticated about it.
Its economists realize that trade barriers lower output, ultimately diminishing the wealth available to a predatory elite.
Better to allow free trade to fatten the pig, they reason, before carving the ham.
In the event before us, Mr. Ross brought a group of steel and aluminum industry executives to the White House at 11 a.m. on Thursday.
These cronies bitched and moaned, no doubt, about how the Canadians were playing unfair… or how the Mexicans had lower costs… or how the Europeans made better metals.
Donald J. Trump, a fighter, grabbed a microphone. The sun had scarcely reached its zenith before he had set off a trade war, claiming it was easy to win one. Then he added, comically, on Twitter:
We must protect our country and our workers. Our steel industry is in bad shape. IF YOU DON'T HAVE STEEL, YOU DON'T HAVE A COUNTRY!
Never addressed was the real issue: How come Americans buy more things from overseas than they sell?
If he had bothered to look more carefully, Trump would have noticed that it has nothing to do with trade deals or the lack of trade barriers.
EZ Credit Paradise
Until the 1970s, America was the world's leading exporter. Then, in a few years, it became the world's leading importer. From having the biggest trade surplus, it soon had the biggest deficit.
Why? Did Americans suddenly forget how to make things? Did our businessmen and entrepreneurs lose interest in making money? Were they incapable of making a good deal?
What really happened was that the money system changed. In 1971, the Nixon administration created a new dollar by removing the last vestiges of gold backing.
Instead of making stuff at home, the U.S. began taking it from abroad, and paying for it with its new credit money.
Instead of being a manufacturing powerhouse, it became a consumer's EZ credit paradise. And instead of favoring real jobs with good wages on Main Street, the economy was distorted by over-empowered PhDs at the Fed, overpaid scalawags on Wall Street, and hoggish scoundrels in both parties wallowing in an overblown, overreaching, and over-indebted swamp in Washington.
But the president won't bother to think about it. And the Deep State wouldn't permit him to do anything about it even if he did.
The real purpose of government is, always and everywhere, to enable the few to exploit the many. The money system is a clever way of doing so; Mr. Trump's trade barriers, like the man himself, are much less subtle.
The modern world of industry, commerce, and investment works on win-win software. Only government – with its battles, wars, taxes, tariffs, do-this commands, and don't-do-that prohibitions – continues to operate on pre-civilized programming. It is a throwback, an institution with a prehensile tail.
A trade war is just as phony as a war on drugs, a war on crime, or a war on terror. None are worth fighting. And none are winnable. It is meant to reward the elite at others' expense. Nothing more.
There are about 200,000 jobs in the U.S. aluminum and steel industries. Add to that a few thousand significant owners. And most important, a few hundred serious cronies. As Reuters reports, there you have your winners:
Stock prices of U.S. steel and aluminum makers rose on Thursday after President Donald Trump announced hefty tariffs on metal imports to protect them from foreign competition, but many other companies saw stock price falls as they may face higher prices for raw materials which will force them to raise prices for consumers.

A proposed tariff of 25% on steel imports and 10% on aluminum boosted the stock prices of steel makers, but industrial companies, aircraft manufacturers, auto makers saw their stocks fall.

[… ]Among steel makers, AK Steel Holding Corp shares jumped 9.5%, U.S. Steel Corp rose 5.7%, while Nucor Corp and Steel Dynamics Inc. each gained more than 4%.
High Price to Pay
But this is a win-lose deal. And a lot more people use steel and aluminum than make them.
There are the obvious first-effect losers. U.S. automakers, for example, use an average of 3,000 pounds of steel in every car. The extra cost will force Detroit to raise prices. And here we encounter the second-effect losers: the residual, high-paid autoworker jobs.
The result would be roughly the same if The Donald had imposed a tax on oil.
Almost all industrial activity in the U.S. relies on energy and primary metals. Raise the costs of steel, aluminum, or energy and you make it harder to compete.
Needless to say, inflicting further damage on American manufacturing will not make America great again.
And there are the third-effect losers, too: practically the entire population of the U.S., who will pay more for everything from aluminum beer cans to steel garden tools.
A high price to pay just to make a few cronies richer… but worth every penny if it helps us understand government better.
Regards,
Bill
STAY INFORMED! Receive our Weekly Recap of thought provoking articles, podcasts, and radio delivered to your inbox for FREE! Sign up here for the HoweStreet.com Weekly Recap.