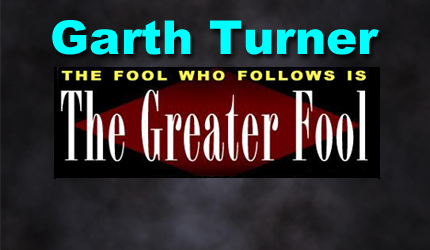 A best-selling Canadian author of 14 books on economic trends, real estate, the financial crisis, personal finance strategies, taxation and politics. Nationally-known speaker and lecturer on macroeconomics, the housing market and investment techniques. He is a licensed Investment Advisor with a fee-based, no-commission Toronto-based practice serving clients across Canada.
When human nature changes, so will markets. That hasn't happened yet. And this explains a great deal about where we are.
So the maple economy is shrinking. The latest numbers, released Friday, surprised economists (like that's hard) who had expected modest growth. Nope. Down she went. The culprits were a drop in oil production (prices were boggy) and a sharp decline in household spending and investment – mostly on real estate.
Realtors suffered a 13% plunge in activity. House sales slumped almost 20% across Canada. Mortgage originations crashed. But household debt continued to rise. And then, of course, the B20 stress test started to take effect, while Comrade Horgan began taxing the poop out of housing in BC.
So, the largest economic decline since 2015, after Canada had earlier led the G7 nations with explosive growth. It's no coincidence our fat GDP number came in late 2016 and 2017 when the housing bubble was the most gaseous. Peak house brought historic prices, epic family debt levels and a surge in consumer buying. As I said – human nature. When mortgage rates were low and real estate values surging, FOMO kicked in, prompting people to drive property prices even higher, to borrow big, and spend large. That's what economists call the 'wealth effect.' You think your house is inflating wildly, so you're okay taking a HELOC or maxing your credit to buy stuff. After all, personal net worth is surging. Every homeowner's a winner. Why not enjoy?
Well, FOMO is gone. Household spending is falling rapidly as people cut back. Real estate is going negative in most major markets. The trade picture with the US is cloudy. The dollarette is weak. And realtors are terrified.
"Seriously, I have never seen this before in my career," says a broker-agent who's been selling for the past decade. "A year ago buyers would take a few hours, at most, to come up with an offer. Now it's weeks, literally, that they'll spend thinking about things, and then come back with lowball stuff that shocks the sellers. And, yeah, they usually take it. Having said that, the buyers are almost gone"
Human nature often makes us do the opposite of what we should. When assets are rising, we covet them. When it comes to real estate, the more it costs the greater the house lust. Every silly price plateau becomes the next floor, allowing people to justify bully offers, multiple bids, blind auctions and over-asking deals. We put up with abrasive, arrogant rockstar realtors, greedy sellers, demands for $100,000 certified-cheque deposits and hours spent in cars idling outside while an owner decides who to shake down for more.
Without a doubt, people who succumbed to that paid too much, borrowed too greatly and roundly impaired their financial futures. Many felt regret, and walked. They're now the sued. Owners who wanted to sell but didn't out of fear for where they'd live missed the greatest opportunity in a generation (or more) to harvest unearned, untaxed windfall profits. More regret.
So now, the flip side. Sales activity has slowed to a crawl, and in most markets there are months and months' worth of inventory available – thousands of listings from which to choose, with virtually no competition. Prices in some areas have already cratered 30% or more, and sellers grow increasingly motivated by the day. For detached homes (almost everywhere outside of a few isolated demand areas) there are no more multiple offers, no bully buyers, no blind auctions and no sleazy agent holding back bids to create maximum buyer stress.
In other words, this is purchaser heaven. A buyer's market. Sale prices – even in crazed Vancouver – are almost always below the listing ask. Conditional offers are back – protecting buyers with assurances on home inspections and financing. If you make an offer, most often it will be the only one. The vendor – unless she's a fool – will work with you instead of abusing and belittling you. In short, last spring was hell. This is puppy tummy.
But what happens?
Buyers retreat as prices and sales fall. The economy shrinks. The news travels. The meme spreads that houses are declining. The spiral intensifies. Making it worse – this is precisely the moment tough new mortgage regs take effect and politicians show up to bolt the barn door long after the horse has flown the coop (you know what I mean). The combination of Ontario's new rent controls and foreign buyer's tax, plus the mortgage stress test, Vancouver's empty house tax plus BC's 20% anti-Chinese tax, spec tax and luxury tax is too much to overcome. The market was rolling over anyway. Now it's going paws-up.
This blog has teemed for years with snarky, whiny, self-absorbed, envious renters and malcontents who cheered market-killing politicians and prayed for the day they could buy without being forced into a bidding war. They were consumed with both FOMO and rage, supporting any and all government action they thought would punish 'the rich' homeowners, and level the field.
Well, kids, this is your moment.
Sales are down. Competition is gone. Mortgages still historically cheap. Sellers desperate. Prices tumbling. Realtors ripped. Bargains at last. You've moaned long enough. If you've wanted a single house, this could be the moment to try. Man up. Or shut up.
STAY INFORMED! Receive our Weekly Recap of thought provoking articles, podcasts, and radio delivered to your inbox for FREE! Sign up here for the HoweStreet.com Weekly Recap.