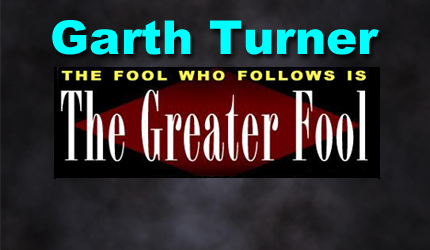 A best-selling Canadian author of 14 books on economic trends, real estate, the financial crisis, personal finance strategies, taxation and politics. Nationally-known speaker and lecturer on macroeconomics, the housing market and investment techniques. He is a licensed Investment Advisor with a fee-based, no-commission Toronto-based practice serving clients across Canada.
Early on, as a newbie financial journalist, I learned that a country's currency is kinda like a company's stock price. When investors think it's a dog with fleas, they sell it off.
Well, we're infested. The loonie has collapsed from 82 cents down to seventy six, and the slide may continue – depending on how the Poloz poodles at the Bank of Canada decide to react. (Remember that we were actually above par with the Yankee dollar just a few years ago – when I told you to go forth and buy up all of Florida.) Some people now say 70 cents is for sure. Others even darkly mutter 'sixty.'
A low dollar is inflationary, of course. Remember $7 cauliflower? And $30,000 Harleys? We import so much stuff that a serious currency decline ends up being a tax on all families, which is why the central bank usually jacks interest rates to shore it up (which also taxes households). But now with residential real estate wobbling and debt rising will our CBers have the stones to pace the Fed? (US rates are scheduled to rise again Wednesday.)
The loonie's been pooched for a number of reasons. Trade's a big deal. NAFTA talks seem to be going nowhere and if we don't cave to the Yanks, Trump will just slap on his big 25% steel tariff. Then there's household debt, now 170% of disposable income. At $2 trillion, families owe an amount of money as big as the entire economy. More debt means less consumption, which sucks the goo out of the GDP.
See what we've done to ourselves…
The dollar's weak, too, on recent housing news. As reported here, 80% of Canadian markets are going down. Sales nationally fell 17% and prices have started to erode. Since a quarter of the entire economy is now connected to real estate, investors back off. Meanwhile Mr. Dressup's recent budget inspired nobody with its gender equality talk while stringing out deficits as far as they eye can see. Sadly there is no plan. Temporary deficits have become permanent. The budget did not balance itself. He likes wearing Nehru jackets. Who knew?
Finally, BC is a big deal. What's happening there has the potential to spray on everyone. The 'speculation' tax on secondary real estate, held by foreigners, Albertans or BC residents is a game-changer in Canadian tax and housing policy. It's a wealth tax, not an affordability measure, and has a secondary purpose of artificially crashing the property market. This threatens to wreak economic havoc in certain targeted communities, which is why locals in Kelowna, West Kelowna and the District of Nanaimo are freaking out, demanding an exemption.
Non-local property owners, say the politicians on Vancouver Island, "are not speculators. They are important members of our communities. Families who visit year after year, supporting local businesses, paying their fair share of property taxes, and investing in our tourism-based economy."
Chimes in West Kelowna mayor Doug Findlater: "Suddenly, the development market is freezing up," The banks are not loaning and some developers are being caught in this already. I'm aware of that. Other developers who haven't built are just putting it all on hold and just waiting for the air to clear." Now add to the 2%-per-year spec tax to the 1% annual Van empty house, plus the 5% luxury property tax along with the 20% go-home tax and it's like the Dippers just stuck Novichok into the loonie. Unholstered BC socialism has the potential to do serious damage. Already begun, apparently.
This is one good reason your balanced and diversified portfolio should be at least 20% in US$-denominated assets. Always. A loonie-only account has significant currency risk, as recent events have proven. Especially in a country where we suddenly snuggle socialists.
Finally, two follow-ups worth mentioning. First, RBC has given up its bullish housing stance, and now grudgingly admits the obvious: the real estate market is in the throes of correction, thanks to the B20 stress test. If only the economists up in the golden tower knew the anguish of loan officers in the branches – where so many borrowers are being punted – their language would be even stronger.
"Looking at average sales over the past four months or so, it appears the new B-20 regulations have had more of an impact than simply bringing activity forward to 2017. Stricter qualifying requirements for uninsured mortgages are keeping some potential homebuyers from entering the market, and a psychological impact is also likely at play. That sellers have moved to the sidelines to see how the market reacts hasn't helped resale activity early this year."
Remember, folks, anyone renewing a mortgage and changing lenders, or even refinancing and adding to their mortgage principal, will now have to pass the stress test. That's a withering 5.14%.
Finally, let's mock all who bought Bitcoin back in December when it was rocking toward $20,000 a thingy. The advice of this blog was simple. Don't. It will end in tears.
So far Bitcoin has lost 60% of its value, and may be on the way to an 85% pummeling, according to the technical analysis dudes. The crypto has moved into a 'death cross' – which is what happens when one key support level crosses another, signalling big trouble. BTC's 50-day moving average may soon fall below the 200-day MA, and from there it's a freefall. Especially now that the big banks have taken the moisters' credit cards away. If they want to buy, they need cash. We all know the only Mills with money are the ones who come here. And they wouldn't dare.
STAY INFORMED! Receive our Weekly Recap of thought provoking articles, podcasts, and radio delivered to your inbox for FREE! Sign up here for the HoweStreet.com Weekly Recap.