March 24, 2018 | A Stunning Silver COT Report: One For the Ages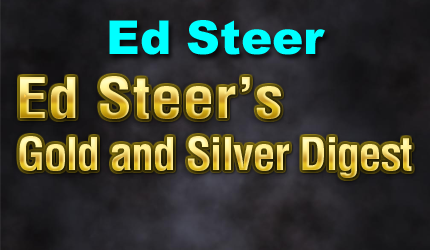 "Ed wrote the daily precious metal commentary for Casey Research starting in 2008. His stand-alone column became their most highly-rated blog [either free or paid] almost from the outset—and remained that way until he started his own subscription-based website in June of 2015."
24 March 2018 — Saturday
YESTERDAY in GOLD, SILVER, PLATINUM and PALLADIUM
---
The gold price began to rally as soon as trading began at 6:00 p.m. EDT in New York on Thursday evening — and most of the gains that mattered in Far East and morning trading in London, were in by shortly before 9 a.m. China Standard Time on their Friday morning.  By the COMEX open, gold was up only another few dollars from there.  The price spiked up a bit at that point, but obviously wasn't allowed to get much higher — and the high tick of the day came a few minutes after the afternoon gold fix in London. After that, the price didn't do much, or wasn't allowed to do much for the remainder of the Friday session in New York.
The low and high ticks in gold were reported by the CME Group as $1,328.90 and $1,350.40 in the April contract.
Gold was closed yesterday at $1,346.80 spot, up $18.20 from Thursday.  Not surprisingly, net volume was very heavy at 297,000 contacts — and considering that the April delivery month is coming up hard for gold,  roll-over/switch volume was very heavy as well, at something under 138,000 contracts.
The silver price rallied quietly until around 11 a.m. CST on their Friday morning — and then chopped mostly sideways until the COMEX open.  There, it got the same treatment as gold until the high tick was placed a few minutes after 10 a.m. in New York.  It was sold off that high by shortly before noon EDT — and didn't do a lot after that.
The low and highs in the precious metal were recorded as $16.375 and $16.675 in the May contract.
Silver was closed on Friday afternoon in New York at $16.53 spot, up 18.5 cents from Thursday — and kept carefully below both its 50 and 200-day moving averages throughout the entire New York trading session.  Net volume was pretty heavy at around 84,500 contracts — and roll-over/switch volume was about 12,800 contracts on top of that.
Palladium was up 5 dollars by 8 a.m. CET in Zurich, but it was sold lower by ten bucks going into the Zurich open an hour or so later.  It chopped quietly higher until its tiny rally at 8:30 a.m. in New York was also capped –and it was sold quietly lower right into the 5:00 p.m. EDT close.  Palladium finished the day at $970 spot, down 10 dollars from Thursday's close — and on its low tick of the day.
The dollar index closed very late on Thursday afternoon in New York at 89.82 — and dropped 15 basis points the moment that trading began at 6:00 p.m. EDT a few minutes later.  It continued to chop quietly lower from there until a few minutes after 3 p.m. China Standard Time on their Friday afternoon.  A sizzler of a 'rally' began at that point, which ran out of gas right at the London open less than an hour later — and after trading mostly sideways for three hours or so after that, began to head lower.  The 89.40 low tick was set around 2:45 p.m. EDT in New York — and it chopped a bit higher into the close from there.  The dollar index finished the Friday session at 89.48 — and down 34 basis points from Thursday.
And here's the 5-year U.S. dollar index chart, so you can see just how far the index has yet to fall to get back to 'normal'.  But I have the feeling that the new 'normal' will be far lower than that.
The gold shares gapped up about 3 percent at the open — and proceeded to crawl higher from there until shortly before 2 p.m. EDT.  They began to sag a bit, before getting kicked downstairs a bit more in the last fifteen minutes of trading in New York.  The HUI closed higher by 3.04 percent.
Here are the usual charts from Nick that show what's been happening for the week, month-to-date — and year-to-date.  The first one shows the changes in gold, silver, platinum and palladium for the past trading week, in both percent and dollar and cents terms, as of their Friday closes in New York – along with the changes in the HUI and the Silver 7 Index.
As I said last week — and the week before, we're much closer to the end of this engineered price decline than we are the beginning, with the only negative factor still being gold's 200-day moving average, which may no longer be a factor at the moment.  But it's unwise to underestimate the treachery of the powers-that-be.
---
There are only three more days left in March for all of these remaining silver and gold contracts to get delivered — and I'll be particularly interested in who the short/issuer is in gold.  The prime suspect for me would be HSBC USA.  But why they're waiting until almost the last day of the month, is still a mystery.
---
JPMorgan's silver stash is now at another new record high…139.12 million troy ounces.
---
---
They arrived at that number by increasing their long position by 8,718 contracts — and they also covered 6,846 short positions.  The sum of those two numbers is the change for the reporting week.
Ted said that the Big 4 traders, read JPMorgan, reduced their short position by around 4,000 contracts.  It was probably more than that, because the large Managed Money trader that currently inhabits the Big 4 category, most likely increased their short position even more during the reporting week, so that fact masks the actual improvement by JPM.  On the other hand, the '5 through 8' large traders actually increased their short position by about 1,800 contracts during the reporting week.  The reason for that is pretty simple as well.  The short positions of one or two of the other Managed Money traders are now so large, that they have now invaded the '5 through 8' category — and that also masks the fact that the usual four Commercial traders that normally inhabit that space, decreased their short positions during the reporting week as well.  But it was Ted's raptors, the 38-odd small Commercial traders other than the Big 8 that were the most active last week, as they added approximately 21,000 contracts to their long position, which is new record according to Ted.
Under the hood in the Disaggregated COT Report, it was all Managed Money traders — and much more, as they not only reduced their long position by 5,666 contracts, but added a knee-wobbling 13,752 contracts to their now-new-record short position.  It's the sum of those two numbers…19,418 contracts…that was their change for the reporting week.  The difference between that number — and the Commercial net short position…19,418 minus 15,564 equals 3,854 contracts…was made up entirely by the traders in the 'Other Reportables' category, as the 'Nonreportable'/small traders did almost nothing during the reporting week just past.
The Commercial net short position in silver is now down to an inconsequential 3,709 contracts, or 18.5 million troy ounces.  I have never seen a Commercial net short position in silver this low…ever.  Ted, as he usually does, gave the entire 4,000 contract improvement in the Big 4 category to JPMorgan, which brings their short position down to around the 21,000 contract mark — and I would suspect that it's less than that — and maybe a lot less than that, for the reason I've already stated.  Plus they may have also improved their short position since the Tuesday cut-off as well — and I know that Ted will have something to say about all this in his weekly commentary this afternoon.
I must admit that I have no superlatives left to describe how white-hot bullish the current set-up is in silver.  I never thought I'd live to see numbers such as these.  The fact that 'da boyz' have managed to keep silver below its 50 and 200-day moving averages since the Tuesday cut-off increases the likelihood that the Managed Money traders may be even more short now than this report indicates…according to Ted.  However, if that turns out not to be the case, any deterioration since the cut-off would be minimal.
They arrived at that number by adding 11,703 contracts to their long positions — and they also reduced their short position by 9,837 contracts.  The sum of those two number is the change for the reporting week.
The surprise here was that the Big 4 traders only reduced their short position by approximately 800 contracts — and the '5 through 8' large traders by only about 2,900 contracts.  Once again it was Ted's super-aggressive raptors, the 43-odd small commercial traders other than the Big 8, that did all the 'work' during the reporting week, as they added a chunky 17,800 contracts to their long position.  Ted is of the opinion that there are no Managed Money traders with a big enough short position to be included anywhere in the Big 8 category, as they are net long in the COMEX futures market in gold.
Under the hood in the Disaggregated COT Report, it was almost all Managed Money traders, plus a bit more, as they reduced their long position by 14,185 contracts, plus they added 9,873 short contracts — and the sum of those two numbers…24,058 contracts…was their change for the reporting week.  The difference between that number — and the commercial net short position…24,058 minus 21,540 equals 2,518 contracts…was made up entirely by the 'Other Reportables' category, as they went long, plus they reduced their short position as well.  Surprisingly enough, the 'Nonreportable'/small traders followed the lead of the Managed Money traders…selling long positions, plus adding to their short position.  The 'Other Reportables' gobbled up those contracts as well.
The commercial net short position, as of Tuesday's cut-off, is down to the 16.72 million troy ounce mark — and has deteriorated substantially since the Tuesday cut-off, as gold's 50-day moving average has been decisively penetrated to the upside since then.  The 200-day moving average is now a long way down — and it may turn out that it won't be a factor for a while.  But, as Ted pointed out on the phone yesterday, you can never put anything past these crooks.
With silver beyond 'locked and loaded', I'm still wondering how this gold thingy is going to play out.  'Da boyz' had all kinds of opportunities in March to blast the gold price to the down side — and below its 200-day moving average, but passed on every one.  It's a real dichotomy — and I'm not prepared to speculate how it will all turn out, because I just don't know.
---
For the current reporting week, the Big 4 are short 116 days of world silver production-and the '5 through 8' large traders are short an additional 42 days of world silver production-for a total of 158 days, which is a bit over five months of world silver production, or about 383.9 million troy ounces of paper silver held short by the Big 8.  [In the COT Report last week, the Big 8 were short 163 days of world silver production.]
In the COT Report above, the Commercial net short position in silver was reported as 18.5 million troy ounces.  As mentioned in the previous paragraph, the short position of the Big 8 traders is 383.9 million troy ounces.  The short position of the Big 8 traders is larger than the total Commercial net short position by a chunky 383.9 minus 18.5 = 365.4 million troy ounces.  The reason for the difference in those numbers is that Ted's raptors, the 38-odd small commercial traders other than the Big 8, are long that amount, which is bloody ridiculous.
As I also stated in the above COT Report analysis, Ted pegs JPMorgan's short position at about 21,000 contracts, which is down 4,000 contacts from the prior reporting week, or around 105 million troy ounces, down 20 million ounces from what they were short in last week's COT Report.  105 million ounces works out to around 43 days of world silver production that JPMorgan is short.  That's compared to the 158 days that the Big 8 are short in total.  JPM holds about 27 percent of the entire short position held by the Big 8 traders.
And as I mentioned in my discussion on silver in the above COT Report, it's highly likely that JPMorgan's short position is actually less than this — and possibly by a material amount.
With Scotiabank now publicly admitting that they couldn't find a sucker to buy ScotiaMocatta, I would suspect that they will continue to exit their short positions in both gold and silver as quickly as they can — and if they can.  It certainly doesn't appear that they've been doing much in that regard lately, except maybe pick away at it quietly.  Any major move by them to cover, would show up in the price immediately — and Jamie Dimon would not be amused.
As I say every week in this spot, JPMorgan has been forced by circumstance to pick up Scotiabank's trading/price management duties in silver and gold.  So JPMorgan is by far the No. 1 silver short on Planet Earth — and will obviously remain in that position until this price management scheme is brought to an end.  Of course they have about 700 million troy ounces of physical silver stashed away to cover that, so they are in no danger.  That can't be said of the remaining Big 7, unless JPMorgan plans to bail out some, or all of them.
With JPMorgan short about 43 days of world silver production, that leaves the other three traders in the Big 4 category short 116-43=73 days of world silver production divided up between them…a bit over 24 days of world silver production each.  That's only down one day from last week's COT Report [And not to be forgotten, is that one of those traders is the big Managed Money short that's still 'just visiting' in this category.]  And it's a given that those 73 days aren't divided up equally between the remaining Big 3.
The four traders in the '5 through 8' category are short 42 days of world silver production in total, about 10.5 days of world silver production each, which is up one full day from what each was short in last week's COT Report.  That's entirely due to the fact that one or two Managed Money traders now have a big enough short position to have invaded the spot[s] normally held by the Commercial traders.  If you remember, the 4 large traders in the '5 through 8' traders in silver added about 1,900 contracts to their short position during the reporting week.  That's 9.50 million troy ounces, or 3.91 days of world silver production…about one full day each.
I would suspect, based on these numbers, that Scotiabank is still a member of the Big 4 Commercial shorts, but in third of fourth spot at the moment.
I have an average number of stories for you today, including the newest Cohen/Batchelor interview.
---
CRITICAL READS
After a surprise rebound in existing home sales (even as condo sales slumped), new home sales were expected to rebound in Feb from their 7.8% plunge in January, but grossly disappointed, dropping 0.6% MoM – the 3rd monthly drop in a row.
This is the first time new home sales declined for 3 straight months since Q1 2014.
New home sales are up just 0.5% YoY…
---
Everybody knows tariffs are bad news. Everybody knows, too, that budget deficits are asking for trouble.
Everybody knows that this is now the second-longest stock market boom in history… and the second-longest economic expansion.
Everybody also knows that all expansions come to an end and bull markets always turn into bear markets.
What everybody doesn't know is when the turnaround will come…or who to point the finger at when it does.
The Fed, with its quantitative tightening program? Or the Blond Bombshell in the White House, with his tariffs and deficits? Or something else entirely beyond our ken?
---
Jerome Powell faces an extraordinary challenge as Fed Chairman. If he does not move quickly and aggressively to flood the global financial system with liquidity upon the onset of financial crisis, history books will surely have him tarred and feathered. Greenspan, Bernanke and Yellen hold responsibility for history's greatest Bubble. Yet it will be on Powell's watch when the Fed faces the harsh consequences. In the end, he'll be left with little alternative than more QE and zero rates – surely deemed too little too late in hindsight. Winless.
There's a general complacency deeply embedded in U.S. financial markets. No toxic securities Bubble at the brink. There is no Lehman vulnerable to a run and swift collapse. Interestingly, however, from the global financial markets Bubble perspective, there is Deutsche Bank and its double-digit stock decline this week. It seems to be the first place global players look when risk begins to be an issue, financial conditions start to tighten and risk premiums escalate. DB operates, after all, in the core of global derivatives markets and securities finance.
Derivatives lurk at the epicenter of global financial crisis risk. It's right here where global central bank policies have fomented the greatest distortions and associated fragilities. The perception – the implied guarantees – of liquid and continuous markets. And when DB's stock is sinking (down 13%) and its CDS is blowing out (33bps this week!), then the issue of counterparty risk and derivative market dislocation begins to creep into market psychology (and positioning).
Greed to Fear. "Risk On" shifting to "Risk Off." This week had the feel of de-risking/de-leveraging dynamics gathering important momentum. This was no VIX (24.87 close) accident. This was a general widening of Credit spreads, waning liquidity and overall market instability. Dollar weakness reemerged this week, which sparked a nice safe haven bid in gold and the precious metals.
---
His prediction, however, proved wrong. Nixon, with his "Silent Majority" address rallied the nation and rocked the establishment. He went on to win a 49-state victory in 1972, after which his stumbles opened the door to the establishment's revenge.
Yet, Broder's analysis was spot on. And, today, another deep state conspiracy, to break another presidency, is underway.
---
If Trump is good at firing, it is because he is so bad at hiring.
Donald Trump came to office having made noises favorable to normalizing relations with Russia and cutting back foreign military adventures. Despite his manifest personal and professional inadequacies, that vague promise offered a glimmer of hope to a number of congenital optimists.
But to turn around U.S. foreign policy so drastically, supposing he honestly wanted to do so, a President would need a team possessing the necessary knowledge, wisdom and courage to produce and impose a coherent alternative. Trump had no team at all. He did not seem to have any idea of where to find appropriate men and women to do the job. He has flailed about, using each choice to demonstrate that the previous one was a mistake, while meanwhile the Deep State connives to destroy him for all the wrong reasons.
Now Trump has chosen as his national security advisor a man who personifies exactly what candidate Trump hinted he didn't want: a man with the reputation of being the worst war hawk in Washington. John R. Bolton is not merely hostile to North Korea, or to Iran, or to Russia, but is exorbitantly hostile to them all. Bolton is the perfect national security advisor to get the United States into war against most of the world.
Trained as a lawyer, like just about everybody in Washington, Bolton has no particular scholarly background for messing around in foreign affairs. Rather, he is the perfect denizen of the galaxy of think tanks that have essentially seized policy-making away from academia and serious diplomacy in order to satisfy rich private donors, the military industrial complex and the Israel lobby.
---
Venezuela's President Nicolas Maduro ordered a re-denomination of the ailing bolivar currency on Thursday, by knocking three zeroes off amid hyperinflation and a crippling economic crisis.
The move illustrates the collapse of the bolivar, which has fallen 99.99 percent against the U.S. dollar on the black market since Maduro came to power in April 2013. A $100 purchase of bolivars then would now be worth just a single U.S. cent.
Critics said the currency measure was no panacea for Venezuela's economic mess and just a psychological ploy to make Venezuelans forget the extent of the hyperinflation.
---
Is the pipeline debate starting to resolve in favour of pipelines being built and in favour of Canadians receiving full value for our energy exports? I believe it is, in part due to the realization as to just how much of the anti-pipeline campaign is foreign funded. More about that funding in a moment, but there's a new reason for finding the blatant U.S.-based interference in Canadian energy policy particularly egregious.
Arrest is no laughing matter. Perhaps few if any of the arrests led to charges, but there is no guarantee of that. Criminal convictions can carry lifelong consequences. As a parent, I would have been horrified to think that my teenage children were being encouraged by foreign organizations to get themselves arrested in support of foreign campaigns to suit foreign interests.
---
The global funding market crisis is getting worse and its contagion is starting to show up in assets that 'mom and pop' care about. Bank stocks are being battered…
Following bank credit risk's spike…and European High Yield risk has exploded to one-year highs…
European stress is worse than U.S. for now, as Charlie Diebel, head of rates at Aviva Investors, notes:
And Investment Grade credit risk is soaring to six-month wides in E.U. and U.S…
Simply put, LIBOR doesn't need to blow out any more for the pain to emerge…
---
It may be plain coincidence that the Skripal incident is happening concurrently with a supposedly new pending gas attack in Syria. There are reports from Russian intelligence in Syria of 40 tonnes of chlorine gas stores are being readied by American forces for a false flag attack, and U.S. naval units being readied for missile attacks against Damascus. In response the Russian military threatened to respond militarily against any U.S. sources of any attack on Damascus. The podcast did not mention these reports, but a British false flag (even without proof) involving even an accusation of poison a gas attack would help set off a useful hysteria reaction in the West and is the sort of crisis that can cause a war if that is the intention.  The Theresa May accusations with ultimatum attached is so clearly preposterous and politically unsustainable that it is difficult to believe that her political popularity can be improved by it. It is also an insult to the intelligence of the electorate that this ploy was even tried. The prime minister must be desperate indeed if this gambit is what she hopes will see her still be a leader after the next election. And we should note the persistence of how dominantly WMD, including poison gas, has been used in the West in the M.E. for excuses to attack countries. It does not matter if it is a lie, the "threat" of this kind of WMD, is now a staple ploy by Washington for its war crimes.  The weakness of these lies matters not.
---
So what is really going on here? Surely nobody seriously believes that the Brits really think that the Russians had any motive to try to kill Skripal or, for that matter, if they had a motive, that they would do it in such a stupid manner? And what's the deal with Syria anyway? Is the USA going to execute their false flag and bomb?
What this all means is very simple: the Empire needs to either fold or double down and folding is just not something the imperial elites are willing to consider yet.
As to who will prevail, your guess is as good a mine. But the fact that today Trump replaced McMaster with a warmongering psychopath like John Bolton is a clear sign that the Neocons are in charge in the USA and that the Axis of Kindness is about to get a heck of a lot "kinder".
---
This morning the market has been on edge over, and traders are obsessed with just one question: how will China retaliate to Trump's trade war and tariffs… further. After all, the initial response of a modest 15-25% tariff on $3 billion in 128, mostly agricultural, products, seemed laughably small and appeared to be more of a warning shot than a real response to Trump's $50BN in Section 301 tariffs.
One answer was revealed moments ago when as we reported that China's ambassador to the U.S. Cui Tiankai did not rule out the possibility of scaling back purchases of Treasuries in response to Trump's tariffs.
---
Switzerland, with its plethora of specialist refineries converting gold doré bullion, gold scrap and LBMA good delivery bars into the sizes and quality in demand in eastern markets, remains one of the best indicators of gold flows from Western to Eastern markets.  As such its officially-published monthly gold bullion import and export figures are watched keenly by gold market analysts with exports tending to go primarily (+80%) to Asian and Middle Eastern recipients.  In particular gold exports to Greater China (Mainland and Hong Kong) and India – the world's biggest consumers – are always watched particularly closely.
The small European nation, which most years exports a quantity of gold which comes to around 60% plus of global new mined gold output, has just published its gold import and export figures for February, and that month fully 87.7% of its gold exports were destined for South and East Asia and the Middle East.
As can be seen the biggest February recipient of these gold exports was Mainland China, taking 67.2 tonnes.  With Hong Kong accounting for another 19.3 tonnes, Greater China alone accounted for around 58.3% of the Swiss gold exports.  India, the world's other major gold consumer in its own right, acquired 28.2 tonnes of Swiss gold that month.  Most of the remainder went to Thailand, the United Arab Emirates, Malaysia and Singapore with 5.7 tonnes going to France, 3.2 tonnes re-exported to the UK, 2.5 tonnes to Austria and 2.1 tonnes to Italy making Europe the second largest area recipient, but hugely behind the eastern off-take.
---
The PHOTOS and the FUNNIES
STAY INFORMED! Receive our Weekly Recap of thought provoking articles, podcasts, and radio delivered to your inbox for FREE! Sign up here for the HoweStreet.com Weekly Recap.