March 24, 2018 | $1.8 Trillion of 'Value' Lost Last Week! Where Did it Go???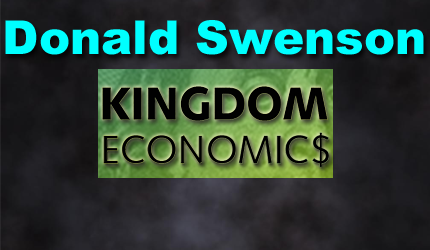 Donald B. Swenson: Born January 24, 1943, Roseau, Minnesota. Graduated H.S. 1961, Moorhead High, Minnesota. Graduated College 1968, Moorhead State University, Minnesota. Designated member of Appraisal Institute (MAI), 1974. Employed with Western Life Insurance Company, 1968 – 71; Iowa Securities Company, 1971 – 73; American Appraisal Company, 1974 – 81. Part-time teacher/valuation consultant/bartender, 1979 – 2008 (taught workshops at Waukesha County Technical Institute, Wi. and Madison Area Technical College, Wi.). Retired 2008 (part time teacher/blogger), AZ. Self educated economist/philosopher/theologian: http://kingdomecon.wordpress.com.
According to Barron's, U.S. equities lost some $1.8 trillion last week (March 16-23). The total 'value' of U.S. stocks was around $30 trillion prior to this decline. So this represents approximately 6% of this total. Value ($$$$$) is this imaginary image ($) within our consciousness which has no matter/substance. It does not technically exist. Let's ask this question: Where do the $$$$$ go when 'value' declines? Where to the $$$$$ come from when the markets go up? What is this unit called 'the dollar' anyway?)
Are you aware that 'value' is merely imaginary (a unit within our consciousness)? The $1.8 trillion of lost 'value' last week disappeared and vanished into 'thin air'. Where did it go? What is this metaphor called 'thin air'? What happens is that our 'value' (viewed as money by most $$$$$) actually disappears into our inner self (called our consciousness) when our markets decline. Value ($$$$$) is imaginary, folks. It has no matter or substance to it. When the equity markets crash (decline) this 'value' vanishes completely (it returns to my/your inner self as units of 'nothing').
Today, we live with inner money. Inner money means that the units ($$$$$) derive from our thinking mind. The units are really nothing and located no-where. Interesting! We now have money which is metaphysical/spiritual in nature. The units derive from our thinking banksters (firstly) and then flow down to the people (lastly). This flow is a flow of 'mental abstractions' ($$$$$). Mental abstractions ($$$$$) flow from computer to computer and we all THINK we are wealthy when these units arrive in our cyber accounts.
Cyber accounts store these imaginary units of 'value'. Cyber accounts are also imaginary accounts as cyberspace is not a physical substance. Cyberspace (this netherworld space) is part of my/your consciousness (extended into our computer screen). I look at my computer screen and see if any cyber money ($$$$$) has arrived from another computer cyber account. Every month I receive my cyber Social Security money ($$$$$) directly from the cyber computer account in Washington (our Treasury Department computer).
So what is 'value' and what is 'money' today? Is it a 'thing' which exists? I don't think so! Value and money are now digital/cyber/imaginary. Interesting! The decline of $1.8 trillion ($$$$$$$$$$$$$$$$) is really a decline within my inner self (my consciousness). The units are metaphysical/spiritual and vanish and disappear with no trace of existence. Interesting! We live today with mostly inner money and few comprehend this reality. Why? I would suggest that people lack an understanding of themselves (their inner self).
Today, we need to look inward to discern what is happening within our global cyber markets. Looking inward means seeing reality from the spirit self (inside one's consciousness). In reality, we are all spirit beings with an inner self. Few, however, think about their own individuality. To comprehend today's markets, I would suggest that you look inward (prior to looking outward). Inside/out thinking is needed to discern reality today. Think for yourself to discern these realities. I am: https://kingdomecon.wordpress.com.
STAY INFORMED! Receive our Weekly Recap of thought provoking articles, podcasts, and radio delivered to your inbox for FREE! Sign up here for the HoweStreet.com Weekly Recap.