February 6, 2018 | Will Markets Continue to 'Correct'?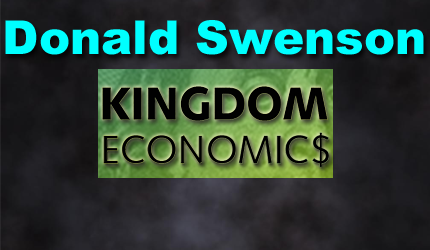 Donald B. Swenson: Born January 24, 1943, Roseau, Minnesota. Graduated H.S. 1961, Moorhead High, Minnesota. Graduated College 1968, Moorhead State University, Minnesota. Designated member of Appraisal Institute (MAI), 1974. Employed with Western Life Insurance Company, 1968 – 71; Iowa Securities Company, 1971 – 73; American Appraisal Company, 1974 – 81. Part-time teacher/valuation consultant/bartender, 1979 – 2008 (taught workshops at Waukesha County Technical Institute, Wi. and Madison Area Technical College, Wi.). Retired 2008 (part time teacher/blogger), AZ. Self educated economist/philosopher/theologian: http://kingdomecon.wordpress.com.
The main question of my friends at the clubhouse this morning was:  'will our markets stabilize and then continue their trend upwards or will the markets continue to correct'…as we witnessed Monday? Concern has grown in the mind's of many investors as a result of the last few days. My response to these friends was that all the markets will continue to 'correct' for months/years. Why this response?
What we need to comprehend is that our markets are now mostly metaphysical markets. Metaphysical means that the markets are 'inner' and/or 'spiritual' in nature. We can also call these markets virtual, digital, and cyber. Our money is now mostly a virtual unit derived from our consciousness (spirit). Nearly all currencies today are digital and live within this Netherworld space called Cyberspace. Few seem to comprehend this new space.
Cyberspace is merely an 'extension' of my/your consciousness (spirit). We live with currencies which should be viewed as units of consciousness and part of our 'inner' spiritual being. The dollar is a unit of consciousness. The euro is a unit of consciousness. The pound, peso, krone, dong, shekel, and some 150 additional currency units are now virtual units (units of consciousness). I call these units 'inner' units. What does this mean?
What this means is that we live with subjective currencies, metaphysical money units, and emotional trading. Emotional trading is now done with algorithms and codes which trade our markets at near the speed of light. High Frequency Computers and Codes trade our markets (mostly). All this means that markets will 'correct' daily to various degrees (Up and Down). The U.S. markets are no different from the global markets. All markets are now cyber/digital/inner markets (mostly).
The old days of the Open Out-Cry System are over for setting our prices and values. Today, we live with electronic trading and with machines which do most of the trading. Codes within algorithms can enter and exit trades in milliseconds. As new codes are programmed into these algorithms, we will witness more 'corrections' to our markets. My sense is that we will witness a downward trend in our stock exchanges for all of 2018. The real correction has yet to commence IMO.
Think of our markets as inner and psychological. Our money units are now 'inner' and the psychology at the top has changed. We should witness more increases in the various interest rates for the remainder of 2018. The 10 year bond rate is currently 2.775%. This rate has increased substantially from a year ago. I expect this rate to exceed 3.5% or greater by mid-year 2018. All this change in interest rates will change policy decisions for most investors.
By the end of 2018, many real estate markets will be in decline. By the end of 2018, most of our stock bubbles will be pricked. Stock prices will decline as virtual money flows change. All this gets accomplished via algorithms and codes for most passive investment portfolios. So, corrections in our markets will continue. The markets can be pushed up temporarily by our Central Bank traders. This I expect to continue.
But the big corrections have not even started as yet. I expect that a 15% correction in the DOW will happen by mid-year. The other indices will correct gradually with fits and starts UP and then DOWN. The trend, however is DOWN for 2018. That seems logical to me. Do your own analysis and think for yourself. There are countless different points-of-view from our pundits. My view is based on the assumption that we live with spiritual or inner markets which get activated by forces greater than me and you.
The trend in our global markets is towards this concept called the 'Mark of the Beast' financial system. This MofB system is now here in its beginning form. It will become a greater force as the years fly by. Digital money has created our markets and these type of markets will be volatile and correcting on a daily basis. Watch and learn. Money is basically a con-game which few comprehend. Read my prior missive! Enjoy! I am: https://kingdomecon.wordpress.com.
STAY INFORMED! Receive our Weekly Recap of thought provoking articles, podcasts, and radio delivered to your inbox for FREE! Sign up here for the HoweStreet.com Weekly Recap.