February 24, 2018 | Trading Desk Notes – February 24th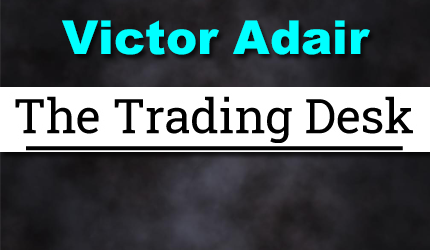 Victor Adair, author of The Trading Desk Notes, began trading penny mining shares while attending the University of Victoria in 1970. He worked in the mining business in Canada and the Western United States for the next several years and also founded a precious metals trading company in 1974. He became a commodity broker in 1977 and a stock broker in 1978. Between 1977 and his retirement from the brokerage business in 2020 Victor held a number of trading, analytical and senior management roles in Canada and the USA. Victor started writing market analysis in the late 1970's and became a widely followed currency analyst in 1983. He started doing frequent media interviews in the early 1980's and started speaking at financial conferences in the 1990's. He actively trades his own accounts from The Trading Desk on Vancouver Island. His personal website is www.VictorAdair.ca.
The DJIA topped out one month ago after a 45%+ rally since Trump's election. The DJIA moved broadly sideways between 16,000 and 18,000 for most of 2014, 2015 and 2016 and then took off on a 14 month Run for the Roses parabolic burst to 26,618. Following that top the DJIA had a swift 11% correction (top to bottom) and an equally swift bounce back from the lows with the market now slightly above where it was at the beginning of the year.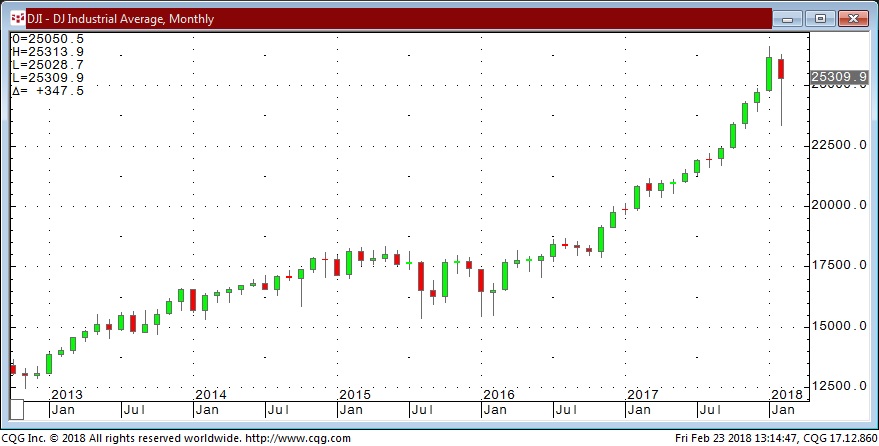 I think the bounce back from the lows is a dead cat bounce and that we'll see new lows for two reasons, 1) The 9 year bull market is long in the tooth and the recent parabolic price action looks to have defined a top and 2) the global accommodative Central Bank policies that underwrote the bull market are reversing.
Risk appetite seems more defensive than aggressive following the correction and I think the "buy any dip" crowd will be trading smaller size and will be using tighter sell stops if they get long. The US Dollar, which had been trending lower since Trump's election, has caught a bid the past couple of weeks and I think that's another "risk off" indicator.
My short term trading: I began the week short CAD, gold and WTI. I liquidated CAD and gold for good gains but covered the short WTI at a loss. At the end of the week I'm short Euro (could just as easily have been short gold,) I've re-shorted CAD (on the CPI bounce) and I wrote short dated puts on US Treasury bonds.
I'm looking for the US Dollar to rally if/when risk appetite becomes more defensive. Market positioning remains very USD bearish so if it does start to rally it could have a big quick move. Jerome Powell's "coming out" Congressional testimony this coming Tuesday could spark a USD advance.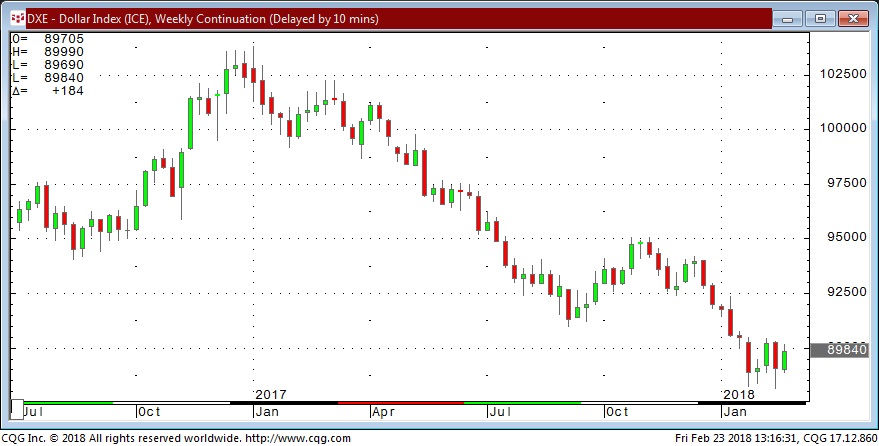 The Canadian Dollar has been the weakest of the G10 currencies Vs. USD since risk appetite topped out in late January, but it may be getting some support from higher WTI prices…and it seems to be ignoring the widening USD interest rate premium. However the main "driver" of CAD will be the strength or weakness of the big dollar.
The Euro has had a 20%+ rally against the USD in the last 13  months. Massive Euro bullish speculative positions have been built in the currency futures markets despite the huge widening of the USD interest rate premium. If the market comes to see 1.25 as a top in the Euro it will be tough to sustain long Euro positions with ~3% annual negative carry. A break below 1.22 could ignite selling pressure.
WTI topped out around the end of January and (just like the stock market) had a swift 12% correction…BUT…the bounce back in WTI has been stronger than the stock market bounce. I've had a bearish bias on the WTI supply/demand/inventory story but I think I'm currently "missing something" in that analysis so I covered my WTI puts mid-week for a loss and I'm flat. Speculators remain massively long WTI…so if the price does start to break there could be some serious selling pressure from those positions throwing in the towel.
US Treasury Bonds: US interest rates have been steadily rising since the September 8/2017 Key Turn Date with the 10 year nearly touching the 3% yield level this week. Speculators have built a huge bearish position in the futures market. I think the market is oversold so I've sold very short dated OTM puts.
PI Financial Corp. is a Member of the Canadian Investor Protection Fund. The risk of loss in trading commodity interests can be substantial. You should therefore carefully consider whether such trading is suitable for you in light of your financial condition. In considering whether to trade or the authorize someone else to trade for you, you should be aware of the following. If you purchase a commodity option you may sustain a total loss of the premium and of all transaction costs. If you purchase or sell a commodity futures contract or sell a commodity option  or engage in off-exchange foreign currency trading you may sustain a total loss of the initial margin funds or security deposit and any additional fund that you deposit with your broker to establish or maintain your position.  You may be called upon by your broker to deposit a substantial amount of additional margin funds, on short notice, in order to maintain your position.  If you do not provide the requested funds within the prescribe time, your position may be liquidated at a loss, and you will be liable for any resulting deficit in your account. Under certain market conditions, you may find it difficult to impossible to liquidate a position. This is intended for distribution in those jurisdictions where PI Financial Corp. is registered as an advisor or a dealer in securities and/or futures and options. Any distribution or dissemination of this in any other jurisdiction is strictly prohibited. Past performance is not necessarily indicative of future results
STAY INFORMED! Receive our Weekly Recap of thought provoking articles, podcasts, and radio delivered to your inbox for FREE! Sign up here for the HoweStreet.com Weekly Recap.