February 10, 2018 | Trading Desk Notes – February 10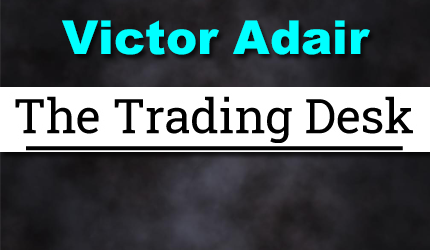 Victor Adair, author of The Trading Desk Notes, began trading penny mining shares while attending the University of Victoria in 1970. He worked in the mining business in Canada and the Western United States for the next several years and also founded a precious metals trading company in 1974. He became a commodity broker in 1977 and a stock broker in 1978. Between 1977 and his retirement from the brokerage business in 2020 Victor held a number of trading, analytical and senior management roles in Canada and the USA. Victor started writing market analysis in the late 1970's and became a widely followed currency analyst in 1983. He started doing frequent media interviews in the early 1980's and started speaking at financial conferences in the 1990's. He actively trades his own accounts from The Trading Desk on Vancouver Island. His personal website is www.VictorAdair.ca.
Risk Appetite had a Key Turn Date (KTD) the week of Jan 26/18 as the major American stock and commodity indices made important highs and then fell sharply while the US Dollar Index made an important low and then rallied sharply. (I define a KTD as a point in time when 2 or more major asset classes make a major turn at/around the same time…thereby emphasizing the importance of the turn. A recent example of a KTD occurred Sept 8/17 when US interest rates, currencies and gold all reversed course at the same time.)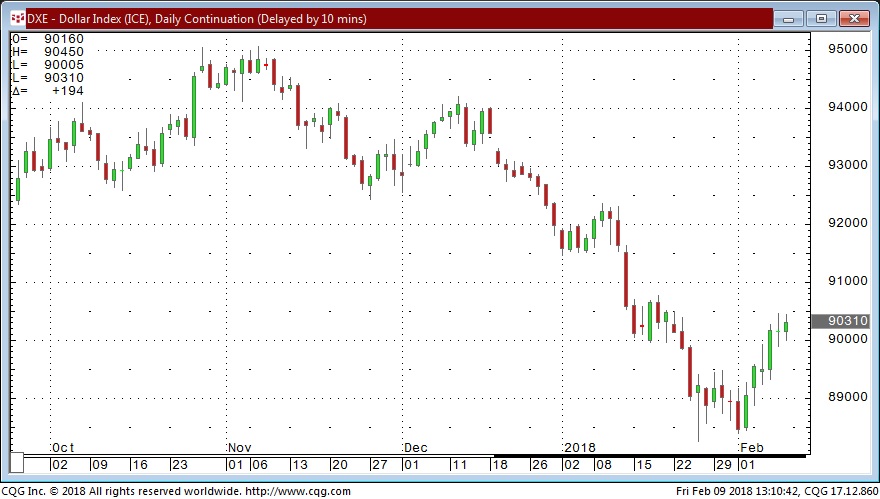 In my January 20/18 Trading Desk notes (prior to the most recent KTD) I noted that the key aspect of market psychology was investor's willingness to aggressively take on risk…that FOMO was a driving force… that a massive amount of new retail money was flowing into equity mutual funds and ETFs and I quoted Bob Farrell, "The public buys the most at the top and the least at the bottom."
Volatility across asset classes prior to the KTD was at historically low levels…reflecting an eerie complacency…volatility spikes since the KTD reflect panic.
Positioning risk across asset classes increased dramatically prior to the KTD as speculators built huge net long positions in equities and commodities (especially crude oil) while shorting the US Dollar. It was my view that the weakness in the US Dollar was one expression of the risk appetite trade…and that if risk appetite got "spooked" then I expected that the US Dollar would rise sharply.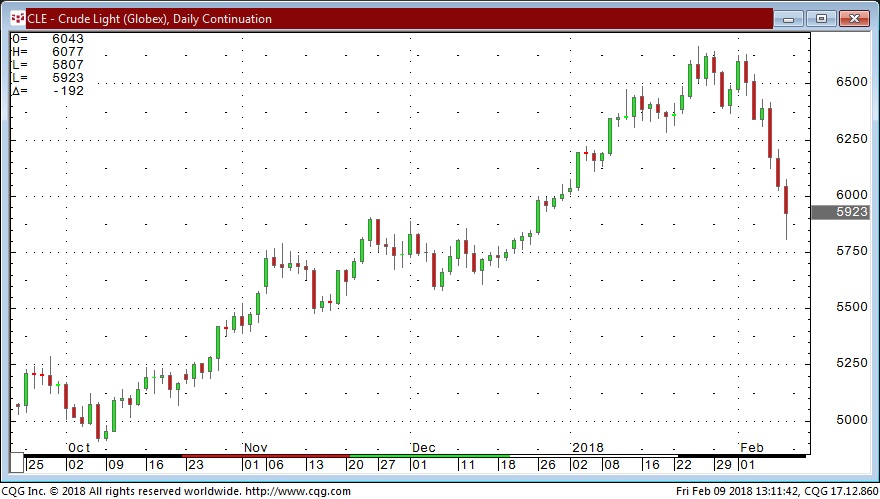 Consumer behavior in the months prior to the KTD saw people aggressively taking on risk as they ran down their savings and increased their debt load. Perhaps some people did this because of the "wealth effect" as their net worth was rising along with the stock market…perhaps other people did this because they were stricken with FOMO…the fear of missing out!
At the World Outlook Conference last weekend Mike Campbell asked the closing panel what they thought might be the biggest market surprise in the year ahead. My answer was that interest rates might go WAY higher than the market currently expected…that there was a dangerous complacency after years of ultra-low interest rates…and that a realization of higher interest rates could lead to a MAJOR REVERSAL of "Risk On" market sentiment resulting in falling bonds, junk bonds, stocks, risky stocks, commodities and a rally in the US Dollar.
I made the point (again!) that it was all about the Central Banks…that in 2017 Central Banks had put a record amount of money into the market but in 2018 they would be putting in "Hundreds of Billions less" while governments would be issuing more debt than in 2017. Somebody, other than the Central Banks, was going to have to buy that debt…and yields might have to rise substantially to induce buyers to step forward.
I also pointed out that there were going to be lots of new people at the major global Central Banks in the year ahead and that those new people might do things differently…that investors shouldn't't automatically assume that "the Fed has your back."
Mike's second question to the panel was, "How are you going to make money in the year ahead?" My answer was to have a plan for what I would do IF something started to happen…that I would have my ideas about what the markets "should" do but I would need to see market action confirm my thoughts before I took a position. I especially made the point that I would look to take advantage of "positioning risk"…for instance, investors had built up massive long positions in the Euro and crude oil and stocks and if those markets start to fall they would be motivated to liquidate their positions, exacerbating the decline, and I'd want to be short those markets.
My recent trading: My overriding concern has been risk management so I've kept my position size small, and/or bought options rather than take outright futures positions. I have NOT shorted option premium. I have been short stocks, crude oil, Euro, gold and the Canadian dollar. I certainly have not maximized my profit opportunities in these trades (you never have enough on when you're right!) but it's been a good couple of weeks. At the end of the week I remain short CAD and WTI.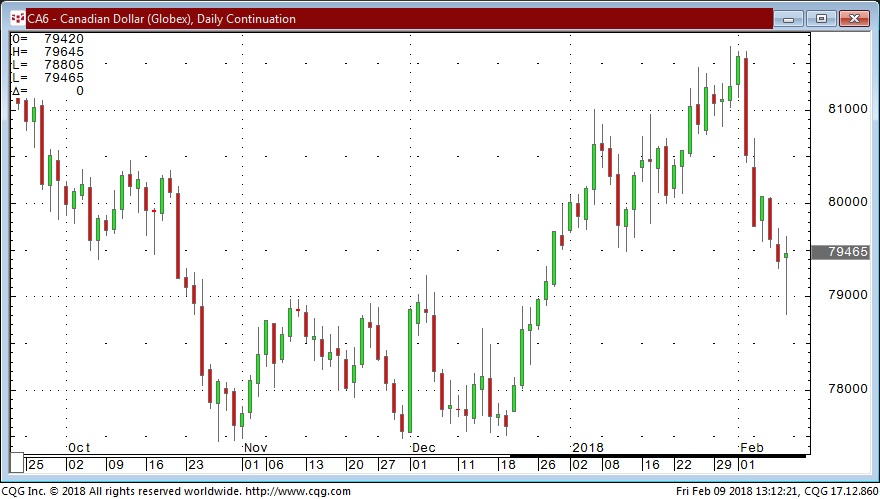 So what happens next?  1) WAY more volatility than we've grown used to. 2) Risk appetite has been chastened so I expect an unwinding of the positioning established when risk appetite was aggressive. 2) The "buy the dip" crowd in the equity market will be less aggressive and, 3) Some people will be praying for a bit of a rally so that they can sell/lighten up their "too aggressive" positioning so, 4) I don't see new highs in the major stock indices anytime soon…but perhaps later this year…I'll be watching market action for confirmation. 5) The massive speculative net long positioning in Euro and crude oil will likely keep a lid on any rallies in those markets…and may exacerbate declines.
PI Financial Corp. is a Member of the Canadian Investor Protection Fund. The risk of loss in trading commodity interests can be substantial. You should therefore carefully consider whether such trading is suitable for you in light of your financial condition. In considering whether to trade or the authorize someone else to trade for you, you should be aware of the following. If you purchase a commodity option you may sustain a total loss of the premium and of all transaction costs. If you purchase or sell a commodity futures contract or sell a commodity option  or engage in off-exchange foreign currency trading you may sustain a total loss of the initial margin funds or security deposit and any additional fund that you deposit with your broker to establish or maintain your position.  You may be called upon by your broker to deposit a substantial amount of additional margin funds, on short notice, in order to maintain your position.  If you do not provide the requested funds within the prescribe time, your position may be liquidated at a loss, and you will be liable for any resulting deficit in your account. Under certain market conditions, you may find it difficult to impossible to liquidate a position. This is intended for distribution in those jurisdictions where PI Financial Corp. is registered as an advisor or a dealer in securities and/or futures and options. Any distribution or dissemination of this in any other jurisdiction is strictly prohibited. Past performance is not necessarily indicative of future results
STAY INFORMED! Receive our Weekly Recap of thought provoking articles, podcasts, and radio delivered to your inbox for FREE! Sign up here for the HoweStreet.com Weekly Recap.