February 4, 2018 | The Next Buying Opportunity in Cannabis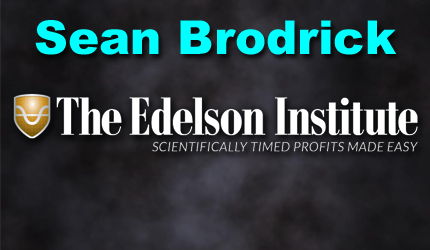 Sean is the natural resource analyst for Weiss Group. You can read his thoughts on gold, oil, cannabis, uranium and other natural resources at EdelsonInstitute.com
Everything was all party-time in the cannabis space for months. Peace and love and bongs, Tommy Chong! Whoo-hoo!
But if you're thinking of investing in cannabis stocks right now, DON'T. Do not spend a dollar on cannabis stocks right now.
Why? Because the best buying opportunity is yet to come. And we could see lower prices before the next rally.
Let me show you why I know why I'm talking about …
I made my subscribers a bale of money on cannabis stocks. 300% … 400% … 500% and more on their investments. In my own portfolio, where I can stomach so much risk it would harsh your mellow, I racked up profits of 900% … 1,050% … 1,200%.
Not every pick was a winner. But the winners buried the losers.
That was then. Now, the last week saw a big shift in the dank-soaked winds blowing from Quebec to Vancouver … from Florida to California. There is a lot of air whooshing out of cannabis stocks on both sides of the border.
Let me show you a weekly chart of the leading marijuana stock ETF, the Horizons Medical Marijuana Life Sciences ETF (TSX: HMMJ).
Dang, that's one heck of a drop we've seen in the past week. One great stock after another is being pushed, kicking and screaming, into the woodchipper.
But that's what protective stops are for, right? The question is, what do we do next?
Well, this sell-off reminds me of what happened going into June last year. The HMMJ sold off to the tune of 30%. Then it scraped along the bottom for two months before taking off again.
Anyone who used that pullback to pick up select cannabis stocks on the cheap did very well indeed.
I think that's what we'll see this time around.
Why are cannabis stocks down so much, anyway? Part of it is price. There is steady downward pressure on marijuana prices. Here's a chart of marijuana prices north of the border, as collected by Statistics Canada.
Source: Statistics Canada/Bloomberg
Meanwhile, the U.S. is seeing prices drop, too. Average prices fell at least 20% last year. And the fall continues. The U.S. spot index for cannabis in mid-January stood at a national average of $1,292 per pound. That's a 3.5% decline compared to the week prior, according to Cannabis Benchmarks.
I believe that investors fear more of the same now that California — the sixth-largest economy in the world — has legalized recreational use. However, I think those fears are overdone.
Why? California is taxing marijuana so much that prices for consumers are sometimes "shockingly" high. And that comes arm-in-arm with a sea of red-tape. This is actually self-defeating. It's the kind of stuff that makes Mexican Narcos do handstands of joy. They WANT legal prices high. It's what keeps those bad hombres in business.
Meanwhile, the sales growth potential for select players in cannabis-related industries remains enormous.
Experts are predicting growth in legal marijuana sales of 45% this year, and 300% as an aggregate between 2016 and 2021.
That means the U.S. market could be generating around $17 billion in annual sales by 2021.
And legalization keeps rolling along. This is despite the best efforts of Jeff Sessions. The U.S. Attorney General — and rogue garden gnome with an inexplicable hatred for green growing things — is standing in the way of a tidal wave of popular support.
A Gallup poll done in October of last year shows 64% of Americans support legalizing recreational pot. That was the highest percentage on record over the poll's 48-year history. Meanwhile, 94% support medical marijuana.
So, I think prices will stabilize. We'll probably see some weak players forced out. And every state that legalizes brings in millions of potential customers.
So yeah, there's still plenty of growth for select companies. And there are companies that don't touch the marijuana plant that have even more potential.
And the fact that AG Sessions is keeping his elfin foot on the neck of the legal U.S. marijuana industry — for now — just means a better buying opportunity.
But I'll talk more about that another time.
Here are three fun factoids to think about while you build your shopping list for the next rally in cannabis stocks …
Marijuana is Less Harmful Than Sugar. That's according to a NBC News/ Wall Street Journal survey. Only 9% of respondents rated marijuana as harmful; while 21% said the same of sugar.
And that makes sense. There's never been an overdose from marijuana. You can see the bad effects of sugar in every diabetes commercial.
Canadians are Buy-Buy-Buying Weed. I told you that the cost of marijuana is going down in Canada. And that's all medical marijuana. People who were registered to use medicinal marijuana reached 235,621 by the end of September. That's up 40% from the end of March, according to quarterly figures released by Health Canada.
Colorado's Weed Market is Booming, Too. Since recreational marijuana became available in Colorado in 2014, marijuana sales have grown from $996 million in 2015 to $1.25 billion in 2016 to $1.49 billion in 2017. That's according to an article in 420Intel.
Source: Health Canada/Bloomberg
The number of marijuana users in Canada is estimated at 4.9 million, out of a total population of 36.3 million. Just imagine what will happen to sales when Canada legalizes recreational use in mid-summer.
The bottom line is that marijuana legalization seems unstoppable. We've seen the first act, and this is no one-act play. Now, profits are being locked in. But if history is any guide, there's another rally right around the corner. And smart investors will be ready for it.
All the best,
Sean Brodrick
STAY INFORMED! Receive our Weekly Recap of thought provoking articles, podcasts, and radio delivered to your inbox for FREE! Sign up here for the HoweStreet.com Weekly Recap.