February 27, 2018 | The Cab Driver Didn't Have Shoes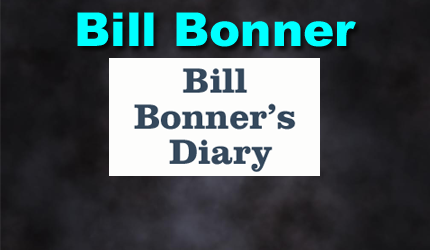 Is an American author of books and articles on economic and financial subjects. He is the founder and president of Agora Publishing, and author of the daily financial column, Diary of a Rogue Economist.
BUENOS AIRES, ARGENTINA – Another good day for Wall Street yesterday.
The Dow rose more than 300 points. And sources tell Bloomberg that the Fed is ready to accept higher levels of inflation – say, 2.5% – before it calls for battle stations.
In our opinion, it will have no choice; it will have to accept far higher inflation before this is over.
Unexpected Delay
But in the meantime, investors believe that all is well… and that buying the dips still pays. They have had a frisson; they know stocks can fall. But they think the game remains unchanged. The fix is in; the Fed has their backs.
Little do they know the Fed is aiming for their backs… but with a knife in its hand.
We were on our way to São Paulo yesterday when we ran into trouble. Brazil requires a visa for U.S. travelers, and our visa had unexpectedly expired. So we took advantage of the enforced delay to check out Miami.
We've been through Miami International Airport many times; we know the airport well, but not the city. So we went out to the famous Wynwood Walls to have a look.
The yellow cab looked like any other in the long line. But when the driver got out to open the trunk, we saw he had no shoes on. In the front seat was a blanket and a roll of toilet paper, thrown over a pile of clothes. It didn't smell good.
The driver twitched and jerked. After we had gone a couple of blocks, he put down the window and spat out of it. (He must have missed the equivalent of the two-year training that Black Cab drivers get in London.) But we got to our destination.
Miami has become a center for contemporary art. Not only are there huge murals on the exterior walls, there are also many galleries with the latest oeuvres available for display or sale.
We don't know anything about contemporary art, and we're not really interested in learning more, but the quality of the workmanship is unmistakable.
They are not just clever, ironic, or in-your-face, many are very expertly rendered and impressive, even to people who know nothing about the genre.
Bill snaps a picture of a wall mural in Miami's Wynwood district
More street art from Bill's impromptu visit to Miami
Worth a visit.
A word of advice to Dear Readers: don't stay at the Biltmore. The lobby and the food were okay, but the room was surprisingly shabby; not worth the money.
Update on the Doom Index
Now, back to the subject at hand. After the 10% correction in the stock market, is it all smooth sailing now for investors?
We turned to our research department for an update on our Doom Index.
You'll recall that your editor gave up trying to call the top… after he called it about 50 times to no apparent effect.
The market kept rising as if it didn't care what he said. His intuition was plainly not up to the challenge.
So he asked his researchers for a more rigorous approach. And to that end, Joe Withrow devised a way for us to tell, not necessarily when the market would crash, but when it OUGHT to crash.
We got our first Extreme Warning signal on January 18, based on the data from the fourth quarter of 2017. Stocks peaked out eight days later and bottomed on February 8, for a 10% drop.
Not bad for a first time at bat. Naturally, we asked Joe to step up to the plate again this week. What's the Doom Index telling us now?" we wanted to know.
Joe:
No material change yet – we are still sitting at our "Extreme Warning" level.

The ISM Manufacturing Index has fallen 10% so far in 2018, indicating a sharp slowdown. And about 60% of all bond ratings changes so far in 2018 have been "downgrades." But junk bonds have caught a bid and rebounded from their sell-off at the start of February.

The February correction spooked individual investors quite a bit – AAII bullish investor sentiment fell from 60% to 37% immediately following the correction. Bullish sentiment has since ticked back up to 45% over the past two weeks.

We won't get updated credit growth data until the end of the quarter. Credit growth has contracted in three of the last four quarters – that hasn't happened since the end of 2008 / the beginning of 2009. It's going to get interesting…
Getting Wobbly
Yep. More excitement to come.
Why? The economy and its asset prices depend on leverage. Debt has increased three to six times faster than GDP for the last 38 years.
Without this debt increase, stocks and bonds wouldn't be nearly so expensive… and many of the malls, autos, and houses you see today wouldn't exist. But the tower of debt on which the whole economy and capital structures rest is getting wobbly.
The Wall Street Journal reports, for example, that margin debt was what made the mini-crash so dramatic. And it's what will make the next move a hoot, too:
Investors have borrowed a record $642.8 billion against their portfolios, according to the Financial Industry Regulatory Authority, as they try to pocket bigger gains by ramping up their exposure to stocks.
Yep. Margin debt. Corporate debt. Household debt. And government debt. All at record levels. And all in need of new blood, more debt, just to stay in the same place.
But the new blood is coagulating.
The Fed has put on a tourniquet (Dear Readers are asked to forgive the metaphors… It's very early here in São Paulo.) The Fed is tightening.
It's promised to remove liquidity at a rate of $600 billion annually by the end of the year.
No, we don't think the Fed will follow through. Come the next crisis, the Fed will be giving infusions with a firehose.
The Fed is famous for causing financial bubbles… and then inadvertently blowing them up.
Regards,
Bill
STAY INFORMED! Receive our Weekly Recap of thought provoking articles, podcasts, and radio delivered to your inbox for FREE! Sign up here for the HoweStreet.com Weekly Recap.