February 17, 2018 | Look at Where the Puck is Going, Not Where It's At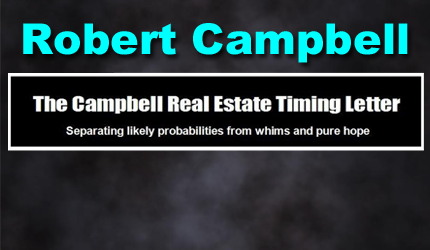 Robert Campbell is a real estate analyst and economist. He's been publishing The Campbell Real Estate Timing Letter since 2002. His book (Timing the Real Estate Market) presents a clearly defined method for predicting the peaks and valleys of real estate cycles.
Throughout history, investors tend to make the same mistakes over and over again – and to their great detriment.
I talked about this at my Feb 10, 2018 seminar.  One of their biggest mistakes deals with "forecasting," where investors get out their ruler and start extrapolating trends of the  recent past into the future.
Mortgage rates, for example, were in a downtrend for most of 2017.
That seems to have changed, however, in 2018.
Driven by fresh worries about rising inflation, the chart below shows that mortgage rates have recently shot up to their highest level in almost four years.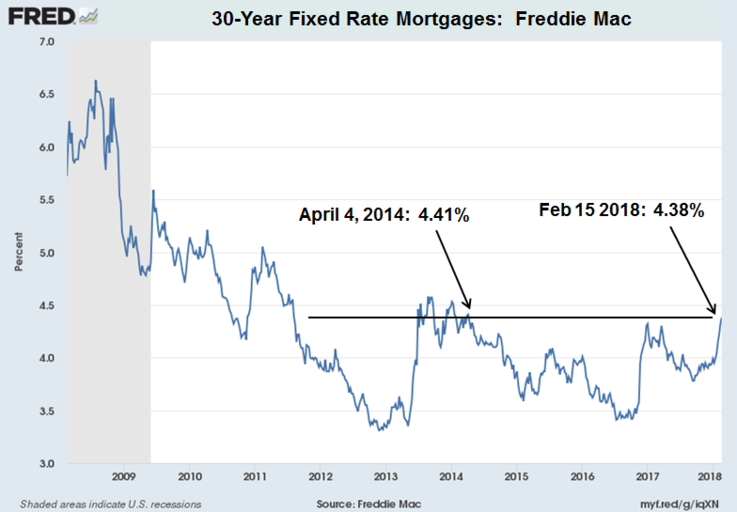 In addition to inflation fears, the Federal Reserve Board have scheduled 3 to 4 more rate hikes for this year, which will put even more upward pressure on rates.
After pumping money into the markets since 2008, the Fed apparently now thinks that their policies may have pushed asset prices to dangerously high levels – which they are now trying to "gradually" deflate without causing a crash.
Other Fed Moves
In September 2017, the Fed also started to unwind it's massive $4.5 trillion balance sheet.
To do this, the Fed started selling Treasury Bonds that were purchased during their 2008 to 2014 Quantitative Easing programs, which artificially forced interest rates to all-time historic lows, which in turn drove stock, bond, and real estate prices to all-time historic highs.
What does this all mean to real estate investors?
It means that until the trend changes, mortgage rates are likely to keep rising – which will act as a drag on housing values.
Wayne Gretzky has been called "the greatest hockey player
ever."  When asked about the secret to his success, he would
often say, "I look to where the puck is going, not where it's at."
If you want to be a great investor, you need to think like
Wayne Gretzky.  Look to where the market's key indicators are
are going, and not where they are right now.
The tides go in and out – especially with California real estate.
Just because something was a good investment in the recent past does not mean it will continue to do well in the future.
::::::
WANT MORE?
To register for the June 2, 2018 seminar, Click HERE
To subscribe to The Campbell Real Estate Timing Letter, Click HERE
To read a sample issue, Click HERE

STAY INFORMED! Receive our Weekly Recap of thought provoking articles, podcasts, and radio delivered to your inbox for FREE! Sign up here for the HoweStreet.com Weekly Recap.