February 1, 2018 | An Update on Our Irish House Hunt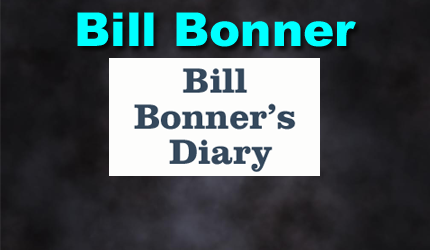 Is an American author of books and articles on economic and financial subjects. He is the founder and president of Agora Publishing, and author of the daily financial column, Diary of a Rogue Economist.
CORK, IRELAND – "Is the bull market in stocks finally over?" asks a Bloomberg headline.
We don't know the answer.
No one knows the future. Still, people buy umbrellas even when it isn't raining.
If we were you… looking at the sky and reaching a familiar conclusion… we'd make sure we had one close at hand.
House-Hunting Perils
But we'll suspend our coverage of the financial weather to tell you what we've been up to here in Ireland.
Yesterday, we began our day in a blizzard. The flakes were so big and heavy they practically knocked us down.
We had driven out to look at a neglected country house, snaking around a narrow country road as the snow fell heavily.
"You're on the wrong side of the road!"
Elizabeth wasn't accusing us of driving badly, just fearing for her life.
It was the second time in less than an hour she had had to remind us: "Stay on the left!"
A big truck was headed directly for us. For a split second, we wondered why the driver didn't get over to his side of the road.
Fortunately, Elizabeth called us to order, reminding us that the Irish drive on the "wrong" side of the road, before any damage was done.
The last couple of days have been spent house-hunting. We are going to be in Ireland, off and on, for the next five years. We might as well dig in… find a place we like… and enjoy it.
So far, we've looked at:
A big, disorganized place with no architectural integrity (unable to decide which one to live in, the owners stuck two houses together; they now have two separate kitchens)
A farm on a windswept "head" jutting out into the Celtic Sea, but with neighbors crowding the house
A Georgian farmhouse that turned out not to be for sale
A jewel of a house in a lovely garden setting that needs two full-time gardeners to keep it maintained
A 100-year-old house that had been turned into a B&B – rambling… cold… with enormous barns, stables, and other outbuildings for which we could think of no use
Finally, we saw a small, abandoned rectory on a tiny road, hidden by trees… with no heat, no hot water, no appliances, no lights… not even a place to park your car that wouldn't have you sinking into the mud.
"We'll take it," we said.
Falling Through the Floor
This last place was left as it has been for almost 50 years.
There were statues of the Holy Virgin still in their niches. Threadbare carpets lay on the floor… and old moth-eaten blankets on the steel beds. Baptismal certificates hung above the children's beds. Glasses and plates were stocked in the cupboards.
It is as though the family who lived there went away for the weekend and never came back.
"What happened?" we asked the custodian, Declan, a lanky man of about 60 with a lanky smiling face.
"Oh… watch out!"
Elizabeth had just stepped on a board in one of the bedrooms. Her heel sunk into the soft wood.
"Worms… They're flies, actually. They burrow into the wood. You can't see them. And then the wood turns to dust.
"If it were up to me, I'd tear out all the floors. Otherwise, you never know when you'll fall through the ceiling down below."
Declan was smiling broadly; the idea of us falling through the floor seemed to delight him greatly.
"Oh… and as for what happened to the family that lived here. There were four daughters. They were left the house when the parents died. Three of them married and moved away… some to America."
He spoke in a heavy Cork accent… still smiling, pronouncing each syllable of America carefully.
Propped Up Against a Tree
"The last of the daughters didn't marry for a long time," Declan continued.
"She was set to marry the man next door. He was an older man. He had a big house and lots of money.
"But he went out for a walk with his dog. And when the dog came back without him, we knew something was wrong. We found him propped up against a tree. He had shot himself. It was probably his best move at that stage. I knew the woman.
"I would have run away instead. It would have been shameful. But sometimes, that's the best you can do.
"Besides, you know, the weather here is so wet, I would have moved to Florida. It doesn't rain in Florida, does it?"
We wanted to set him straight: Yes, it does rain in Florida; and yes, there are ill-tempered shrews there, too.
But he knew that; it wasn't the truth that Declan was after.
For four decades, he has dreamed of sunny Florida – far from the rain, snow, mud, and cold of Ireland. Perhaps someday, he will find out that it rains in Florida.
Or maybe not.
Besides, fantasies about the weather 4,000 miles away do no harm.
Fatal Delusions
Delusions about the weather at home, however, can be fatal.
Which is how we segue back to our subject…
The indisputable fact, Dear Reader, is that there are bull markets and bear markets. Unless the authorities have found some way to stop markets from working (which is unlikely), sometime in the future – perhaps now… perhaps later – stock prices will plunge.
They could lose half to three-quarters of their value. And it could take 10 to 20 years for them to recover…
…if they ever do.
Yes, sometimes it rains. We hate to tell you, Dear Reader; but we thought you should know.
Regards,
Bill
STAY INFORMED! Receive our Weekly Recap of thought provoking articles, podcasts, and radio delivered to your inbox for FREE! Sign up here for the HoweStreet.com Weekly Recap.