February 11, 2018 | Except For Gold…The Big 6 Commodities Were Closed Lower Again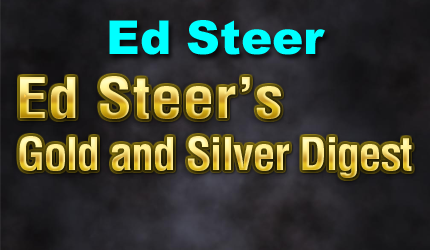 "Ed wrote the daily precious metal commentary for Casey Research starting in 2008. His stand-alone column became their most highly-rated blog [either free or paid] almost from the outset—and remained that way until he started his own subscription-based website in June of 2015."
10 February 2018 — Saturday
YESTERDAY in GOLD, SILVER, PLATINUM and PALLADIUM
---
The gold price didn't do much of anything anywhere on Planet Earth on Friday, but I suppose the reality of the situation was that it wasn't allowed that luxury.
The gold price traded in a ten dollar price range yesterday — and the high and low ticks aren't worth looking up.
Gold was closed in New York on Friday at $1,315.70 spot, down $2.60 on the day.  Net volume was pretty heavy at just under 293,000 contracts.
Platinum rose and fell five bucks between 6 p.m. EST on Thursday evening — and shortly before 11 a.m. CST on their Friday morning.  It then chopped quietly sideways until the COMEX open at 8:30 a.m. in New York.  The spoofing got started — and the algos got spun — and the $955 low tick came shortly before 1 p.m. EST.  It was bounced off that low tick a number of times until the COMEX closed and, like silver, rallied until trading ended at 5:00 p.m.  Platinum was down 15 bucks at its low tick, but closed down by 'only' 7 dollars at $963 spot.
Palladium was up four or five dollars by the Zurich open — and then jumped up a bunch more between 10 a.m. and 12 o'clock noon CET over there.  From that juncture it was sold down to its low tick of the day, which came shortly after the Zurich close — and like platinum and silver, rallied quietly until trading ended at 5:00 p.m. EST in New York.  Palladium finished the Friday session at $969 spot, up 17 bucks on the day.
The dollar index closed very late on Thursday afternoon in New York at 90.28 — and chopped quietly sideways until 1 p.m. China Standard Time on their Friday afternoon.  It began to edge lower from there, only to get 'saved' for the fifth day in a row in the hour preceding the London open.  And except for a 2-hour 25-basis point slide between noon in London — and 9 a.m. in New York, it chopped higher until the 90.56 high tick was set around 12:45 p.m. in New York.  It began to chop lower from there at a similar pace to what it had risen earlier — and the dollar index finished the Friday session at 90.35 — up 7 basis points on the day.
But, like every other day this week, it would have crashed and burned if allowed to seek its true 'intrinsic value'.
And here's the 2-year U.S. dollar index chart — and you can read into this whatever you wish.  But while you're doing that, just remember that this graph is a total fabrication by the powers-that-be…as is most every other chart in this column.
The gold shares gapped down a bit at the open — and kept right on going until shortly before the COMEX close.  Then they made a couple of rally attempts after that as gold rallied in after-hours trading — and closed a decent amount off their respective low ticks of the day.  Thank heavens for that, as the HUI closed down 2.04 percent as it was.
---
Here are the usual charts from Nick that show what's been happening for the week, month-to-date — and year-to-date.  The first one shows the changes in gold, silver, platinum and palladium for the past trading week, in both percent and dollar and cents terms, as of their Friday closes in New York – along with the changes in the HUI and the Silver 7 Index.
Here, with a few minor changes, is what I said about this disgraceful situation when I wrote in this spot last Saturday.
No matter how obvious the price management scheme in the precious metals is, you can take it to the bank that the executives of these mining companies that we own shares in will say and do nothing.  And neither will the World Gold Council, The Silver Institute…or the CME Group or the CFTC.  Virtually all the large mining companies are members of, or closely associated with, those first two groups — and would never say or do anything to upset their peers.  That disease also infects the major keynote speakers that I see at every precious metals conference I attend.  As stockholders, we have been completely abandoned by all parties that are supposed to be looking out after our best interests.  Instead of that, they've willfully fed us to the wolves.
---
---
Month-to-date the mint has sold 1,500 troy ounces of gold eagles — 1,500 one-ounce 24K gold buffaloes — and 225,000 silver eagles.  Retail investor interest is basically non-existent.
You may remember two or three years back that the mint would not release their list of 'authorized purchasers' — and even a 'Freedom of Information' request through government channels was turned down for 'national security' or some other such equally ridiculous reason.
And why was that, you ask?
Well, Ted Butler had figured out that JPMorgan was the 'big buyer' of silver and gold coins, not only from the U.S. Mint, but also silver and gold maple leafs from the Royal Canadian Mint for about four or five years running.  He also assumed that they weren't buying through any of these 'authorized purchasers' at all, but had applied for and become an 'authorized purchaser' from the U.S. Mint themselves, to save on the fees charged…cutting out the middleman.
As JPMorgan discovered in hindsight, this turned out to be a grave mistake — and with sober second thought, they had to hide that fact from the general public — and the U.S. Mint went along with it, probably with the approval of their bosses over at the U.S. Treasury Department.  But once JPM's name had been removed as an authorized participant by the mint, then the coast was clear for them to breeze forth with their freshly polished up "transparency".
And if you have a better explanation, I'd love to hear it.
So would Ted.
---
They arrived at that number by increasing their long position by 6,977 contracts, plus they covered 9,673 short contracts — and the sum of those two numbers was the change for the reporting week.
Ted said that the Big 4 traders reduced their short position by approximately 2,900 contracts — and the '5 through 8' large traders decreased their short position by around 3,800 contracts.  Ted's raptors, the 44-odd small Commercial traders other than the Big 8, increased their long position by about 10,000 contracts.
Under the hood in the Disaggregated Report, it was all Managed Money  — and a lot more, as they not only sold 11,615 long contracts, they also increased their short position by 11,794 contracts as well — and the sum of those two numbers…23,409 contracts…was their change for the reporting week.  The difference between that number and the Commercial net short position…23,409 minus 16,650 equals 6,759 contracts…was made up by the traders in the other two categories…the 'Other Reportables' and the 'Nonreportable'/small trader category…with the traders in the 'Other Reportables' category making up the lion's share of that difference.
The big surprise in the Disaggregated COT Report was the sale of those 11,615 long contracts — and it's obvious from the size of the change that most of these sales were by non-technical Managed Money traders, the ones I  call the "unblinking" longs.  Both Ted and I were expecting/hoping that this number would not exceed 3-4,000 contracts, which would take the Managed Money long position back to its old base number of about 46,000 contracts.  That didn't happen — and as Ted pointed out, it appeared that some of these non-technical traders made some permanent portfolio adjustments — and that trend may have also extended into the next reporting week as well, if the big drops in silver open interest since the cut-off are any indication.  Ted is the real authority on this — and I look forward to what he has to say in his weekly missive this afternoon.
The Commercial net short position in silver is now down to 153.2 million troy ounces of paper silver.  Ted pegs JPMorgan's short position at 28,000 contracts…giving them all the improvement in the Big 4 traders in this COT Report.  And with the new Bank Participation Report in hand, Ted said he could certainly make a case for JPMorgan's short position to be three or four thousand contracts higher than that, but the entrance [for the first time] of a sixth U.S. bank into the COMEX futures market in silver, gave him pause.
Of course it has grown even more bullish since Tuesday's cut-off — and as I said to Ted on the phone yesterday afternoon…what I wouldn't pay to see what the COT Report looked like after the COMEX close on Friday.
---
They arrived at this number by adding 3,960 long contracts — and they also reduced their short position by 15,665 contracts.  The sum of those two numbers was the change for the reporting week.
Under the hood in the Disaggregated COT Report it was, as is almost always the case, all Managed Money traders…plus more.  They reduced their long position by a monstrous 24,220 contracts, but only added a piddling 413 contracts on the short side…another surprise — and it's the sum of those two numbers…24,633 contracts…that was their change for the reporting week.  Like in silver, the difference between that number and the commercial net short position…24,633 minus 19,625 equals 5,008 contracts, was made up by the traders in the other two categories, with the largest chunk going to the traders in the 'Other Reportables' category.
The commercial net short position in gold is now down to 20.55 million troy ounces — and still very much in bearish territory.
And here's the 3-year COT chart for gold — and although it does look a bit better, the down-side price potential is still very much in place.
Although the internal structure of the COMEX futures market in all four precious metals has much improved since the Tuesday cut-off, the 50 and 200-day moving averages in gold remain unbroken — and hang over the market like the proverbial sword of Damocles.  And with China closed for their New Year's celebrations for a week starting on February 16…'da boyz' may wait until that market is closed before doing the dirty.
As Ted pointed out on the phone — and is evident in the numbers presented above, there were strange goings-on in this report.  I'm sort of wondering if a couple of them might be related to Scotiabank's departure as a player in both silver and gold.
There are lots of pieces in motion in this great gold and silver chess game that's going on, most of which is hidden from our sight.  But when all the motion stops — and the pieces are aligned in the correct order…then look out above!
---
For the current reporting week, the Big 4 are short 120 days of world silver production-and the '5 through 8' large traders are short an additional 56 days of world silver production-for a total of 176 days, which is just under 6 months of world silver production, or about 427.6 million troy ounces of paper silver held short by the Big 8.  [In the COT Report last week, the Big 8 were short 190 days of world silver production.]
In the COT Report above, the Commercial net short position in silver was reported as 153.2 million troy ounces.  As mentioned in the previous paragraph, the short position of the Big 8 traders is 427.6 million troy ounces.  The short position of the Big 8 traders is larger than the total Commercial net short position by a chunky 427.6 minus 153.2 = 274.4 million troy ounces.  The reason for the difference in those numbers is that Ted's raptors, the 44-odd small commercial traders other than the Big 8, are long that amount.
As I also stated in the above COT Report analysis, Ted pegs JPMorgan's short position at about 28,000 contracts, or around 140 million troy ounces, down 15 million ounces from what they were short in last week's COT Report.  140 million ounces works out to around 58 days of world silver production that JPMorgan is short — and that would be a minimum number.  That's compared to the 176 days that the Big 8 are short in total.  JPM holds about 33 percent of the entire short position held by the Big 8 traders.
As Ted also mentioned, he could make a case that JPMorgan's silver short position is still 31,000 contracts, or 64 days of world silver production
It's more than obvious that Scotiabank has been actively reducing their short position in the COMEX futures market for the last year and change.  Based on the COT data, Scotiabank's short position is around 23 days of world silver production — and could actually be a lot less than that.  They may not even be a member of the Big 4 anymore, but may have slipped all the way down into the '5 through 8' category.  I'm sure they've covered a certain portion of it during the normal course of business, but it's equally obvious that JPMorgan has taken up some of the slack, as have some of the other traders in the Big 8 category.
JPMorgan has been forced by circumstance to pick up Scotiabank's trading/price management duties in silver and gold.  So JPMorgan is by far the No. 1 silver short on Planet Earth — and likely to remain that way indefinitely.  Of course they have 675+ million troy ounces of physical silver [and counting!] stashed away to cover that, so they are in no danger.  That can't be said of the remaining Big 7, unless JPMorgan plans to bail out some, or all of them.  And if that's the case…at what price?  I get the feeling, as I said last week, that it wouldn't come cheap.
The two largest silver shorts on Planet Earth-JPMorgan and one other, which may or may not be Scotiabank, are short about 81 days of world silver production between the two of them-and that  81 days represents a bit over 67 percent of the length of the red bar in silver in the 'Days to Cover' chart…two thirds of it.  The other two traders in the Big 4 category are short, on average, about 19.5 days of world silver production apiece, which is exactly unchanged from last week's report.
The four traders in the '5 through 8' category are short, on average…14 days of world silver production each, which is down 2 full days from what each was short in last week's COT Report.  That's a big drop!
The "concentrated short positions within a concentrated short position" in silver, platinum and palladium held by the Big 4 commercial traders are 68, 69 and 77 percent respectively of the short positions held by the Big 8.  Silver is up 2 percent points from the previous week's COT Report — and platinum is down 2 percentage point from last week — and palladium is about unchanged from what it was in last week's COT Report.
---
Also in gold, 28 non-U.S. banks are net short 64,513 COMEX gold contracts, which isn't much per bank.  In the January BPR, 29 non-U.S. banks were net short 53,078 COMEX contracts, so the month-over-month change shows an increase of about 11,400 contracts.  I suspect that there's at least one large non-U.S. bank in this group that might hold a third of this short position all by itself — and the remaining contracts, divided up between the remaining 27 non-U.S. banks, would be immaterial.  I used to think it might have been Scotiabank, but that may not be the case anymore as they exist stage left.  But with 27 non-U.S. banks in this category, an 11,400 contract increase spread out more or less equally, wouldn't be much per bank, either.
I suspect that, like in silver and palladium, JPMorgan holds virtually all of the platinum short position by itself.
Also in platinum, 17 non-U.S. banks are net short 8,589 COMEX contracts, which is up about 1,700 contracts from the 6,869 contracts they were net short in the January BPR.
As you can see from the number of banks and number of contracts involved in the U.S./non-U.S. categories…this price management scheme platinum is a "Made in America" show as well.
Also in palladium, 12 non-U.S. banks are net short 3,096 COMEX contracts-which is down substantially from the 5,304 COMEX contracts that 13 non-U.S. banks were short in the January BPR.  When you divide up the short positions of these non-U.S. banks more or less equally, they're mostly immaterial…especially when you compare them to the positions held by only 4 U.S. banks.
As I say every month at this time, there's a maximum of four U.S. banks-JPMorgan, HSBC USA, Goldman and maybe Citigroup-along with Canada's Scotiabank…and they're getting out of Dodge-that are the tallest hogs at the precious metal price management trough.
JPMorgan is now the largest silver short holders on Planet Earth in the COMEX futures market — and by more than the proverbial country mile.  JPMorgan's short position now towers above all of the rest of the Big 7 traders…including Canada's Scotiabank.
---
I have an average number of stories for you today…plus the Cohen/Batchelor interview.
---
CRITICAL READS
Jim Rogers, 75, says the next bear market in stocks will be more catastrophic than any other market downturn that he's lived through.
The veteran investor says that's because even more debt has accumulated in the global economy since the financial crisis, especially in the U.S. While Rogers isn't saying that stocks are poised to enter bear territory now — or making any claim to know when they will — he says he's not surprised that U.S. equities resumed their selloff Thursday and he expects the rout to continue.
The plunge in equity markets resumed Thursday, as the S&P 500 Index sank 3.8 percent, taking its rout since a Jan. 26 record past 10 percent and meeting the accepted definition of a correction. The Dow Jones Industrial Average plunged more than 1,000 points, while the losses continued in early Asian trading Friday as the Nikkei 225 Stock Average dropped as much as 3.5 percent.
---
---
Thursday saw rate vol start to accelerate, and today we see credit markets start to snap as equity market volatility contagion is spreading.
In fact, credit market volatility is spiking – and is above the Aug 2015 highs (higher relative to stocks where VIX remains below those levels)…
This is the biggest spike in High Yield bond spreads since Aug 2015's crash and raises relative funding costs to their highest since Dec 2016…
It's not just equities that are seeing fund outflows surge.
Junk bond ETFs have seen only 2 days of inflow in 2018, and outflows are accelerating as prices plunge.  IG bond ETFs have also seen outflows for 6 of the last 7 days…
Judging from the discount to NAV, there is more 'physical' selling to come in corporate bonds (as managers use JNK as their overlay, then selectively sell into illiquid markets…and one might wonder how much longer the S&P will hold its gains?
---
Structured finance was instrumental in ensuring the marginal subprime buyer could access the means to keep the Bubble inflating, even in the face of inflated home prices increasingly beyond affordability. These days, all these structured volatility products have been key to enormous pools of "money" chasing inflated securities prices increasingly detached from reality.
The risk versus reward calculus has rather quickly deteriorated for risk-taking and leveraging. Markets have turned much more volatile and uncertain – equities, fixed-income, currencies and commodities. The cost of market "insurance" has spiked, the Treasury market safe haven attribute has been diminished and various market correlations have increased, certainly including global equities markets. "Risk Off" has made a rather dramatic reappearance. How much leverage is lurking out there in global securities and derivatives markets?
Next week is tricky. I would generally expect at least an attempt at a decent rally prior to options expiration. But at the same time, my sense is that market players are especially poorly positioned for the unfolding "Risk Off" backdrop. A break of this week's trading lows would likely see another leg down in the unfolding bear market. And with derivatives markets already stressed, major outflows from the ETF complex would be challenging for less than liquid markets to accommodate.
Too many years of central bank-induced over-liquefied markets incentivized excess, from Wall Street to Silicon Valley to Washington to Beijing to Tokyo and Frankfurt. Markets at home and abroad completely failed as mechanisms to discipline, to self-adjust and to correct.
There will be a very steep price to pay.
---
Back in 2011, Standard & Poors' shocked the world, and the Obama administration, when it dared to downgrade the U.S. from its vaunted AAA rating, something that had never happened before (and led to the resignation of S&P's CEO and a dramatic crackdown on the rating agency led by Tim Geithner).
In short: a U.S. downgrade due to Trumponomics is inevitable. And incidentally, with today's 2-year debt ceiling extension, it means that once total U.S. debt resets at end of day – unburdened by the debt ceiling – it will be at or just shy of $21 trillion.
We expect if not a full downgrade, then certainly a revision in the outlook from Stable to Negative in the coming  months.
---
You don't have to own a brand new £999 state-of-the art Hypocrisy Detector from Harrods, to pick up on the double standards. Just having a few functioning brain cells and thinking for yourself will do. For months in the U.K. we've been bombarded with Establishment-approved conspiracy theories – peddled in all the 'best' newspapers – that Russia somehow 'fixed' Brexit. Getting Britain to leave the E.U. was all part of a cunning plot by Vladimir Putin, aka Dr. Evil, to weaken Europe and the 'free world.'
Never mind that we don't have a single statement from Putin or other senior Kremlin figures saying that they actually supported Brexit. These Establishment Russia-bashers know exactly what The Vlad is thinking.
---
The E.U. is mulling its options in the event of a U.S. withdrawal from the Joint Comprehensive Plan of Action, the 2015 multinational nuclear deal struck with Iran. Various European nations have been exploring ways of increasing business with the middle eastern country since the deal was struck, and are invested in making sure that the deal sticks and that sanctions are not reimposed.
The parties to the Joint Comprehensive Plan of Action (commonly referred to as the JCPOA) agreed to lift all nuclear-related sanctions on Iran if they would apply strict limitations on their nuclear program. The U.S., China, Russia, France, Britain, Germany and Iran struck the accord in July of 2015, the implementation of which began in January of 2016.
In spite of Trump's position on the matter, the European parties, together with Russia and China are committed to the pact, on which they will not renegotiate, and view it as working quite well in its present iteration. Iran has expressed that they will not agree to any further obligations than those which they have already agreed to under the JCPOA, and will not renegotiate the deal. Therefore, Trump's concerns can only be considered by U.S. Congress and will have no legal jurisdiction over the nuclear deal, Tehran or the International Atomic Energy Agency.
---
I have been waiting impatiently for a really good journalist and first-rate historian's interpretations of what Russiagate and the unwinding revelations of the FISA memo mean. This is surely it. Both pundits chronologically join up the dots of the criminal activities of people who created and pushed this narrative and how important the FISA revelations mean for them. What is ahead for Washington is likely in the answers to the five questions posed by Cohen at the end of his talk. My very small quibble is with the question about a cover up. We are already seeing it in the reactions in most of the MSM, political comments from Democrats (and not a few Republicans), the Mueller investigation and the Council on Foreign Relations. There is so much invested by the neocons and the Deep State in this narrative that they will not (can not?) give up, and that should give people an inkling of how much potential damage is ahead for these people and the Washington government institutions. We should speculate that all the Intelligence Agencies and the DOJ are controlled by the Deep State since the top echelons have been active in building the foundation of Russiagate, or shielding the participants, or using it geopolitically (Europe). The bright note here – a no gain, no pain point of view – is that since there is no "Russia in Russiagate" (wonderful line, that), then the whole excuse for war with Russia may be damaged. Basically we are all a little safer that this sinister stupidity is revealed for what it is…
---
The key thesis is this: Putin began as a pro-Western, European leader and with time he realigned himself with a much more traditional, Russian worldview. He is more in line with Russian voters today.
---
Imperialism – which today is usually referred to by the euphemism 'liberal interventionism' – went on Trial at the Waterside Theatre in Derry, Northern Ireland this week.
Five passionate and well-informed speakers, who included the former British Ambassador to Syria Peter Ford, detailed the carnage and chaos that has been unleashed around the globe by the aggressive, warmongering policies of the U.S. and its closest allies.
For the truth is the 'I' word is the elephant in the room in contemporary discourse. We're not supposed to acknowledge its existence. Imperialism, according to the dominant Establishment narrative, ended when the European empires gave their colonies independence in the 1950s and 60s. In fact, the 'old' imperialism was only replaced by a new variant which is even more destructive, and certainly more dishonest. At least the British Empire admitted it was an empire.
Today's U.S.-led neoliberal empire, which has Britain as its junior partner, does no such thing. Entire countries have been destroyed, with millions killed, and it's been done under a 'progressive' banner trumpeting concern for 'human rights' and 'enhancing freedoms.'
---
Turkey's gold reserve is 564.80 tons, according to statistics from the World Council on Gold.
By this indicator, Turkey ranks for the first time among the top 10 countries in the world with the largest reserves of precious metal, moving from 10th India.
The world's largest gold reserves are the U.S. with 8,133 tonnes, followed by Germany and Italy. Gold in Turkey's total gold-currency reserves is about 18.3%.
Last year, Ankara twice increased its gold by 30.1 tonnes and 33.9 tonnes respectively.
---
The PHOTOS and the FUNNIES
STAY INFORMED! Receive our Weekly Recap of thought provoking articles, podcasts, and radio delivered to your inbox for FREE! Sign up here for the HoweStreet.com Weekly Recap.