January 20, 2018 | Which Option: Government Shut-down or Central Bank Shut-down?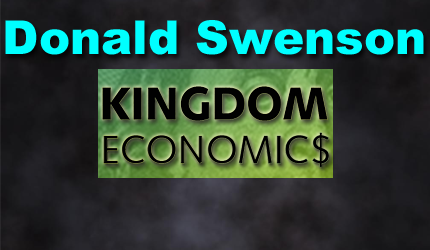 Donald B. Swenson: Born January 24, 1943, Roseau, Minnesota. Graduated H.S. 1961, Moorhead High, Minnesota. Graduated College 1968, Moorhead State University, Minnesota. Designated member of Appraisal Institute (MAI), 1974. Employed with Western Life Insurance Company, 1968 – 71; Iowa Securities Company, 1971 – 73; American Appraisal Company, 1974 – 81. Part-time teacher/valuation consultant/bartender, 1979 – 2008 (taught workshops at Waukesha County Technical Institute, Wi. and Madison Area Technical College, Wi.). Retired 2008 (part time teacher/blogger), AZ. Self educated economist/philosopher/theologian: http://kingdomecon.wordpress.com.
To solve our political and economic problems we could shut-down the Central Government in Washington (which appears to be happening as I write this missive) or we might shut-down our Central Bank in New York. Which would be preferable? You know my view. Our unconstitutional Central Bank needs to be shut-down!
We need to think about shutting down the real source of our political, military, and economic problems. A Central Bank shut-down would bring all these issues to the forefront and the American people would wake-up to who rules this planet. Money rules and our unconstitutional Central Bank is the real source of our problems.
Why should a few unelected elites rule over the entire planet? Does this make any sense? Money (today) is merely a unit of the mind which becomes a digit in the computer screen. Should our world be controlled by a unit of the mind and a digit in the computer screen?
Central Bankers have ruled over us now for 100+ years and our Central Bank called the Fed has been at the core of this rulership. It all started in 1910 at Jekyll Island, Georgia with a few criminal banksters and politicians meeting to form our Central Bank monstrosity.
These men (no women) met and schemed to form a system where Central Banks would evolve into the system we witness today. The goal is to rule the planet with their select Deep State cronies. Criminal men (no women) met and schemed and then created this monstrosity which we witness today.
These schemers meet in secret in New York, Washington, London, Basel, Davos, and other secluded venues to control the finance for our entire planet. Give me the control over the money system and I can RULE planet Earth. That is the mantra for these criminals.
Nothing will improve for the 7.5 billion citizens of this planet until we change our corrupt centralized banking system. Today, this system is a network of digits which these criminals can create from their thinking. Think and grow rich is the mantra for this 1% which rules over all of us.
The emerging Mark of the Beast financial system is now happening. Select banksters, digital money, and centralized venues will control the entire 7.5 billion on planet Earth. Is this a future for our children? I don't think so! It is an emerging nightmare!
Listen to this video on the origin of our central bank operation. It all started on Jekyll Island in 1910 (some 107 years prior to today). Get yourself informed and then let's work to change this corrupt system in 2018: https://youtu.be/Dba9OY0QatU, https://youtu.be/5IJeemTQ7Vk,  https://youtu.be/Xoz4jbEZzlc,
STAY INFORMED! Receive our Weekly Recap of thought provoking articles, podcasts, and radio delivered to your inbox for FREE! Sign up here for the HoweStreet.com Weekly Recap.