January 12, 2018 | Walmart Giveth, And Walmart Taketh Away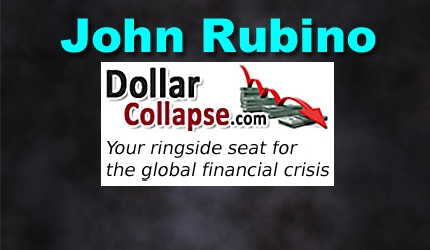 John is author or co-author of five books, including of The Money Bubble, The Collapse of the Dollar and How to Profit From It, Clean Money: Picking Winners in the Green-Tech Boom and How to Profit from the Coming Real Estate Bust. A former Wall Street analyst and featured columnist with TheStreet.com, he currently writes for CFA Magazine.
Walmart made two announcements yesterday that perfectly illustrate the dilemma facing the developed world.
First, the omnipresent retailer raised its minimum wage to a respectable-sounding $11/hr:
(WGNO) – Walmart is raising its minimum wage and handing out tax cut bonuses because of the new Republican tax law.The retail company said the wage hike to $11 an hour would roll out in February. Employees are also getting a one-time bonus of up to $1,000.

Walmart previously raised its minimum pay for most employees to $10 an hour in 2015. As of December, the average pay for full-time workers was $13 an hour.

"Today, we are building on investments we've been making in associates, in their wages and skills development," Walmart president and CEO Doug McMillon said in a news release. "It's our people who make the difference and we appreciate how they work hard to make every day easier for busy families."

He added that "tax reform gives us the opportunity to be more competitive globally and to accelerate plans for the U.S."
The bonus amount will be based on length of service, according to the company. Workers who've been there for at least 20 years will get the full $1,000.

Because of the tax reform law, Walmart says it's also creating a new benefit to assist associates with adoption expenses. The benefit, which will be available to full-time hourly and salaried workers, will total $5,000 per child.

The company, which is the nation's largest private-sector employer, said it's also expanding its parental and maternity leave policy. Full-time hourly workers in the United States will get 10 weeks of paid maternity leave and six weeks of paid parental leave.

The changes affect more than 1 million hourly associates.

"Thanks to the passage of historic tax cuts, American workers and their families are winning!" tweeted Ivanka Trump, the White House senior adviser and daughter of President Trump.

McMillon also said the company is "early in the stages of assessing the opportunities" that tax reform creates for Walmart. The company said it will share further details when it releases quarterly results next month.
But then it announced the closing of a bunch of Sam's Club warehouse stores, resulting in thousands of layoffs:
(UPI) – Walmart announced Thursday it is closing 63 Sam's Club stores across the United States, leaving workers at the membership club without jobs.Ten locations for the warehouse club spinoff of Walmart closed immediately and will become e-commerce distribution centers, according to Business Insider, which listed store closings it knows about. The remaining places will remain open for a few weeks.

"After a thorough review of our existing portfolio, we've decided to close a series of clubs and better align our locations with our strategy," Sam's Club posted on Twitter. "Closing clubs is never easy and we're committed to working with impacted members and associates through this transition."

Employees in some cases were informed of the closings while arriving to work Thursday, KHOU-TV in Houston and KENS-TV in San Antonio reported.

"Club is closed today so we could inform our associates so we gave them the day off and closed the club. We will reopen the club tomorrow," Anne Hatfield, director of communications for Walmart's public affairs, said in a statement to KENS.

At one Sam's Club in San Antonio, employees told KENS the store will close for good on Jan. 26. On Friday, it will offer 25 percent off on everything except for alcohol, tobacco, batteries and tires.

Sam's Club, which has 100,000 associates, operates more than 650 membership warehouse clubs in the United States, according to its website. The first Sam's Club, founded by Sam Walton, opened on April 7, 1983, in Midwest, Okla.
There are two problems here: First, rising wages increase the "wage inflation" measure that the Federal Reserve watches to decide whether inflation is becoming a problem and needs to be smacked down with higher interest rates. See Walmart wage hike may show wage pressures building for lowest paid. The eventual result of rising interest rates in the late stages of an expansion is a recession in which millions of people are thrown out of work, thus canceling the minimum wage boost.
The second, much bigger problem is that next-gen automation becomes more attractive when wages rise. Walmart converting Sam's Clubs to regional ecommerce distribution centers is, in effect, replacing store clerks with warehouse robots and a relative handful of website designers. To the extent that wages rise, so do automation-related layoffs, once again cancelling out those higher paychecks.
Automation has of course been around since the start of the industrial revolution, but this latest phase is vastly more pervasive and powerful than anything that's come before.
The result: Life gets better for those who own the robots and harder for those the robots replace. And government encourages the 99% to borrow to make up the difference, until that trend also hits a wall.
STAY INFORMED! Receive our Weekly Recap of thought provoking articles, podcasts, and radio delivered to your inbox for FREE! Sign up here for the HoweStreet.com Weekly Recap.