January 26, 2018 | Trump Speaks and Markets Respond!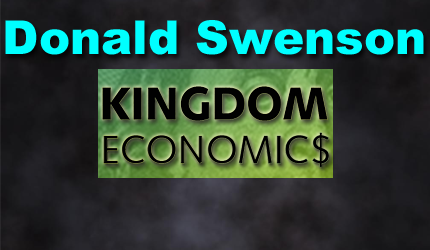 Donald B. Swenson: Born January 24, 1943, Roseau, Minnesota. Graduated H.S. 1961, Moorhead High, Minnesota. Graduated College 1968, Moorhead State University, Minnesota. Designated member of Appraisal Institute (MAI), 1974. Employed with Western Life Insurance Company, 1968 – 71; Iowa Securities Company, 1971 – 73; American Appraisal Company, 1974 – 81. Part-time teacher/valuation consultant/bartender, 1979 – 2008 (taught workshops at Waukesha County Technical Institute, Wi. and Madison Area Technical College, Wi.). Retired 2008 (part time teacher/blogger), AZ. Self educated economist/philosopher/theologian: http://kingdomecon.wordpress.com.
Mere 'words' coming from the mouth of this person changes the value of our 'dollar'! Why are 'words' so powerful when coming from person's with Authority?
Today we live with an 'inner' monetary system which responds when a person in authority merely speaks. Words move markets as all our markets are now digital and living within cyberspace. Cyberspace is part of our extended consciousness which is part of our 'inner' self. This means that mere 'words' affect our psychological/cyber markets. This is amazing and reveals the dual nature of reality.
Donald Trump rejected his treasury Secretary's statement (yesterday) that a weak dollar is good for America and stated that he views our dollar as strong and getting much stronger. He told Narenda Modi of India (at Davos) that if he gets a second term the American growth rate will match the Indian growth rate of 7% or more. The Donald views the current elevated stock markets as mostly his doing. Does he have a point?
Today, we live with digital/cyber markets and with virtual money. Virtual money moves from computer to computer at the speed of light. Mere digits make up our money units today and these digits move with the click of a computer mouse. Mr. Trump can affect the psychology of these cyber markets by merely speaking with confident 'words'. Words and rhetoric can move our 'inner' markets today. It's all part of our consciousness!
Who understands this realm of reality called 'consciousness'? Science has defined this word as an epi-phenomena of my brain. Is this valid? I don't think so! In reality, my consciousness is my 'inner' realm which determines all my actions and my thinking. My thinking derives from my 'inner' self (my spirit) and the word 'consciousness' is merely another word for my inner spirit self. Science needs to update their thinking IMO.
Anyway, our cyber markets (now mostly electronic and inner) can change in the blink of an eye. Right now all is positive and almost all markets are being pumped up and up with new cyber digits (called money). Our Central Banks are in charge and they desire that these markets be elevated for the time being. When our Central Bank policymakers choose to 'tighten' the screws, then all these markets will reverse course. Quantitative Tightening (QT) is occurring as I write but the effects will come later in 2018.
The past 9 years have been years of QE (quantitative easing). Today, our Central Banks are starting the trend towards QT (quantitative tightening). This change is slow to change our elevated asset prices, but the effect will be noticeable in a few months (if not before). Watch as QT starts to rein in some of the bubbles and gradually create a complete change in the direction of all our cyber markets. Watch and wait!
The Donald is affecting all our markets (at the edges) with his many paradoxical 'words'. He SPEAKS and the markets change direction in a moment's time. This is very revealing of what is happening within economics and finance. Our markets are now 'inner' and living within cyberspace. Cyberspace is part of my/your extended CONSCIOUSNESS. Wake-up to a new world of spirituality and metaphysical results. Spirit now rules over Matter. Money is now 'spirit'. Very interesting! I am: https://kingdomecon.wordpress.com.
STAY INFORMED! Receive our Weekly Recap of thought provoking articles, podcasts, and radio delivered to your inbox for FREE! Sign up here for the HoweStreet.com Weekly Recap.