January 8, 2018 | Trading Desk Notes – Jan 6th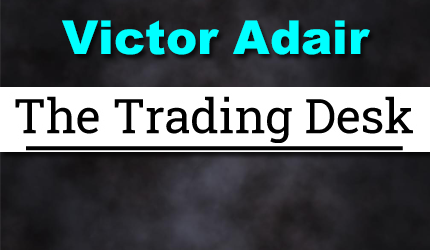 Victor Adair, author of The Trading Desk Notes, began trading penny mining shares while attending the University of Victoria in 1970. He worked in the mining business in Canada and the Western United States for the next several years and also founded a precious metals trading company in 1974. He became a commodity broker in 1977 and a stock broker in 1978. Between 1977 and his retirement from the brokerage business in 2020 Victor held a number of trading, analytical and senior management roles in Canada and the USA. Victor started writing market analysis in the late 1970's and became a widely followed currency analyst in 1983. He started doing frequent media interviews in the early 1980's and started speaking at financial conferences in the 1990's. He actively trades his own accounts from The Trading Desk on Vancouver Island. His personal website is www.VictorAdair.ca.
From the Desk of Victor Adair
The Most Crowded Trade In The World
Raoul Pal posted a great essay in the December 28/17 Macro Insiders section of www.realvision.com describing the lurking danger of what he calls The Giant Implicit Put. Here's a couple of lines from his essay:
Volatility  never  did pick up in  2017.  This  was  one  of  the  main  features  of  all  asset prices during the year and has led to an even larger build-up of implicit short volatility positions. As I always say, suppressed volatility always leads to hyper-volatility… eventually.
As we step into 2018 there are many possible sources of volatility. In this fragile environment where people have far too much risk in place, the potential for volatility to expand massively is  clearly  present.  Volatility  in  one  asset  class  could  well  lead  to  volatility  across  all  asset classes. Possibly the main source  of  volatility for me are developments in US politics.
As my friend Kyle Bass says, the stock market structurally cannot take a sharp 5% sell-off without it escalating to a much larger risk event, due to the implicit short volatility bets.
(I think www.realvision.com is one of the best subscription services I have ever used. I recommend it to you. I believe that you can access almost everything on the site free of charge for a week. After that its by subscription.)
The Most Crowded Trade In The World: I totally agree with the theme of Raoul's essay. My Scottish nature tells me that risk appetite across financial markets is dangerously high…yet my 45 years of trading experience tells me that the "irrational exuberance" could easily get more extreme. My core market expectation for the year ahead is that risk appetite is going to get a nasty surprise at some point…that the contagion possibilities from a volatility spike in one market could ignite "fear" across all markets…and that the subsequent price action will be all-the-more unbelievable given the positioning risk created by the complacency of 2017.
Bob Farrell's rule #4: exponentially rising markets usually go further than you think, but they do not correct by going sideways.
Trading Plan: I don't expect to make huge profits on a "Long Vol" trade (or any trade) this year just because I "saw it coming and bet the ranch" like the winners did in "The Big Short." To make such a trade I'd have to be willing to sit with it even if the market moved hard against me and that's just not my style. However, I may get into a trade, using my normal techniques, that moves WAY more in my favor than I would have thought and (somehow) I manage to hold onto my position…and maybe even add to it! Here's hoping!
Stocks: The US benchmark indices drifted sideways near All Time Highs the last 2 weeks of December and then "came alive" in January and roared to new All Time Highs. Other stock indices from Canada to Europe, to Asia to EM also rallied strongly as 2018 began. Risk appetite is alive and well all over the world despite some analysts claiming that the markets are way-too-high. The buying may be due to "new money being put to work," it may be due to asset managers not wanting to get "left behind," it may be "momentum" taking the market into a "blow off" phase…who knows…but collectively the buyers are yelling for more! (There was an old saying on the floor of the Chicago Board of Trade, "When they're yelling you should be selling!")  I presently have no position.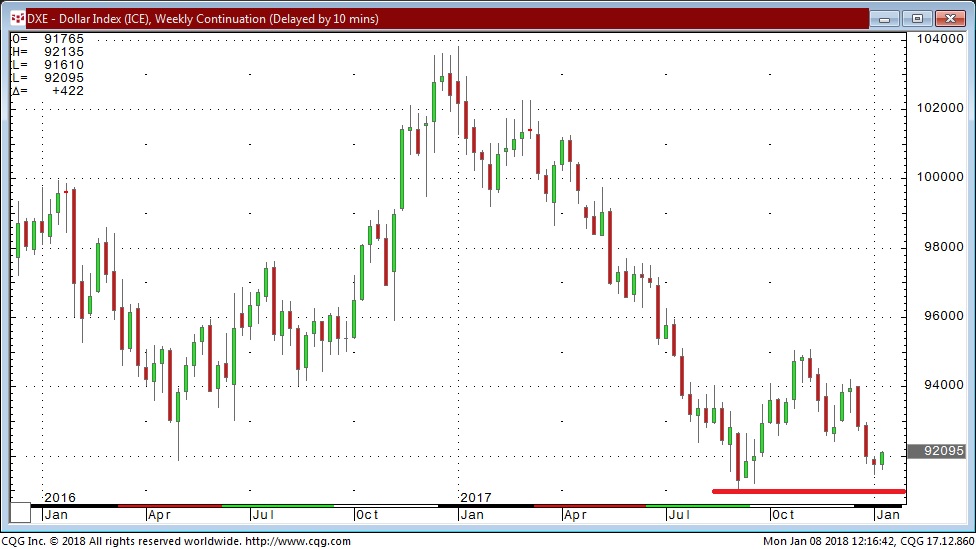 The US Dollar Index hit 14 year highs in January 2017 but trended down to 2 ½ year lows by September. It bounced 4% over the next 2 months but then rolled over and, with the USD weak against virtually all currencies, the index has fallen to just above its September lows. If it breaks those lows the decline will probably accelerate. Net speculative long EURUSD positions in the futures market surged to All Time record highs the last week of December (positioning risk?) I think that if risk appetite momentum continues across asset classes then USD likely goes lower…if risk appetite gets a nasty surprise at some point I'd expect USD to rally sharply.  I presently have no position.
The Canadian Dollar made its 2017 high at 83 cents on the Sept 8 Key Turn Date (KTD) when American s/t interest rates turned higher. Futures market speculators were holding their largest net long CAD position in years as CAD made its high. CAD traded sideways from mid-October to mid-December between 7750 and 7900 but broke out to the upside in mid-December and ran to 81 cents by Jan 5/18. A month ago I was expecting CAD to break below the 7750 level and head for 75 cents. As it rallied from its lows in mid-December I covered my short position and stood aside. I've got a bearish bias on CAD…the trade deficit…the Western Canada Select discount…cheap Nat Gas…Nafta risk…socialist Canadian governments…an economy hugely dependent on real estate inflation…sky high consumer debt-to-disposable income ratios, etc. I'm back on the short side of CAD but if USD breaks to new lows and CAD rallies I'll throw in the towel to protect my trading capital. (It's only a trade, not a religion!)
The Canadian employment report for December was a stunner…especially following the 80,000 November job gains. A year ago even BOC Chief Poloz was questioning whether or not Stats Canada could be "counted on" to produce accurate numbers…but I don't hear any skepticism these days. Following the employment report the chances of a ¼ point bump from the BOC at their January 17 meeting jumped from 40 to 80%.
Crude oil:  WTI made its 2017 low in June at ~$42 and hit $62 this week. My bearish supply/demand/inventory bias kept me from buying the market during that 50% rally while my risk management rules kept me from shorting it. I think the market is now "As Good As It Gets" following a chain of "bullish" news events with futures market speculators holding a HUGE net long position (commercials hold the opposite HUGE short position.) Implied volatility in the WTI futures market is below 20% (a 20 year low save for a few months in 2014) so I dipped my toe in the water and bot some OTM puts.
Why has the Canadian Dollar not rallied along with WTI?  WTI was around $48 in early September when CAD was 82-83 cents. WTI has since rallied to $62 (an increase of about 30%) but CAD is now 2 cents lower than its early September levels. Why is that? In my opinion the 3 main factors that contribute to the USDCAD price level are 1) the relative strength/weakness of the Big Dollar against all other currencies, 2) the short term interest rate differential between Canada and the USA, and, 3) commodity prices, with crude oil being the biggest part of that. At different times other factors (political considerations, for instance) may have an important impact on USDCAD but over time these 3 factors  carry the most weight and seem to take turns in the driver's seat.
From the September 8 KTD to mid-December the interest rate differential overshadowed the other factors (US rates were rising relative to Canadian rates and CAD fell.) From mid-December to now the general weakness in the Big Dollar was the dominate factor (and CAD rallied.) Commodity prices, and crude oil in particular, didn't seem to matter much even though there have been times in the past when the ups and downs of crude oil seemed to have a huge and immediate impact on CAD.
Western Canada Select: Another reason that CAD hasn't been rallying along with WTI is that there are many different kinds of "crude oil" and the Canadian variety hasn't been going up like the widely watched WTI or Brent benchmarks.  Western Canada Select (WCS) is the leading benchmark for Canadian heavy crude oil and it trades at a price discount to WTI. A number of factors contribute to this discount, including the availability and cost of transportation, the volume of Canadian heavy oil production and American refinery demand. From March through October the discount fluctuated between $9 and $12 but then "the bottom fell out" from mid-November through the end of the year and the discount widened dramatically and has averaged about $25 the past 3 weeks. The discount means that between September 1 and January 5 the net price for WCS has fluctuated between $35 and $42…with the current price below $40.
Canadian Natural Gas also trades at a steep discount to American Nat Gas. The Americans are producing so much Nat Gas that, in effect, they don't need to import much from Canada…and, like the crude oil market, the USA is our only export market…so as the USA produces more and more of their own crude and Nat Gas they need less and less Canadian energy. Yikes! Sell Canada!
Interest rates: My bias is that rates go up…and go up more than the market is currently pricing. Last year was a "bumper year" for Central Banks pumping liquidity into the market (keeping interest rates lower than they would otherwise have been) but this year there will be considerably less (net) liquidity from the G4 Central Banks. This, together with fiscal stimulus (tax cuts) in the USA, rising global growth and a more hawkish Fed (new hawks replacing current doves on the FOMC) could push interest rates up. And then there's the "Big Idea" that the bond market is the biggest bubble of all…that interest rates are WAY too low (the German economy is HOT and they've got negative interest rates!) and that aggressive "Reaching For Yield" has caused severe miss-pricing. I am short 10 year Treasuries in the account that my son Drew manages for me.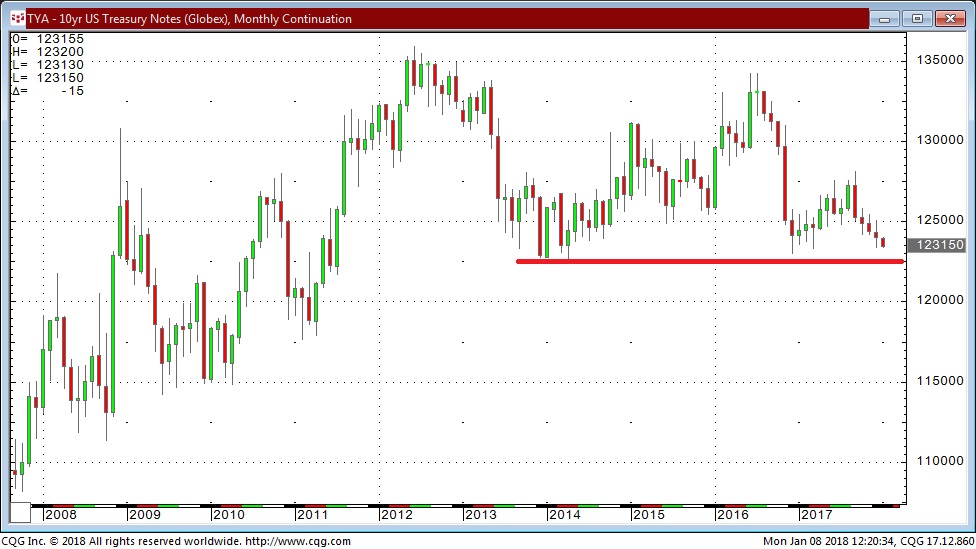 Gold rallied ~$80 from its mid-December lows to this week's highs as the US Dollar fell sharply against nearly all currencies even as Real Rates (as measured by the 5 year TIPS) rose to their highest level in nearly 2 years. (Real interest rates and the strength/weakness of the US Dollar are usually 2 of the biggest factors contributing to the gold price.)  Drew has a short bias against gold in the account that he manages for me…thinking that the $80 rally was too much, too fast.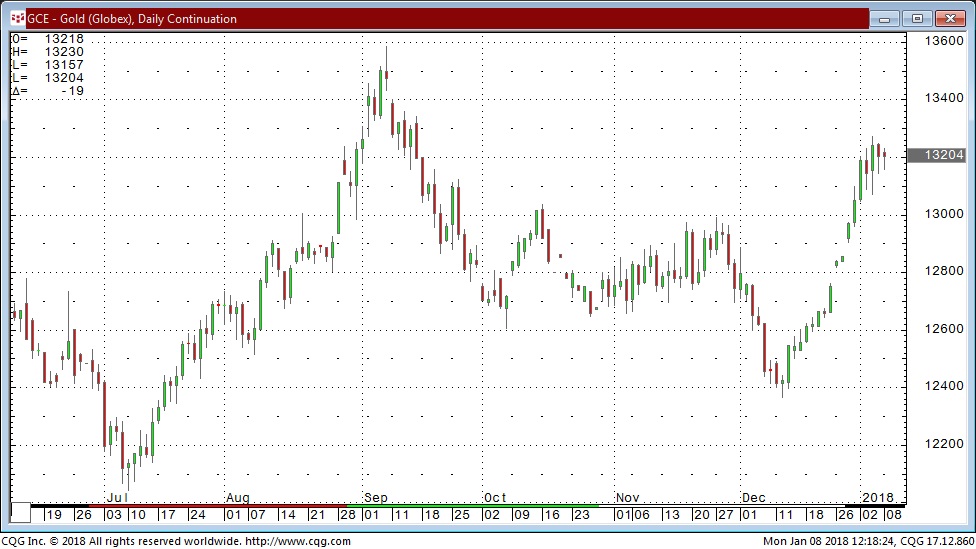 PI Financial Corp. is a Member of the Canadian Investor Protection Fund. The risk of loss in trading commodity interests can be substantial. You should therefore carefully consider whether such trading is suitable for you in light of your financial condition. In considering whether to trade or the authorize someone else to trade for you, you should be aware of the following. If you purchase a commodity option you may sustain a total loss of the premium and of all transaction costs. If you purchase or sell a commodity futures contract or sell a commodity option  or engage in off-exchange foreign currency trading you may sustain a total loss of the initial margin funds or security deposit and any additional fund that you deposit with your broker to establish or maintain your position.  You may be called upon by your broker to deposit a substantial amount of additional margin funds, on short notice, in order to maintain your position.  If you do not provide the requested funds within the prescribe time, your position may be liquidated at a loss, and you will be liable for any resulting deficit in your account. Under certain market conditions, you may find it difficult to impossible to liquidate a position. This is intended for distribution in those jurisdictions where PI Financial Corp. is registered as an advisor or a dealer in securities and/or futures and options. Any distribution or dissemination of this in any other jurisdiction is strictly prohibited. Past performance is not necessarily indicative of future results
STAY INFORMED! Receive our Weekly Recap of thought provoking articles, podcasts, and radio delivered to your inbox for FREE! Sign up here for the HoweStreet.com Weekly Recap.