January 20, 2018 | Trading Desk Notes – Jan 20th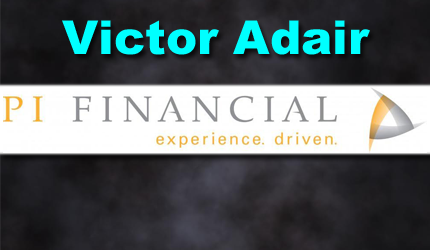 Senior Vice President and Derivatives Portfolio Manager. Victor began trading financial markets over 45 years ago and has held a number of senior executive positions during his career as a commodity and stockbroker. Over the years he has provided considerable market analysis via radio and television and at financial conferences. His primary brokerage business is providing corporate accounts with risk management services using exchange traded derivatives. He actively trades currencies, interest rates, precious metals, stock indices and commodities for his own accounts.
The key aspect of market psychology so far this year has been a willingness to aggressively take on risk. We have seen aggressive buying of stocks and aggressive selling of bonds and the US Dollar.
The leading global stock market indices keep rising as risk appetite keeps rising and FOMO seems to be the driving force. Bank of America reports that the latest 4 week inflows into equities was the largest ever at $58 billion. The Investor's Intelligence survey reports the Bull / Bear spread is 67% / 13% the highest since 1986. The DJIA rallied over 1000 points in 8 consecutive days…a record clip. There hasn't been so much as a 3% correction in over a year. A weak USD helps support American stocks as ½ of the sales by the S+P 500 companies come from outside the USA. This is the Euphoric Stage of a rally and it could go a lot higher but I'm not jumping aboard. As Bob Farrell says, "The public buys the most at the top and the least at the bottom."
Interest rates are also rising with the 2 year Treasury yield above 2% for the first time in 10 years and the 10 year Treasury yield at a 4 year high of 2.64%.  (That's a double from the 1.3% yields hit during the Brexit period, June 2016.) Last year saw a record sized flow of money ($2 Trillion) into the markets from the G4 Central Banks…the forecast for this year is that Central Banks will inject WAY LESS capital while governments are issuing more debt…therefore, this year the private sector is going to have to buy bonds…and that may mean interest rates will have to go higher to attract capital. The bond market "Kings" (Gross and Gundlach) predict that the 10 year Treasury yield will go higher and will cause (at least) a correction in the stock market. The Guarded Opportunity managed futures program that my son Drew manages has been short T-Notes since the end of November.
The American Financial Conditions Index is at its easiest in 10 years courtesy of a weak USD, strong stock markets and tight credit spreads. This may contribute to the FOMC raising s/t interest rates more in 2018 than the market is currently pricing.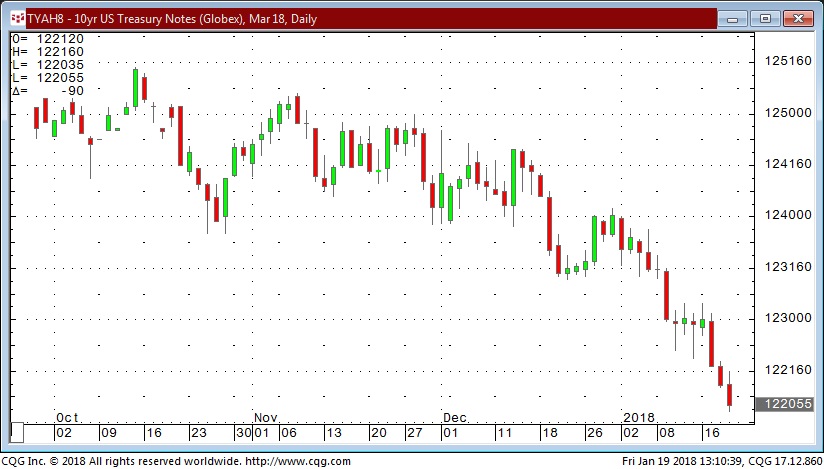 The US Dollar Index hit 14 year highs a year ago, fell for most of 2017 and has made fresh 3 year lows YTD as the Euro makes 3 year highs (up 16% from a year ago)…despite the 2 year interest rate spread between the USA and Germany at a record wide >2.6%. Futures market speculators have an All Time Record large net long position in Euro against the USD. Trends in the FX markets often go WAY further than seems to make any sense…and then turn on a dime and go the other way. I think part of the weakness in the USD is an expression of the risk appetite trade. When the market is willing to take on risk capital moves away from the center (New York) and goes to the periphery (say, emerging markets.) If risk appetite gets "spooked" I expect the USD to rise sharply.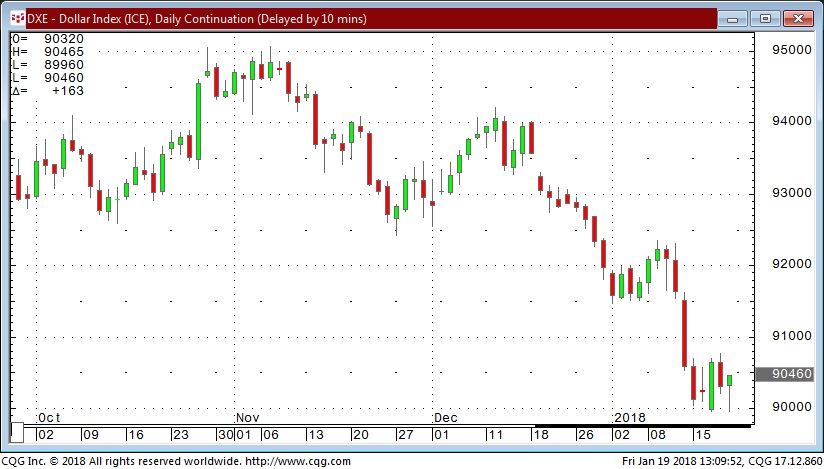 The Canadian Dollar "big event" for this week was the Bank of Canada meeting. They raised rates as expected but sounded a strong note of caution over NAFTA uncertainties. CAD traded through a 1 ¼ cent range on Wednesday and closed unchanged. I've been suspicious about the very strong December employment number reported by StatsCan…I'd look for a much weaker number for January if not an outright downward revision to the December number. I think it's possible to see the Bank of Canada fall well behind the Fed this year in terms of raising interest rates. Western Canada Select oil continues to trade around $40 and Canadian NatGas is WAY cheaper than New York benchmarks.  The NAFTA negotiating teams meet again in Montreal this coming week. Interestingly the Mexican Peso has risen about 7% since Christmas…apparently not worried about Trump pulling the plug on NAFTA.
I think CAD rallied from 7750 in mid-December to the January highs of 8100 because of a generally weak USD. I think USD is oversold and if it bounces back then the best candidate to short against USD is CAD. I'm short CAD.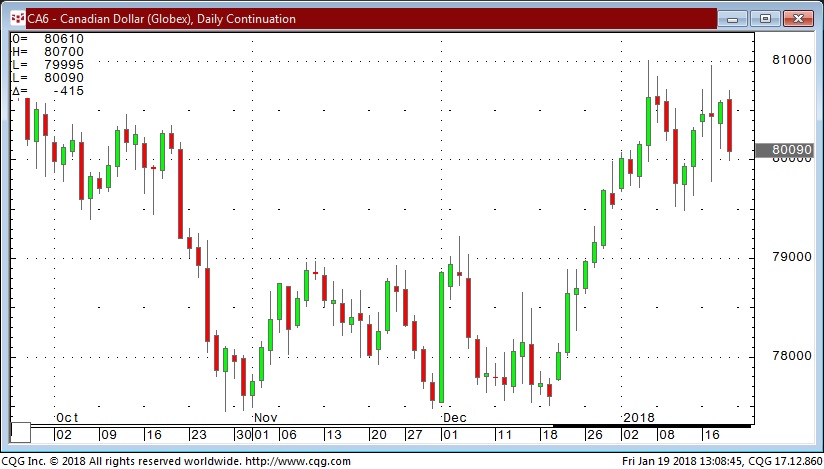 Crude oil prices hit 3 year highs this week with WTI ~$65. Futures market speculators are massively net long crude. OPEC and IEA forecasts this week both predicted substantial increases in non-OPEC production this year…with the IEA predicting that "explosive" growth in American production together with substantial increases in Canada and Brazil will more than make up for any declines in Venezuela and Mexico. I think the crude oil market is about, "As Good As It Gets" and I'm short.
Commodity Indices are rising with the (energy heavy) Goldman Sacs commodity index up ~63% from the January 2016 lows at a 3 year high. The venerable Thompson Reuters Commodity Research Bureau Index (with a much greater weighting to the AG sector) is up ~26% from the January 2016 lows.  Both indices are 40 to 50% below their All Time Highs. Despite these "decent" 2 year rallies the commodity indices have continued to fall  relative to the major stock market indices. The CRB Index hit its All Time High in 2011 and, relative to the S+P 500 Stock Index it has fallen ~74% in the past 7 years to an 18 year low! The gold/S+P500 ratio has fallen ~70% in the same time period to an 11 year low.
I think "some" of the buying we've seen in the commodity and commodity currency sector over the past 2 years may have come from "some" rebalancing by macro asset allocators…they've taken money away from their big gains in the stock markets and re-positioned it in the relatively "really cheap" commodity sector.
PI Financial Corp. is a Member of the Canadian Investor Protection Fund. The risk of loss in trading commodity interests can be substantial. You should therefore carefully consider whether such trading is suitable for you in light of your financial condition. In considering whether to trade or the authorize someone else to trade for you, you should be aware of the following. If you purchase a commodity option you may sustain a total loss of the premium and of all transaction costs. If you purchase or sell a commodity futures contract or sell a commodity option  or engage in off-exchange foreign currency trading you may sustain a total loss of the initial margin funds or security deposit and any additional fund that you deposit with your broker to establish or maintain your position.  You may be called upon by your broker to deposit a substantial amount of additional margin funds, on short notice, in order to maintain your position.  If you do not provide the requested funds within the prescribe time, your position may be liquidated at a loss, and you will be liable for any resulting deficit in your account. Under certain market conditions, you may find it difficult to impossible to liquidate a position. This is intended for distribution in those jurisdictions where PI Financial Corp. is registered as an advisor or a dealer in securities and/or futures and options. Any distribution or dissemination of this in any other jurisdiction is strictly prohibited. P
STAY INFORMED! Receive our Weekly Recap of thought provoking articles, podcasts, and radio delivered to your inbox for FREE! Sign up here for the HoweStreet.com Weekly Recap.