January 15, 2018 | Trading Desk Notes – Jan 13th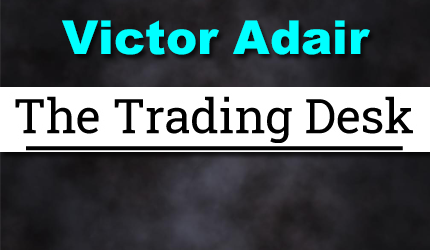 Victor Adair, author of The Trading Desk Notes, began trading penny mining shares while attending the University of Victoria in 1970. He worked in the mining business in Canada and the Western United States for the next several years and also founded a precious metals trading company in 1974. He became a commodity broker in 1977 and a stock broker in 1978. Between 1977 and his retirement from the brokerage business in 2020 Victor held a number of trading, analytical and senior management roles in Canada and the USA. Victor started writing market analysis in the late 1970's and became a widely followed currency analyst in 1983. He started doing frequent media interviews in the early 1980's and started speaking at financial conferences in the 1990's. He actively trades his own accounts from The Trading Desk on Vancouver Island. His personal website is www.VictorAdair.ca.
Markets are in a speculative blow-off phase right now with stock markets around the world surging higher while the US Dollar has been falling like a stone. My gut instinct is to fade this price action…but my risk management override says wait…it could get even crazier!
Stocks: The S+P 500 has closed higher every day this year, up ~4.5%. Amazon is up ~11% in 9 trading days. Since mid-November the DJIA is up ~10%, Transports are up ~20% while Utilities are down ~ 11%. The momentum is awesome!
Bob Farrell rule #5: The public buys the most at the top and the least at the bottom.
Interest rates: the 2 year Treasury yield is now 2.0%…a 10 year high. From 2010 through 2016 it was mostly below 1%..back in 2007 the yield was ~5%. The most miss-priced interest rates in the world: Germany. The economy is booming and they have negative interest rates!
Interest rates/dividend yield: The 2 year Treasury yield (2%) is now above the S+P 500 dividend yield (1.75%) for the first time in nearly 10 years.
Gold has closed higher for 5 weeks in a row (the flipside of a very weak USD) up nearly $100 (8%) from its mid-December lows and at its best price in 4 months.
EURUSD is up ~16% from year-ago levels, at 3 year highs, with strong gains late this week as the ECB signaled a slightly hawkish turn and as Merkel produced a coalition government. Speculators in the currency futures market hold All Time Record net long positions in EUR/USD.
Euro/Swiss: The Euro is also at a 3 year high against the Swiss Franc. Just a few years ago Europeans were dumping the Euro for the safety of the Swiss Franc. Apparently the market now believes that the political and economic "troubles" in Europe are over…that the Swiss "safe haven" is no longer necessary.
The Canadian Dollar rallied to 4 month highs (81 cents) last Friday following a stunning employment report but fell back early this week on mounting skepticism about that same report. On Wednesday CAD tumbled about a cent on a Reuters story that "unnamed Canadian government officials" told Reuters that Canada was expecting the US to withdraw from NAFTA. Another story claimed that the US had "tipped" Canada that the withdrawal was imminent. The White House declared that the President had not changed his mind about NAFTA…perhaps that means that he still thinks it's the worst trade deal ever.
CAD grudgingly rallied back on Thursday and Friday…but only because USD was falling hard against nearly every currency. The Bank of Canada is scheduled to meet Wed Jan 17 with the market pricing  >75% chance of a ¼ point bump in s/t interest rates. I reduced my short CAD position even though CADUSD was lower on the week and even though CAD was down against nearly all currencies other than USD. I'm concerned that the current anti-USD momentum is so strong that even CAD could rally…and my number one priority is protecting my capital. If the USD shows any signs of strength I will probably add to my short CAD position.
Crude Oil rallied ~$5 the past 2 weeks, hitting 3 year highs with front month WTI near $65 and Brent touching $70. Western Canada Select continues to trade at a steep discount to WTI with YTD pricing around $40 BBL. Speculators in the futures market hold All Time Record net long positions in crude oil. I covered my WTI puts for a small loss…once again protecting my capital. As a trader I understand that there's nothing wrong with being wrong…except staying wrong!
PI Financial Corp. is a Member of the Canadian Investor Protection Fund. The risk of loss in trading commodity interests can be substantial. You should therefore carefully consider whether such trading is suitable for you in light of your financial condition. In considering whether to trade or the authorize someone else to trade for you, you should be aware of the following. If you purchase a commodity option you may sustain a total loss of the premium and of all transaction costs. If you purchase or sell a commodity futures contract or sell a commodity option  or engage in off-exchange foreign currency trading you may sustain a total loss of the initial margin funds or security deposit and any additional fund that you deposit with your broker to establish or maintain your position.  You may be called upon by your broker to deposit a substantial amount of additional margin funds, on short notice, in order to maintain your position.  If you do not provide the requested funds within the prescribe time, your position may be liquidated at a loss, and you will be liable for any resulting deficit in your account. Under certain market conditions, you may find it difficult to impossible to liquidate a position. This is intended for distribution in those jurisdictions where PI Financial Corp. is registered as an advisor or a dealer in securities and/or futures and options. Any distribution or dissemination of this in any other jurisdiction is strictly prohibited. Past performance is not necessarily indicative of future results
STAY INFORMED! Receive our Weekly Recap of thought provoking articles, podcasts, and radio delivered to your inbox for FREE! Sign up here for the HoweStreet.com Weekly Recap.