January 19, 2018 | Run with the Bulls … Especially These Four!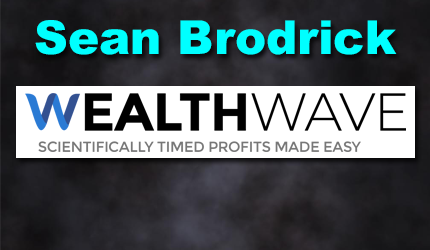 Sean is the natural resource analyst for Weiss Ratings. You can read his thoughts on gold, oil, cannabis, uranium and other natural resources at Wealth-Wave.com
On the seventh day of the seventh month in the north of Spain, you will see about 3,000 men — some old, mostly young, all brave — gather in the town of Pamplona.
They are there for the nine-day Festival of San Fermín. They are there to run with the bulls.
Running with the bulls at Pamplona isn't for the lily-livered. Ernest Hemingway described it this way: "It's like being shot at, and missed!"
But now, you don't have to risk a horn though the guts to run with the bulls. What's more, you can make a mountain of money, doing it, too.
I'm talking about the great, big, snorting bull market right in front of you …
The bull market in commodities is pawing the ground and ready to roar. Just look at this chart of the Thomson Reuters Commodity CRB Index. Or the CRB Index (NYBOT: CRB), for short.
There are many kinds of bulls in Pamplona. And the CRB Index is comprised of 19 different types of commodities: aluminum, cocoa, coffee, copper, corn, cotton, crude oil, gold, wheat. But its weighted toward energy (33%).
The important point is that ALL the bulls are running. Some will run faster; some will run slower. If you can grab on to a fast bull, you can go very far indeed.
How far? This cup-and-handle pattern on the chart gives us a minimum target that is 11% higher from recent prices.
Stocks that are leveraged to commodities can do much better.
Now, what if I told you there is a massive force that is putting Tabasco under the tails of these bulls? It's a potent mixture … one that could spur these bulls to run further and faster than many dream possible.
It's in this chart right here …
The chart shows us that commodities haven't been this cheap compared to stocks since 1999. A generation is 25 years. So, this is as close as we'll get to a once-in-a-generation buying opportunity.
"Once in a Generation!" Hey, if you're going to run with the bulls, that's when you want to do it. When the risk/reward is tipped heavily in your favor. When those bulls are so hungry, they will roar and charge down the street like rolling thunder.
Here are some of the bulls leading the pack …
Energy Metals
I'm talking lithium and cobalt, sure. They're the metals powering the electric vehicle (EV) revolution. But also nickel and copper. Heck, an EV car has, on average, four times as much copper wiring as an internal combustion engine (ICE) car.
We're at the dawn of the EV age. The growth rates for both EV vehicles and demand for the metals that go into EV batteries are awesome. The International Energy Agency estimates that there will be 50 million electric vehicles on the road by 2025 … and 300 million by 2040. That's up from closer to 2 million now.
Oil and Gas
Just because EV cars are coming in doesn't mean gasoline-powered cars are going away. Everybody around the world wants to drive like Americans. The total number of cars — EV and ICE — is projected to DOUBLE by 2040.
Most of this growth is set to happen in emerging markets like China and India. That's because global populations are set to rise by another 2 billion over the next 25 years, to 9.2 billion people. And the population growth is in those countries.
You know what else all those people will need? Not only energy. Air conditioners, dishwashers and TVs. Aluminum … stainless steel … copper … metals of all types.
Precious Metals
My subscribers are already riding this big, bullish trend. There is a lot more to come. A long and brutal bear market dried up exploration. That is squeezing supply. At the same time, those global population forces I mentioned are boosting demand. Now throw in geopolitical and global financial risk. This means we are looking at a price explosion in gold, silver and more.
Cannabis
Cannabis is not in the CRB Index. But it should be. I have made my subscribers a heck of a lot of money deep in the weeds.
And boy, this party is just getting started …
There is a tidal wave of legalization in the U.S., Canada, Mexico and around the world. Fortunes of a lifetime will be made in this industry in the next few years. This is my biggest, most-rampaging bull of the new bull market.
So, if all these bulls are running, you can do it on your own, right? Maybe … and maybe not.
Let's go back to the bulls of Pamplona. One man who ran with the bulls said:
"It is madness and chaos when you're in the run itself. You're running with thousands of people but you're actually only worried about what's happening 10 feet in front of you and right around you."
The same goes for this commodity bull market, too. If you're too close, you can get gored. It helps to have some perspective.
That's what I'm offering you here. I want you to run with the bulls. I DON'T want you to get trampled by the wild swings of the crowds. The madness and chaos that can shred all your hard work and money in a matter of minutes.
If you don't listen to me, please, just listen to someone else. Get someone to keep you on the straight and narrow. Don't get gored.
But whatever you do, don't miss this running of the bulls. Your fortune is calling. The bulls are snorting. The race is on.
All the best,
Sean Brodrick
STAY INFORMED! Receive our Weekly Recap of thought provoking articles, podcasts, and radio delivered to your inbox for FREE! Sign up here for the HoweStreet.com Weekly Recap.