January 7, 2018 | Rigged Markets – Central Bank Holiday Needed!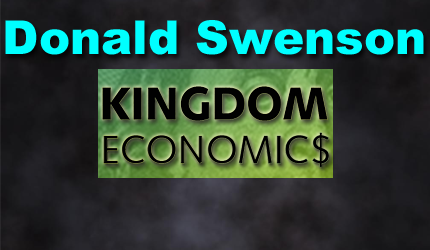 Donald B. Swenson: Born January 24, 1943, Roseau, Minnesota. Graduated H.S. 1961, Moorhead High, Minnesota. Graduated College 1968, Moorhead State University, Minnesota. Designated member of Appraisal Institute (MAI), 1974. Employed with Western Life Insurance Company, 1968 – 71; Iowa Securities Company, 1971 – 73; American Appraisal Company, 1974 – 81. Part-time teacher/valuation consultant/bartender, 1979 – 2008 (taught workshops at Waukesha County Technical Institute, Wi. and Madison Area Technical College, Wi.). Retired 2008 (part time teacher/blogger), AZ. Self educated economist/philosopher/theologian: http://kingdomecon.wordpress.com.
All our markets are 'rigged' from the top/down. Our digital/computer driven market is now 'rigged' by Central Bank trading and Central Bank policies. Central Bank trading of the markets used to be illegal but it is now ubiquitous. Think about the huge trading room at the New York Fed, the trading rooms in the Bank for International Settlements (BIS), the trading room for the Bank of Japan, the trading room for the Bank of England, and similar for the Peoples Bank of China. How many additional Central Banks have created similar in recent years?
We now need a Central Bank Holiday to resolve this 'rigging' and corruption within all our Central Banks…and then we need to create a new system for our planet. The 'rigging' is endemic and pervasive and those with some history realize the problem. Part of a Central Bank Holiday should be removal of the current elites who run this corrupt system. Those at the top seem oblivious to their own behavior and this is a serious issue (for our entire planet) that needs to be addressed. Here are a few recent books which reveal part of our problem with our financial system:
Personally, I have studied the history of money, banking, and this concept called 'value'. What I witness today within our markets is beyond any corruption of the past. Our entire SYSTEM is now so corrupt that those in power can not discern the problem (so it seems). Those of us who have read and studied the history of Capitalism and Money are waking up to what has evolved. The situation is now beyond repair and we now need a BANK HOLIDAY so that the puzzle can be discerned by the public.
I have been writing about this corruption for some 10 years and few (less than 0.001%) have desired to comprehend the problems. Our money is imaginary. This concept called 'value' is subjective and imaginary. Digital money lives in cyberspace (another imaginary realm). QE has been endemic and this corrupt policy has helped to create this 'rigging' of all markets. Central Bankers merely 'think' up imaginary numbers (called legal tender money) and then 'type' these digital numbers into a computer. This is absolutely corrupt and immoral.
Nothing will change without people getting informed on the issues. Look at the titles of the above books to get an idea of where events have led us. The elites who run our corrupt system have no discernment of the problems and they continue the 'rigging' and 'corruption' daily. Our politicians seem evasive and unconcerned. What we need is a revolution among the common people. That is the purpose of my blog and missives. Get off your duff and start to study the history of money, banking, and the digital/cyber marketplace which has evolved. The above books are available on Amazon for purchase. Buy one and start a reading program. Then talk to others.
The entire edifice is subject to total collapse in the near future. Digital money and cyber currencies are pure units of our imagination which can not last long-term. Our corrupt Central Banks (and their many proxies) need a BANK HOLIDAY (shut down) so the problems can be discerned and resolved. The sooner this happens the better for our children, grandchildren, and the future of planet Earth. Thanks for reading this far and now is the time to start talking about the problems with your friends and associates. The FUTURE is always NOW! I am: http://kingdomecon.woredpress.com.
STAY INFORMED! Receive our Weekly Recap of thought provoking articles, podcasts, and radio delivered to your inbox for FREE! Sign up here for the HoweStreet.com Weekly Recap.