January 25, 2018 | 'Davos Man' – Merkel and/or Macron!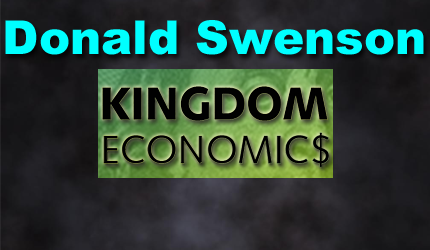 Donald B. Swenson: Born January 24, 1943, Roseau, Minnesota. Graduated H.S. 1961, Moorhead High, Minnesota. Graduated College 1968, Moorhead State University, Minnesota. Designated member of Appraisal Institute (MAI), 1974. Employed with Western Life Insurance Company, 1968 – 71; Iowa Securities Company, 1971 – 73; American Appraisal Company, 1974 – 81. Part-time teacher/valuation consultant/bartender, 1979 – 2008 (taught workshops at Waukesha County Technical Institute, Wi. and Madison Area Technical College, Wi.). Retired 2008 (part time teacher/blogger), AZ. Self educated economist/philosopher/theologian: http://kingdomecon.wordpress.com.
The end of Davos man (woman)???
The World Economic Forum in Davos, Switzerland (currently in progress) has two key Globalist's who espouse multi-lateral policies and reject Nationalist/America First polices as a general rule. Both Angela Merkel of Germany and Emmanuel Macron of France can be called a 'Davos Man' for their views – a euphemism for those who desire centralization, globalization,  and multi-lateral policies for economics, politics, and the greater citizens of planet Earth.
What I have noticed for years are the key 'code' words coming from the mouths of those who desire more power and centralization and less power and decentralization for the markets. Code words such as: multi-lateral policies, global unity, collective rules and policies, consensus mandates, group-think laws, new global organizations for change, digital technology, prosperity for all, and similar words which promote Socialism, Communism, and Collectivism.
Our Global elites desire that power and control be centered on them and their thinking only. Words which promote the individual, marketplace freedoms, decentralization, market competition, and country first policies are viewed as a form of protectionism and isolationism. Trump's America First mindset (now a ?) is viewed as anathema to a Globalist vision of our future. Listen to the speeches of these elites over in Davos this week. Notice the 'words' that they espouse. I can discern their mindset and philosophy simply by the 'words' espoused.
Donald Trump will speak tomorrow at 1300 GMT (Friday) to the Davos elites. Will he speak coherently about his American First philosophy and market oriented policies or will he hedge and speak with paradoxical language? Donald Trump has many Globalist's traveling with him to Davos and many of his selections for positions of power lean-to Globalism. Yet, the Donald espoused an America First philosophy which was Nationalist in nature prior to his election. Where is he today?
My sense is that the Donald speaks with much paradox and his actions this past year suggests that his policies are both Nationalist and Globalist (a mixture). Many of his key advisers and his key selections for positions of power seem to be mostly Globalist's (like Gary Cohn, Steven Mnuchin, Jerome Powell, Rex Tillerson, Jared Kushner, Mike Pence, and a  host of others). His core non-globalist adviser, Steve Bannon, has left the administration in shame.
So is the Donald now a Globalist (mostly) with some rhetorical language which promotes America First and decentralization of our markets? Personally, I am confused on his real nature as he speaks mostly with paradox (a mixture of words which are difficult to interpret precisely). America (generally) is not a country which desires Globalism, Socialism, Communism, or any form of Collectivism. America's values are for individual freedom, decentralized markets, sound money, and equality of personhood.
So where is our world going is the big question. My sense is that the Globalists will attempt to rule our planet for their personal desires. Personalities like Angela Merkel and Emmanuel Macron obviously desire more elitist policies for Europe and the World. They call this MULTI-LATERAL thinking for the benefit of everyone. But these 'code' words are very misleading. Watch out for 'code' words in the speech of the Donald tomorrow. I will do likewise! Enjoy! I am: https://kingdomecon.wordpress.com.
STAY INFORMED! Receive our Weekly Recap of thought provoking articles, podcasts, and radio delivered to your inbox for FREE! Sign up here for the HoweStreet.com Weekly Recap.