January 1, 2018 | 'Central Bankers' Drank the Kool Aid without 'Thinking' of the CONSEQUENCES!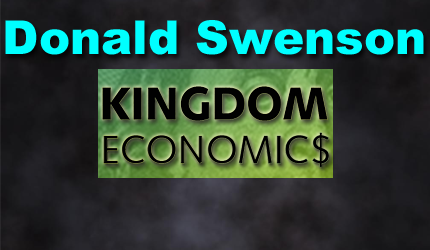 Donald B. Swenson: Born January 24, 1943, Roseau, Minnesota. Graduated H.S. 1961, Moorhead High, Minnesota. Graduated College 1968, Moorhead State University, Minnesota. Designated member of Appraisal Institute (MAI), 1974. Employed with Western Life Insurance Company, 1968 – 71; Iowa Securities Company, 1971 – 73; American Appraisal Company, 1974 – 81. Part-time teacher/valuation consultant/bartender, 1979 – 2008 (taught workshops at Waukesha County Technical Institute, Wi. and Madison Area Technical College, Wi.). Retired 2008 (part time teacher/blogger), AZ. Self educated economist/philosopher/theologian: http://kingdomecon.wordpress.com.
It is obvious, to me, that another financial crisis is on the immediate horizon. The gullibility of the general public (on issues of economics and money) is ubiquitous and I witness this gullibility daily here in Arizona. Most people have learned 'nothing' from the prior financial crisis of 2008. I also witness the gullibility of our Central Bankers and their Deep State operatives with their mentality of 'ignoring' the core messages of the 2008 crisis. These CB decision-makers should have learned from the events of 2005-09…but they haven't! Why this continuing gullibility within finance, money, economics?
Money rules over this planet and those who create this money (our banking elites) have drunk the 'Kool Aid' again (another elixir of deception). Rather than becoming wise from the lessons of the 2008 crisis they have drunk another elixir called QE (quantitative easing). The lessons of the 2008 crisis were there for everyone to learn from. But our financial elites have 'ignored' these lessons and chose to drink another round of deadly Kool Aid (this time a Kool Aid called 'digital quantitative easing')…with the 'hope' this elixir will save Capitalism and resurrect the Keynesian model of credit/debt indefinitely! Why has it not worked?
The 'shit' will hit the fan again (later in 2018) as our bankers have learned nothing from the prior experiences of 2008. Real Estate excesses, cryptocurrency illusions, stock market bubbles, the rich getting super rich, and high-tech monetizations to promote select financial cartels, have created the environment for another financial MELTDOWN in 2018 -19. This time it will be global and pervasive within all markets since all our markets are now interconnected and digital. It's all happening again in front of our noses but few can discern the times (so it seems).
Who has chosen to 'step down' from their positions of power and control recently? Let's review! And why are key elites stepping down so that they will be outside the financial temple when the bricks come dumpling down. America's Federal Reserve is undergoing a complete change of leadership as I write. Could this happen in Europe, Japan, China also? All this change will mean that new policies will be implemented when the next crisis arrives later in 2018 – 2019. QE (this elixir from Bernanke's 2008 mindset) may be over now that this 'tool' has run its course without solving anything! But do CB's learn from prior experience?
Stanley Fischer (Vice Chairman of the 2015-17 Fed) has stepped down for reasons he only knows. Stanley was key to the tapering of QE back in 2015 – 2017 period. Janet Yellen (Bernanke's replacement) has recently been replaced by Donald Trump (as Chairman of the Fed) with Jerome Powell…and this occurs in February, 2018. William (the manipulator) Dudley (CEO of the NY Fed) leaves the New York Fed and the BIS sometime later in 2018. We have no clear understanding why this decision was made by Dudley. But his extensive 'insider' knowledge may well be at the core of why he has decided to step down. Something is brewing behind the scenes which could be the real reason for his decision to leave. Power is usually not given up voluntarily!
Mr. Carstens, Mexico's Central Banker, and a BIS insider has been replaced recently. Mr. Rajan (the 'rock star' Central Banker of India) has stepped down. We could witness others also stepping down as events become more dire globally later in 2018. The old guard may desire to head for the hills as the financial temple comes dumpling down around them. This is human nature and we saw a similar situation after the 2008 financial crisis. Ben Shalom Bernanke arrived at America's Fed and replaced Allan Greenspan. The result was QE on steroids! This led to QE on steroids for the entire planet! Global debt is now near $325 trillion (up from some $150 trillion in 2008)!
All this change points to new thinking and new policies within our Central Bank structures later in 2018 – 19. The message of all these personalities could be that major change is starting to occur and this means that events may not be pleasant later in 2018-19. I also sense this change in mood and attitude within our political halls. Polarization is everywhere! The 'shit' may hit the fan later in 2018 as events turn 'south' and as new leadership arrives with new ideas. This is what I sense as I watch global events unfold. Another huge CRISIS is emerging and new decision-makers must soon deal with this coming major CRISIS. What will be the next elixir?
A big change which I expect within the halls of Central Banking is this trend towards a cryptocurrencies (new money) for the globe. Digital money and a Cashless Society is emerging fast for planet Earth. I see the harbingers of digital money and a cashless world emerging everywhere. Israel is proposing a new digital currency. Sweden is also considering a digital currency. India and China appear to desire digital currencies for their nations. Europe wants digital money. And the news is just out that Venezuela has adopted a new digital currency. Read the following:
The Venezuelan government has published a decree outlining the operation of Venezuela's national cryptocurrency, the Petro. It details the government's plans for the new currency, including its issuance, mining, and trading of this currency. In addition, the Petro will be backed by 5 billion barrels of crude oil.
5 Billion Barrels of Oil and a Mining Plan
Venezuela's president Nicolás Maduro has assigned 5.3 billion barrels of crude oil worth $267 billion to back the nation's cryptocurrency. He first announced the creation of the Petro in early December, as news.Bitcoin.com reported.
As for the launch timeframe, Minister of Communication and Information Jorge Rodríguez was recently quoted by local publications saying, "the first issue of the Petro cryptocurrency will be announced within days." Then, during his year-end speech in a national radio and TV broadcast on Sunday, December 31, Maduro revealed:
In the month of January, I will be presenting all the conditions for the Petro to start operating.
What is now happening is that our elites want a currency reset for the globe so that a new global digital currency can emerge. Ripple (this new cryptocurrency of 2017) is designed for Central Banks and select elites who want to speed up the processing and settlement of global transactions between banking counter parties. The blockchain technology (within these cryptocurrencies) is leading to a new money for our planet. All this is happening so fast that it is difficult to keep up with the changes. The 'Mark of the Beast' financial system is emerging fast and it could all start in 2018 – 19 time frame. Watch as Central Banks (everywhere) start their conversion of historical monies to these digital currencies and this blockchain technology for payments and settlement!
The next couple of years could be very interesting and traumatic within finance and economics. The paper/coin money system of old is being replaced with a cashless world of digital currencies. This will evolve (eventually) into this 'Mark of the Beast' financial system prophesied in scripture. Our Creator rules over planet earth and we now live in what I call the 'End Time Period' for man's rule over man. Money will gradually enslave the masses as this new cryptocurrency system evolves into the prophesied 'Mark of the Beast' system. It's all part of prophecy (which few comprehend)! Think for yourself on all these issues. Enjoy and pass this missive on to your friends! Happy New Year! I am: https://kingdomecon.wordpress.com.
STAY INFORMED! Receive our Weekly Recap of thought provoking articles, podcasts, and radio delivered to your inbox for FREE! Sign up here for the HoweStreet.com Weekly Recap.