December 29, 2017 | Your Once-in-a-Generation Buying Opportunity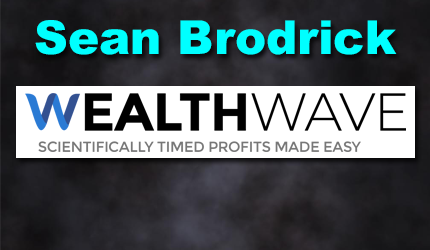 Sean is the natural resource analyst for Weiss Ratings. You can read his thoughts on gold, oil, cannabis, uranium and other natural resources at Wealth-Wave.com
Are you looking for a bargain to buy in 2018?
Commodities are cheap. Dirt cheap. And I'm going to show you a chart illustrating just how danged cheap they are.
This is a Bloomberg chart. It compares the Standard & Poor's GSCI Total Return Index, which tracks 24 raw materials, against the S&P 500.
The chart shows us that commodities haven't been this cheap compared to stocks since 1999. A generation is 25 years. So, this is as close as we'll get to a once-in-a-generation buying opportunity.
Now, there are two ways this chart could resolve.
Stocks could get a lot cheaper. I know many of my colleagues believe stocks are overvalued. Our work at the Edelson Institute tells us that stocks are going higher – potentially much higher – before they go lower.
Commodities could go a lot higher. Indeed, we're already seeing this start to happen. The first sparks of what is likely to be a great bull run.
For example, we just saw the U.S. oil benchmark hit $60. That's the first time that's happened since mid-2015. And back then it was on the way down.
There are a lot of reasons why oil prices are recovering. Part of it is due to OPEC and Russia getting their sh*t together and making production cuts stick. But there's also rising global demand.
Oil demand grew by 2.4% in the second half of 2017. So says the International Energy Agency. That's up from the 1.7% in the first half of the year. Global oil demand is accelerating.
Looking forward, many analysts say demand is going to gather steam in 2018, too.
Part of this is that the rest of the world wants to drive like big, fat Americans. And this is pumping up prices in another commodity: Palladium. It's vital for catalytic converters in gasoline powered cars. No wonder the price of palladium just hit a 17-year high. I told you about that supply/demand squeeze just last month.
But what about the electric vehicle megatrend? The IEA estimates that there will be 50 million electric vehicles on the road by 2025 and 300 million by 2040, from closer to 2 million now. And let me pound the table about this: Every forecast of electric vehicle adoption has been too conservative.
So, won't that lower global oil demand? Not in the next decade. For one thing, by 2040, the IEA (and others) say the number of cars on the road will double from one billion to two billion. Wow!
But sure, that EV megatrend is gathering steam. And that's ramping up the prices of "energy metals" cobalt and lithium. I've written about the surging demand for those metals in columns like this one and this one.
But the EV megatrend is also going to ramp up metals that we normally don't think of as energy metals: nickel and copper. I told you that as well.
And just this week, we learned that China shut down its top copper producer, Jiangxi Copper Co., as part of its war on smog. At the same time, China's imports of finished copper are soaring. Up 19% year over year in November.
No wonder copper just jumped to a 3.5-year high! And this bullish story has a long way to run.
I could go on and on. There are so many commodity bulls snorting and pawing the ground, it's like the running of the bulls at Pamplona around here. That red flag is going to wave. They're going to be charging down Wall Street soon enough.
Get yourself positioned for that big bull run. 2017 was a great year. Thanks to commodities, 2018 could be spectacular.
All the best,
Sean
STAY INFORMED! Receive our Weekly Recap of thought provoking articles, podcasts, and radio delivered to your inbox for FREE! Sign up here for the HoweStreet.com Weekly Recap.