December 5, 2017 | Worse Than Zero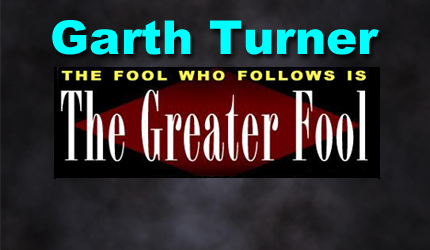 A best-selling Canadian author of 14 books on economic trends, real estate, the financial crisis, personal finance strategies, taxation and politics. Nationally-known speaker and lecturer on macroeconomics, the housing market and investment techniques. He is a licensed Investment Advisor with a fee-based, no-commission Toronto-based practice serving clients across Canada.
They said it could never happen.
For the first time in eight years the average digs in Toronto is cheaper than the year before. Imagine if last February or March when GTA properties were Bitcoin-hot that someone had told you real estate would end the year negative. You'd have been disbelieving. Incredulous. Flummoxed. Such a thing was impossible, because the Toronto Real Estate Board said so!
"Home ownership continues to be a great investment and remains very important to the majority of GTA households," stated the realtors in Feb. "As we move through 2017, we expect the demand for ownership housing to remain strong, including demand from first-time buyers who, according to a recent Ipsos survey, could account for more than half of transactions this year. However, many of these would-be buyers will have problems finding a home that meets their needs in a market with very little inventory.
"The number of active listings on TREB's MLS® System at the end of January was essentially half of what was reported as available at the same time last year.  That statistic, on its own, tells us that there is a serious supply problem in the GTA – a problem that will continue to play itself out in 2017.  The result will be very strong price growth for all home types again this year."
Well, prices did grow – fanned by  realtor fanaticism – then it stopped. At $761,757 today's average is a year/year drop of 2%. If you factor in the current inflation rate, houses are 3.5% less. And if we're talking detached homes only, at $1.276 million, the average is down 5% before inflation and negative 6.5% in real terms. Of course if you bought a home for that amount you paid $43,000 in land transfer tax, and it will cost $64,000 in commission to sell. So the actual loss of a one-year hold would be higher by another $107,000. And the inventory of available homes has exploded. Meanwhile the Dow is up 23% and a boring balanced portfolio is ahead 9.5%. Did mama tell you there'd be years like this?
Two factors worth noting: As in Vancouver, this market is being driven by condo sales and clueless first-time buyers who think boxes with monthly fees attached are a good investment. Poor little lambs. In YVR, for example, the sales-to-listing ratios tell the tale. For detached properties it is a lowly 15.9% and for condos, an outrageous 68%. That's why detached prices are fading and condo values have scorched over 20% higher. Single-family homes in Toronto, for example, are 12% cheaper than they were in May. So just imagine this market's performance if the apartments were stripped out.
Second, so much for the big stampede of buyers the industry told us would materialize in the months before the universal stress test arrived. Sales in November were barely ahead of those in October and represented a 13% decline from the same month a year ago. Howcum? Maybe news of B20's arrival has yet to make it to SnapChat or IG. Perhaps prices in general have hit the wall. Or maybe with the detached market sagging, the Bank of Mom is having second thoughts about making new loans.
Speaking of which, if you believe the house-pumpers at Sotheby's Realty Canada, Boomers have but one reason to continue on with their vacuous, spent lives – to buy their failed 30-something children real estate.
In reading the company's report this week, blog dog Joe sent me this: "In more instances than I care to admit in my adult life, my reasonably well off but not wealthy parents have helped me out financially with amounts ranging from a couple thousand to five thousand dollars or a few months back at home in my 20's rent free (boomerang kid) when I've suffered a setback, say, due to job loss. I've paid most of it back, expressed my gratitude, and swallowed my pride (I'm not OK with this). Is parents giving their adult children large sums to buy real estate, writing junior a cheque for $250K so he could buy a nice townhouse in an up and coming neighbourhood of Toronto or Vancouver for his new family, something new, or is it a phenomenon that has happened frequently in the past but just not been talked about?"
It's fresh, Joe. Never happened before that so many adults lived with their parents, or so much cash was sucked of family finances to gift to the spawn. This is a new age, indeed, when (according to Sotheby's) 74% of parents recommend their kids buy real estate in their city and fully a third of all Boomers intend to help finance it. Of those, almost 60% say junior will end up with a place worth between $350,000 and $500,000.
So what do we make of this?
When most parents report their kids would not have qualified for a mortgage without the gift of a down payment – which is essentially contributing to the fraudulent behaviour the new stress test targets – we have a problem. Interest rates will absolutely be higher in 2018 than now. Credit will be reduced. On Tuesday Mortgage Professionals Canada said 18% of buyers will be affected next year and up to 50,000 fewer properties sold. Ouch. Already that river of money chasing detached houses has started to dry. And condos have inflated as a result and are now (as in Edmonton and Calgary) at serious risk of being overbuilt. Is this really where you want your kid to spend your money, incurring a life-altering mortgage that will cost more every renewal?
I know you want her out of the basement, but, jeez, have a heart… You need somebody around to tell you what a Satoshi is.
STAY INFORMED! Receive our Weekly Recap of thought provoking articles, podcasts, and radio delivered to your inbox for FREE! Sign up here for the HoweStreet.com Weekly Recap.