December 12, 2017 | Trading Desk Notes – Dec 9th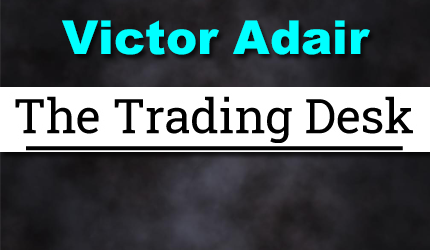 Victor Adair, author of The Trading Desk Notes, began trading penny mining shares while attending the University of Victoria in 1970. He worked in the mining business in Canada and the Western United States for the next several years and also founded a precious metals trading company in 1974. He became a commodity broker in 1977 and a stock broker in 1978. Between 1977 and his retirement from the brokerage business in 2020 Victor held a number of trading, analytical and senior management roles in Canada and the USA. Victor started writing market analysis in the late 1970's and became a widely followed currency analyst in 1983. He started doing frequent media interviews in the early 1980's and started speaking at financial conferences in the 1990's. He actively trades his own accounts from The Trading Desk on Vancouver Island. His personal website is www.VictorAdair.ca.
My best trade this week was re-shorting CAD. I've been shorting CAD on-and-off since the Sept 8 Key Turn Date when CAD nearly touched 83 cents before reversing. I was flat over the American Thanksgiving long weekend but re-shorted CAD on Monday Nov 27. I was stopped out with a decent profit following the WAY stronger than expected Canadian employment report on Friday Dec 1.
I started this week flat CAD but with the idea that the market had WAY over-reacted to the employment report and I started re-shorting around 79 cents on Monday and Tuesday. I added to my short position Friday around 78 cents as CAD looked like it was going to close near its lows for the week.
CAD has traded in a sideways range for the past 7 weeks between 77.75 and 79.00. This week's close is the lowest weekly close in nearly 6 months. If CAD drops below the range of the last 7 weeks I'd look for the decline to accelerate.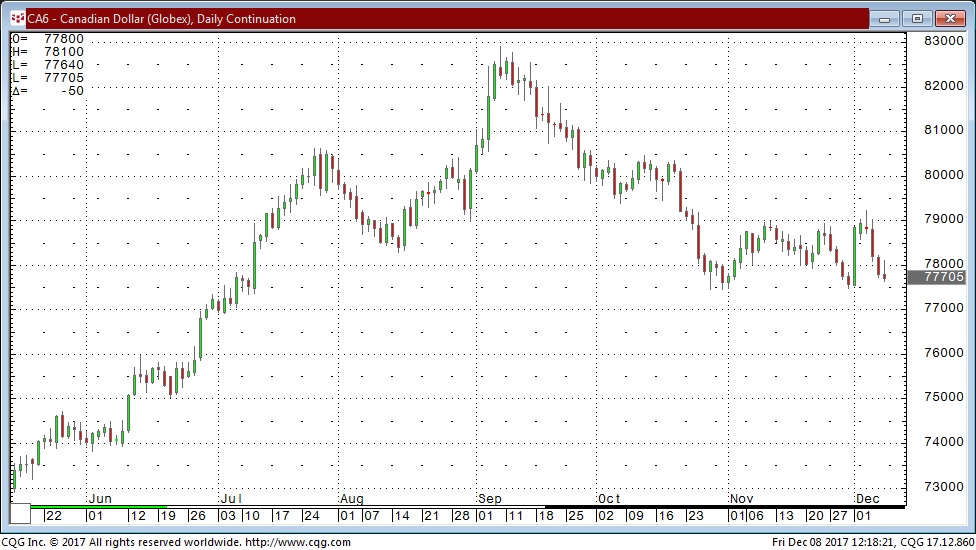 Basically I'm bullish the USD and to express that view I've chosen to sell CAD / buy USD. I could have bought USD against any number of currencies (or gold) since the Sept 8 KTD and made money but I'm "familiar" with CAD and saw it (and continue to see it) as particularly vulnerable.
I added to my bullish USD idea this week by buying puts on the Euro. I have a bullish USD bias so I've been puzzled as the Euro rallied this year to a 3 year high at 1.21 on the Sept 8 KTD. Since then the Euro has drifted lower with a possible "failed rally" in late November. If it continues lower the Nov high will increasingly look like a "failed rally" and if it breaks the (Oct and Nov) lows around 1.16 then I'd expect the decline to accelerate. Speculators have maintained HUGE long Euro positions and could start liquidating if Euro falls. I'll exit the trade if the Euro rallies through 1.19.
I sold WTI short this week. I've traded WTI almost exclusively from the short side since 2014. My bearish bias kept me from getting long WTI as it rallied from around $42 in June to $59 in November. For the past 2 months I've waited for WTI to "set up" an opportunity to get short.
The "set up" included:
1) Speculators built an All Time Record net long position in WTI during the June to December rally leaving the market with a "positioning risk" if prices start to fall.
2) I thought the Nov 30/17 extension of the production cutback agreement between OPEC-and-Allies put the market in a classic "As Good As It Gets" position (from a "news" perspective) similar to December of 2016 when WTI peaked out around $55 when Russia-and-friends joined agreed to join OPEC in production cutbacks.
3) Prices peaked out at $59 on Nov 24 and 27, and then had what I saw as a "failed rally" back to $59 on Dec 1. When prices dropped through $58 on Dec 4 I saw that as a "set up" signal (from a technical perspective) and got short knowing that I would exit the trade with a loss if prices rallied through $59.
The market sold off quickly to $56 by mid-week but rallied back above $57 by week's end. To confirm my bearish view I'll want to see the market drop through this week's lows ($56) and I think a break of $55 could trigger a serious sell off. In terms of managing risks I'll now cover my short position if prices rally through this week's high at $58.50.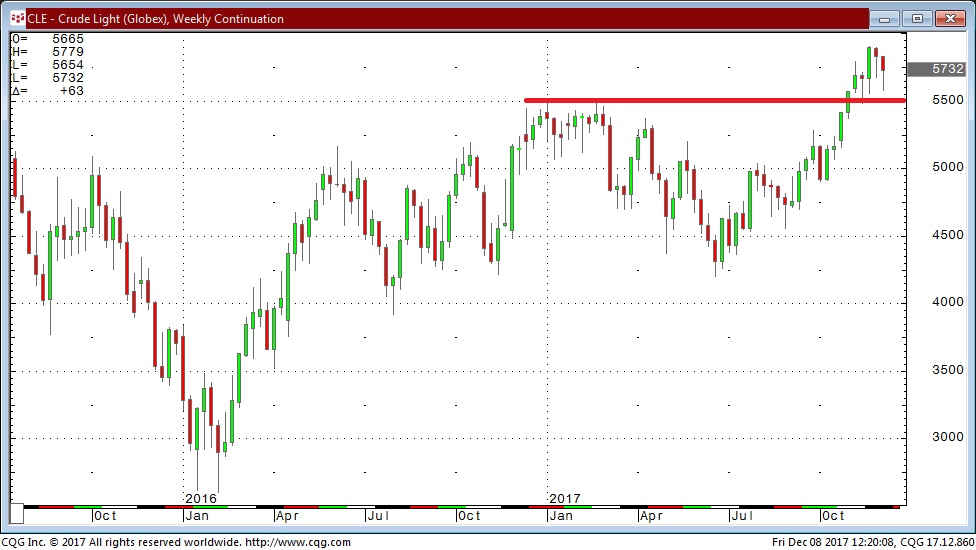 I got short the S+P Monday. The S+P futures gapped to new All Time Highs Sunday afternoon, made marginal new highs Monday morning and then started to sell off. I saw this as another "As Good As It Gets" moment after the Senate's passage of the tax bill in the wee hours of Saturday morning and took a very cautious short position because I know shorts have been killed all year with the BTD mentality. (The S+P hasn't had as much as a 3% correction in 18 months!) I covered the short with a modest profit on Wednesday and will wait to see it we get another "set up" (a failed rally would be nice) to re-short.
I didn't short gold and I should have! I keep a "trades to make" book where I write down trading ideas. Last weekend while I was looking through all my charts I saw that the 5 year TIPS (STIP) ETF had dropped to new lows for the year. That caught my eye because I use the TIPS ETF as an alert to real interest rates…which are hugely important to the gold price. (When the 5 year TIPS was last at this level, December 2016, gold was around $1130!) I wrote in my book, "Short gold? Real rates?" But I didn't investigate the idea on Monday (busy with other things like shorting CAD, S+P and WTI) and by Tuesday it was "too late!" Another woulda, coulda, shoulda moment!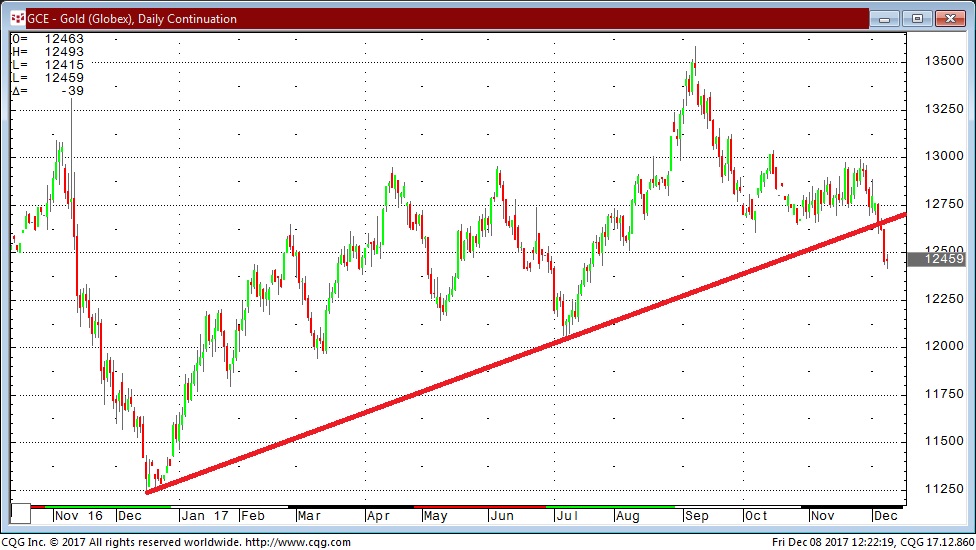 PI Financial Corp. is a Member of the Canadian Investor Protection Fund. The risk of loss in trading commodity interests can be substantial. You should therefore carefully consider whether such trading is suitable for you in light of your financial condition. In considering whether to trade or the authorize someone else to trade for you, you should be aware of the following. If you purchase a commodity option you may sustain a total loss of the premium and of all transaction costs. If you purchase or sell a commodity futures contract or sell a commodity option  or engage in off-exchange foreign currency trading you may sustain a total loss of the initial margin funds or security deposit and any additional fund that you deposit with your broker to establish or maintain your position.  You may be called upon by your broker to deposit a substantial amount of additional margin funds, on short notice, in order to maintain your position.  If you do not provide the requested funds within the prescribe time, your position may be liquidated at a loss, and you will be liable for any resulting deficit in your account. Under certain market conditions, you may find it difficult to impossible to liquidate a position. This is intended for distribution in those jurisdictions where PI Financial Corp. is registered as an advisor or a dealer in securities and/or futures and options. Any distribution or dissemination of this in any other jurisdiction is strictly prohibited. Past performance is not necessarily indicative of future results.
STAY INFORMED! Receive our Weekly Recap of thought provoking articles, podcasts, and radio delivered to your inbox for FREE! Sign up here for the HoweStreet.com Weekly Recap.