December 16, 2017 | Trading Desk Notes – Dec 16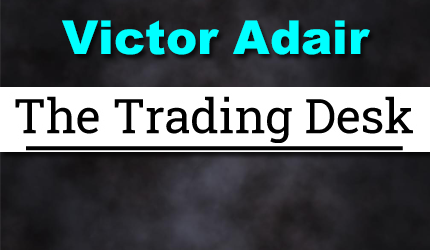 Victor Adair, author of The Trading Desk Notes, began trading penny mining shares while attending the University of Victoria in 1970. He worked in the mining business in Canada and the Western United States for the next several years and also founded a precious metals trading company in 1974. He became a commodity broker in 1977 and a stock broker in 1978. Between 1977 and his retirement from the brokerage business in 2020 Victor held a number of trading, analytical and senior management roles in Canada and the USA. Victor started writing market analysis in the late 1970's and became a widely followed currency analyst in 1983. He started doing frequent media interviews in the early 1980's and started speaking at financial conferences in the 1990's. He actively trades his own accounts from The Trading Desk on Vancouver Island. His personal website is www.VictorAdair.ca.
Market price action (across asset classes) has been skitzoid the past couple of weeks…up one day, down the next (and in some markets up and down within the same day!) as breaking news or central banker comments have buffeted prices…while competing views about the future, about what's important and what isn't, seem to be enthusiastically embraced one moment, and then thrown under the bus the next! Yikes!
For me the big question is about the USD. My good friend Jack Crooks (www.BlackSwanTrading.com) makes the case that there are 2 primary expectations competing in the FX market:
1) the US Dollar is about to rally on rising yield spreads, as the leader of synchronized global growth, as the beneficiary of Trump tax cuts and a self-reinforcing flow of multinational cash repatriation and foreign direct investments and,
2) the counter argument that the good USD news is priced in and any rallies will fade quickly as the rest of the world's major central banks also start raising interest rates (narrowing interest rate spreads) and their strengthening economies attract capital flows away from America.
Since the Sept 8 Key Turn Date (KTD) I've looked for opportunities to buy USD against other currencies…but my risk management rules kick in if it falls. My favorite FX positioning since the KTD has been shorting CAD against USD and this week, with the choppy price action around comments from BoC Chief Poloz I was stopped for small losses when CAD rallied.
One of the hardest things to do when you get stopped for a loss is to put the position back on and that's exactly what I did…so I started the week short CAD…got stopped out for a loss on the Poloz rally…and then I re-shorted it. If I had begun the week with no CAD position and was simply looking at the price action I'd have to say that CAD looked to be at risk of breaking down…and I'd sell it. I think CAD actually looks WORSE after this week's "failed rally." This week CAD had its lowest weekly close in nearly 6 months. I think it's at risk of breaking through the lows of the past 2 months (around 7750 basis March) and if that happens it could fall to 75 cents or lower. I hope to have the "courage of my convictions" to add to my short position if it breaks to new lows.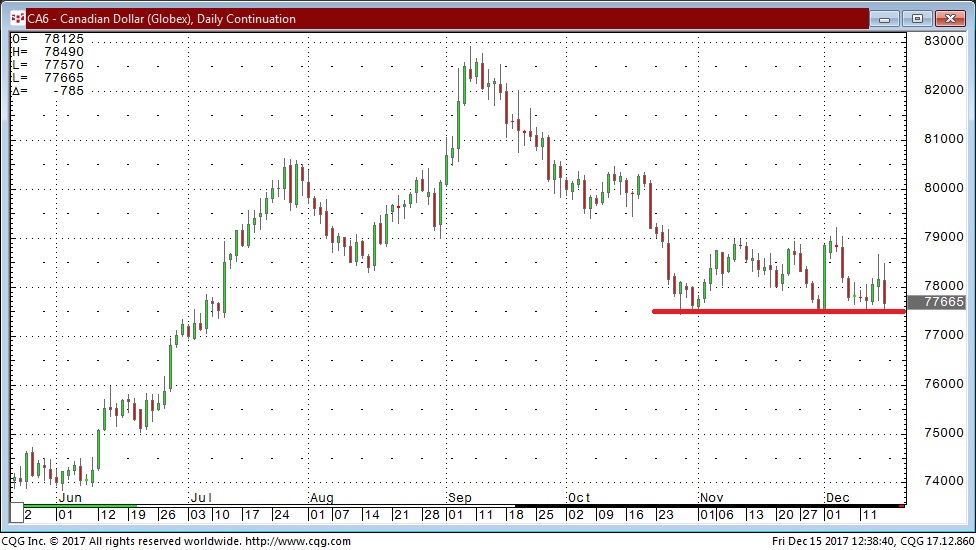 Crude oil also had wicked market action over the past month as prices seemingly surging higher one moment and then fell sharply the next. Like the 2 primary expectations competing in the FX markets noted above there seems to be 2 competing views in the crude market:
1) The production cut back agreements made by OPEC-and-Allies has not only substantially reduced global inventories but demand is now running ahead of supply and prices will therefore continue to rally and,
2) Rising prices (WTI rallied from ~$42 in June to ~$59 in November) have been the "best fertilizer" for increased production…American frackers have really ramped up their production…with expectations that total American production may increase by another 1 MBD in 2018. This view is that prices have already topped out around $59 and IF prices drop below $55 then the HUGE speculative bullish positioning in the "paper" oil market will start liquidating…thereby accelerating a price decline.
I have traded WTI almost exclusively from the short side since 2014 and therefore have a bearish bias towards crude. Unfortunately this bearish bias kept me from buying crude during the rally from $42 to $59 but at least I didn't "step in front of the train!" I waited for what I thought was the "As Good As It Gets" moment following the Nov 30 OPEC meeting to come and go…waited for the market to hit a high ($59) , fall back, hit a lower high (a failed rally) before I sold it short around $58. The market broke to $56 but then rallied all the way back to $58.50 (the halted UK pipeline story) and stopped me out… turning a nice little unrealized gain into a nice little realized loss! Darn!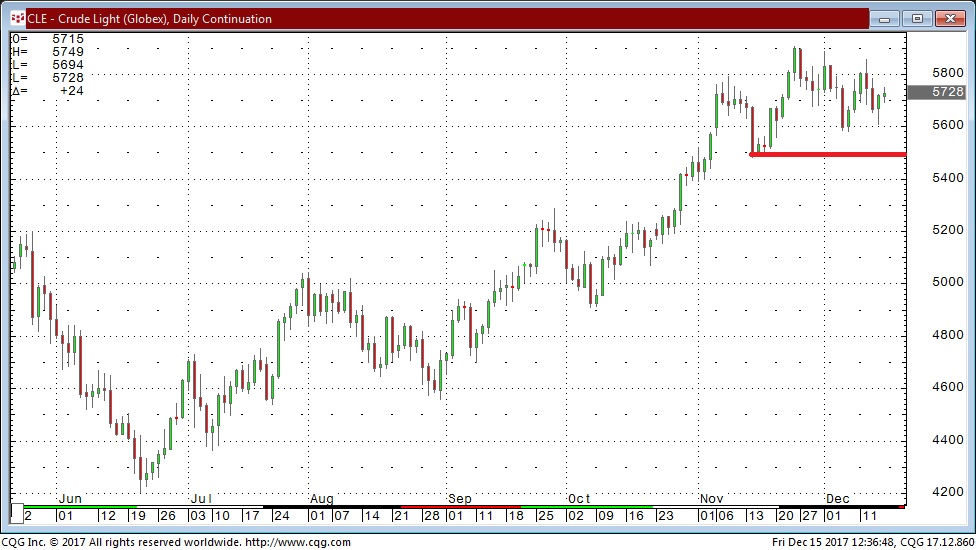 I still think WTI looks toppy so I'll watch for an opportunity to re-short it.
At the end of the week I'm short CAD and long Euro puts.
PI Financial Corp. is a Member of the Canadian Investor Protection Fund. The risk of loss in trading commodity interests can be substantial. You should therefore carefully consider whether such trading is suitable for you in light of your financial condition. In considering whether to trade or the authorize someone else to trade for you, you should be aware of the following. If you purchase a commodity option you may sustain a total loss of the premium and of all transaction costs. If you purchase or sell a commodity futures contract or sell a commodity option  or engage in off-exchange foreign currency trading you may sustain a total loss of the initial margin funds or security deposit and any additional fund that you deposit with your broker to establish or maintain your position.  You may be called upon by your broker to deposit a substantial amount of additional margin funds, on short notice, in order to maintain your position.  If you do not provide the requested funds within the prescribe time, your position may be liquidated at a loss, and you will be liable for any resulting deficit in your account. Under certain market conditions, you may find it difficult to impossible to liquidate a position. This is intended for distribution in those jurisdictions where PI Financial Corp. is registered as an advisor or a dealer in securities and/or futures and options. Any distribution or dissemination of this in any other jurisdiction is strictly prohibited. Past performance is not necessarily indicative of future results
STAY INFORMED! Receive our Weekly Recap of thought provoking articles, podcasts, and radio delivered to your inbox for FREE! Sign up here for the HoweStreet.com Weekly Recap.