December 7, 2017 | The Ponzi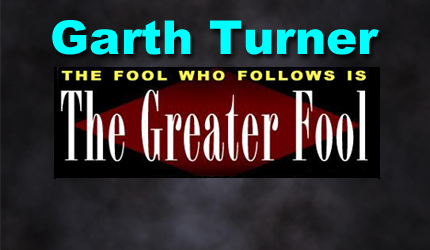 A best-selling Canadian author of 14 books on economic trends, real estate, the financial crisis, personal finance strategies, taxation and politics. Nationally-known speaker and lecturer on macroeconomics, the housing market and investment techniques. He is a licensed Investment Advisor with a fee-based, no-commission Toronto-based practice serving clients across Canada.
A goodly chunk of the last two days I spent on the phone with Clara. She's sweet. Sixty-four and separated, she still shares custody of the Australian cattle dog, Daisy, with her ex, who lives three blocks away. (He has a house, she has a rental.)
C contacted me because she's in financial trouble, has only $300,000, no pension, no support and no income (other than $220 in monthly CPP). She needs that three hundred grand to be generating monthly cash flow. So where's the money now, I asked?
She told me the tale, in fond tones. When the marriage went south she gave this cash to a dear female friend who promised her a 10% return, that the principal would be safe and returned to her at any time, upon request. "But that turned into 5% three years ago," Clara continued, "and now it's gone to zero interest and my friend says she's sorry."
Naturally I asked what financial firm her pal is with, plus what assets were being held. After all, portfolio returns have gone up lately, not down. And I assumed when she said "interest" it was just ignorance talking, since no guaranteed assets have yielded that kind of cash for decades. Surely she had been paid largely in a mixture dividends and capital gains.
Well, she didn't know. "And I didn't ask, since I was in such an emotional state at the time. But thank God for my friend. She absolutely rescued me, but now that the money has stopped I am in trouble again." So I said I'd help. Never, I added, give money to anyone again without knowing where it is going, how it will be managed, who they are and what risk is involved.
"Yes, dear, I know that. But the money is perfectly safe and I can get it back anytime. I will ask her today."
The next morning Clara called again, gave me all the details of her life I didn't already know, talked about the cash flow she needed and agreed to review an investment plan to be drafted before anything else happened. "I've asked my friend to send me a cheque," she said. "I'll call again today and find out when it will be ready."
Two hours later this came: "I just found out from my friend that she lost my 300K in the Virginia Tan ponzi scheme 2 years ago. I am in shock right now, but I wanted you to know."
Six months ago a mid-60s Vancouver woman admitted to the BC Securities Commission she had bilked investors of about $30 million in a classic Ponzi scheme. For four years, starting right about the time Clara was investing, Virginia Tan solicited money from people, luring them with the promise of interest payments starting at 12%. She hit on friends, family members, then congregants at her church, finally a wider audience that included retirees, priests and business owners.
The only security was a promissory note, with nothing backing it. Like Bernie Madoff's victims – and like Clara – the investors were happy to reap outsized interest payments, convinced their capital could be returned and smug at their acumen in finding such a great arrangement. Why ask questions when you're making six times what a GIC pays?
Well, two years ago the Ponzi collapsed. Tan could no longer find enough new victims to continue payments to the old ones. Investors (like Clara's 'dear friend') started to squawk and the regulator became involved. Tan settled with a $3 million penalty and was barred for life from any investment activity in BC. No criminal conviction. No jail time.
Many lessons here, obviously.
Never invest in something you know nothing about, and nobody cares to fully explain. If returns are too good to believe, they're probably false, temporary or aberrant. There is no guaranteed asset other than one covered by deposit insurance, or government debt. Never invest your money in any scheme, security or market that is not fully regulated. Trust no advisor who is not certified or a fiduciary. Ask questions. Know where the exit is and exactly how to get your cash out. Always keep in mind the three protectors: balance, diversification plus liquidity. And never put all your eggs in a single basket.
Clara is crushed. She has no idea what she'll do next.
And it wasn't even Bitcoin.
STAY INFORMED! Receive our Weekly Recap of thought provoking articles, podcasts, and radio delivered to your inbox for FREE! Sign up here for the HoweStreet.com Weekly Recap.