December 17, 2017 | "The Most Important Word in Real Estate" – Bruce Norris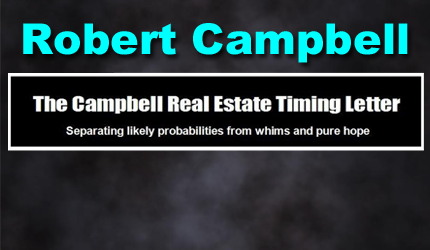 Robert Campbell is a real estate analyst and economist. He's been publishing The Campbell Real Estate Timing Letter since 2002. His book (Timing the Real Estate Market) presents a clearly defined method for predicting the peaks and valleys of real estate cycles.
My friend and fellow real estate analyst Bruce Norris spoke at the San Diego Creative Investors Association on December 12th –
which I eagerly attended.
"Stay Put or Cash Out of California Real Estate?" was the topic.
For those of you who are not familiar with Mr. Norris, he has been an active (and very successful) real estate investor for over 30 years.
Equally impressive, Bruce has an excellent long-term track record for successfully forecasting the major cyclical turning points in the highly volatile California housing market.
Before we reach peak California housing prices, Bruce told the audience that these five conditions need to be in place:
1.  Strong upward momentum in existing homes sales
2.  Inventory of homes for sale to be below three months
3.  Foreclosure sales to be near their lows for the cycle
4.  Strong new home construction
5.  Housing affordability to be at or near 17%
Based on the current readings of these indicators, Mr. Norris feels that California housing prices are not yet at peak levels – and therefore have more room to run to the upside.
How much higher will California housing prices rise?
If mortgage rates stay at 4.0%, Bruce Norris thinks housing prices could rise in the following California counties by these amounts:
Sacramento County: +31%
Riverside County:  +26.1%
San Bernardino County:  +36.6%
San Diego County:  +21.9%
Los Angeles County:  +6.7%
Orange County:  +9.9%
Other major California counties, however, are considered to be overvalued by the following amounts:
Santa Clara County:  -13.8%
San Francisco County:  -24.5%
The Most Important Word in Real Estate?
If you are thinking "cash-flow," you would be wrong.
"It's timing," said Mr. Norris.
To be a successful real estate investor, knowing "when to" invest in real estate is far more important than knowing "how to" invest.
Amen to that.
My comments:  California real estate has become richly valued in late 2017 – but there are still plenty of people who believe it's still a good time to buy, which may turn out to be correct. History, however, shows that there is a negative expectation to buying any asset that is highly valued – which in layman's terms (and as I illustrated in my Nov 2017 Timing Letter) means that your investment returns are likely to be very low (or negative) for the next 8-11 years.
This, of course, explains why I suggest you consider becoming a "buy-low and "sell-high" real estate investor that only invests when price appreciation is likely.
::::::
WANT MORE?
To read a sample issue of The Campbell Real Estate Timing Letter, Click HERE
To subscribe, Click HERE
::::::
Comments/questions are always welcome -and you can send them to [email protected] 
STAY INFORMED! Receive our Weekly Recap of thought provoking articles, podcasts, and radio delivered to your inbox for FREE! Sign up here for the HoweStreet.com Weekly Recap.