December 3, 2017 | The End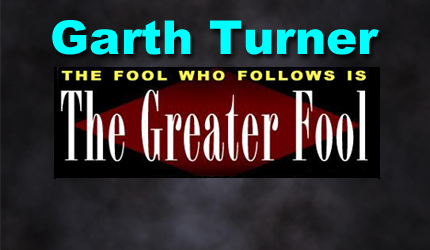 A best-selling Canadian author of 14 books on economic trends, real estate, the financial crisis, personal finance strategies, taxation and politics. Nationally-known speaker and lecturer on macroeconomics, the housing market and investment techniques. He is a licensed Investment Advisor with a fee-based, no-commission Toronto-based practice serving clients across Canada.
The very same week, three years ago, that Bandit and I crash-landed on a slick street after an epic ice storm, Judy got some bad news. My burden became a leg with three plates and 16 screws holding it together. Judy didn't make it.
Two years later, at the sad age of 48, after surgery, chemo, endless drugs and sharing it with me weekly, my friend died. Two days prior we talked a long time, in whispered tones. She was incredibly brave, gracious, strong, realistic, accepting and elegant. I miss her all the time.
She handled breast cancer as just another chapter in a full life. But when she was gone, order became chaos. Thanks to Jim.
Like 99% of people, Judy thought that appointing a family member as executor would be a reasonable choice. After all, who can you trust more than a blood relative? And her son, at 27, was a mature, well-educated professional guy with a blossoming career in IT and a boy of his own.
At least my friend has not been around for a year now to see the mess. Her terminal tax return was missed. There's a war raging between Jim and others that Judy wanted money set aside for. He had no idea how to locate and trigger insurance policies. He was shocked at a request to return pension benefits paid out after failing to notify her plan. He listed and accepted an offer on her house without having title to it or probating the will. And he just discovered Judy had been too sick for two years to file her income tax returns, and now he's personally responsible. Meanwhile Jim has no time to deal with any of it – travel, family, the job consume his daily hours.
Dying sucks. But it's universal. It's the only event in life that, with 100% certainty, arrives. We can deny it all we want, pretend to be forever young, believe our children make us eternal and put off preparing indefinitely, but the result's the same. Pfft. It's over. And ensuring your wishes are properly, artfully, carefully carried out for the benefit of others, plus your legacy, is a worthy goal.
Unless you've been one, it's hard to appreciate the huge task of being an executor. Settling someone's estate can take several years, and involve work on a weekly, or daily basis. Sure, you need to handle the funeral arrangements, cremation or burial, death certificate, dispose of personal assets, empty the residence, talk to the bank, credit card companies, merchant accounts, work pension, CPP, the CRA and insurance company, but that's the easy stuff.
The will must be located and an estate account opened. All investment assets, stock certificates, account numbers, bonds, deeds and documents found. The terminal tax return must be filed within six months, perfectly, taking into account any past unresolved tax issues you may have been aware of (without investigation). There could be a requirement for multiple returns in many cases. In several provinces executors are personally liable for past obligations of the deceased for a period of several years. The CRA can go back most of a decade to determine what liabilities may exist, so you need to obtain a Tax Clearance Certificate.
As executor, you have a legal duty to find all beneficiaries and deal with them in a fiduciary capacity according to the dictates of the will (which may have to be probated and paid for). Beneficiaries can sue you, personally, if you fail in your task. As executor, with keys to the estate's assets, you can also become the target of greed, anger or family discord – and it's amazing how such emotions bubble up, quickly overcoming grief.
Typically, being an executor takes about 18 months and can require fulfillment of sixty or seventy separate tasks, from dealing with insurance companies, to large pension plans, creditors and bankers and others sticking their hands out. There are a great many reasons why appointing a family member – or your spouse, or child – is a hugely dumb idea. They may be incompetent to do all of these jobs. Or too busy. Too young and inexperienced, too old and unsteady. And do you really want to dump this kind of complicated, difficult job into the lap of a loved one who is struggling with your recent death? That seems grossly unfair, and a recipe for trouble.
One solution is to appoint an institutional executor, like the estate & trust services division of your bank (all the big guys offer this). Yes, that costs money – perhaps 4% of the estate's value (less above a million) – but there's a 100% chance all of this stuff gets done. Then your heirs, beneficiaries, family and friends can concentrate on missing you instead of squabbling.
Of course, if you don't plan on croaking, no problem. But get a good pension.
STAY INFORMED! Receive our Weekly Recap of thought provoking articles, podcasts, and radio delivered to your inbox for FREE! Sign up here for the HoweStreet.com Weekly Recap.