December 18, 2017 | The 'Cliff' is Immediately Ahead – but all is GOOD!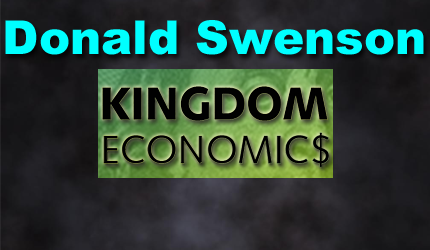 Donald B. Swenson: Born January 24, 1943, Roseau, Minnesota. Graduated H.S. 1961, Moorhead High, Minnesota. Graduated College 1968, Moorhead State University, Minnesota. Designated member of Appraisal Institute (MAI), 1974. Employed with Western Life Insurance Company, 1968 – 71; Iowa Securities Company, 1971 – 73; American Appraisal Company, 1974 – 81. Part-time teacher/valuation consultant/bartender, 1979 – 2008 (taught workshops at Waukesha County Technical Institute, Wi. and Madison Area Technical College, Wi.). Retired 2008 (part time teacher/blogger), AZ. Self educated economist/philosopher/theologian: http://kingdomecon.wordpress.com.
Today, I asked some two dozen seniors at the clubhouse the question: How is everything going? The responses were 'very good', 'good', and 'pretty good'. Everyone seems to view reality as mostly GOOD! None responded that we could be near a cliff which could result in mass death, destruction, and collapse! Why is this so! In reality, our entire system and some 7.5 billion people are about to go 'OVER the CLIFF'.
What is happening (in reality) that nearly 'everyone' desires not to confront? We have a foreign policy which is about to create WW III, we have an economic set of policies which reveal all is in a Bubble, we have a growing Debt situation which reveals enslavement for almost every consumer, and we have a host of moral issues which reveal that faith in our institutions and our policymakers is near zero. We also have a host of prophecy experts warning that the END of this AGE is soon!
Yet, with all these Big Picture issues confronting each and every person, NONE seem to desire to confront these 'cliff' issues (even to 'talk' about them). Death and destruction is certain IMO given the current ominous trends within the above sectors. Yet, human nature says 'ALL is GOOD' for now. Where are the 'critical thinkers' who can discern what is emerging (approaching)? It appears that few can discern that a 'CLIFF' is near and everyone is about to descend into 'never/never' land as they 'fall' over this 'CLIFF'.
Human nature appears to be the problem as people will avoid 'critical thinking' as long as the 'FALL' is not immediate (in front of their shoes). Economics (and money) rules over people's emotions and as long as the markets go UP and UP, the mindset of the many is 'ALL is GOOD'. People have money and they have a 'wealth effect' which creates an emotion of 'ALL is GOOD'. Critical thinking is not necessary! I am shocked that so few can think 'critically' on issues of reality. But that appears to be our 'situation'!
Mr. Trump will talk about his NEW political strategy later today. He will likely identify Russia and China as rivals to the USA (as these two rivals view America as nearing the political/economic 'CLIFF'). Both Russia and China have chosen to confront USA control over planet Earth. They have a different 'vision' and purpose for their people and the USA is NOT their friend and partner on many core issues. This means confrontation, war, challenge, and eventual collapse for America as the world LEADER and Hegemone.
Listen to Mr. Trump and his message later today. I think you will discover that he desires that America rule the planet but that this may be impossible now that Russia and China are challenging America's hegemony and control. Read more here: https://www.nytimes.com/2017/12/18/us/politics/trump-security-strategy-china-russia.html. Why is America losing this battle for global hegemony and control over our planet? Why does this lead to a 'CLIFF' situation?
WASHINGTON — President Trump's first national security strategy envisions a world in which the United States confronts two "revisionist" powers — China and Russia — that are seeking to change the global status quo, often to the detriment of America's interests. The strategy, which Mr. Trump plans to present in a speech on Monday afternoon, is the first comprehensive effort by his administration to describe an all-encompassing strategic worldview. Administration officials said it was drawn from speeches Mr. Trump had delivered during the presidential campaign, in Europe and Asia and at the United Nations.
Our global situation is about to change in 2018 and few have done any 'critical thinking' on these bigger issues. Human nature assumes that 'ALL if GOOD' even though the 'cliff' is near and present. America has unpayable Debt, a Bubble stock market, a currency which is virtual/imaginary, and policymakers which have near zero support from the masses. Yet, the seniors at my clubhouse say 'ALL is GOOD' and they have zero interest in talking about the soon emerging 'cliff'. Why so? Can the Trump MOB rule over democracy going forward? Think for yourself! I am: https://kingdomecon.wordpress.com.
STAY INFORMED! Receive our Weekly Recap of thought provoking articles, podcasts, and radio delivered to your inbox for FREE! Sign up here for the HoweStreet.com Weekly Recap.